Former Glacier Park employee writes a fine first book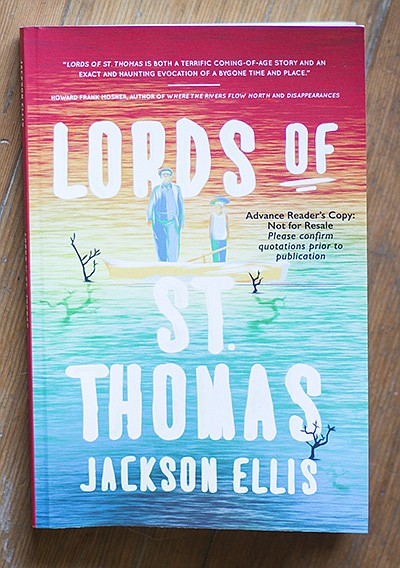 by
CHRIS PETERSON
Editor
|
May 2, 2018 6:54 AM
Back in 2003, Jackson Ellis worked for at the West Entrance in Glacier National Park. He recalled spending most of the summer dealing with the smoke, turning tourists away at the gate as the Park that summer suffered through an historic fire year.
Ellis has come a long ways since those smoky days and his new award-winning novella, "The Lords of St. Thomas" is a quick and fascinating story about a town and a family that is literally consumed by Lake Mead in the 1930s and later revealed in the early 2000s.
Ellis, who lives in Burlington, Vermont today, got the idea for the book after reading a real-life story of Hugh Lord, who was a hold out when the Colorado River was dammed and eventually flooded the real town of St. Thomas.
Lord owned a garage in St. Thomas, Nevada, and didn't leave until the flood waters were inundating his house. He fled in a boat and set his house on fire as he left.
Ellis took the framework of that true tale and sets a fictionalized framework around it to great effect. The book is a natural and easy read and visually strong — it would make a fine movie.
Ellis ends the tale with a twist that makes perfect sense, but the reader never sees coming. He's a gifted writer. At 38, Ellis has been writing since his youth. He lived in Nevada for a time and worked in Glacier again in the campgrounds during the 2008 season. He said he misses Montana, but living here puts 2,000-plus miles between him and his family and more than 3,000-miles from his wife's family — she's a native of Brazil.
Like most first books, Ellis spent a couple of years shopping it to publishers. He said it was exactly the 50th publisher — New England's Green Writer's Press — that published it.
The book was awarded the 2017 Howard Frank Mosher First Novel Prize. It's available on Amazon and other online outlets.
Ellis has written a second novel that's set in New England and involves cryogenics. It's still going through edits. Ellis said he hasn't done much writing lately — he's raising his 2-year-old daughter.
Recent Headlines
---