Tracing a local pioneer's family ties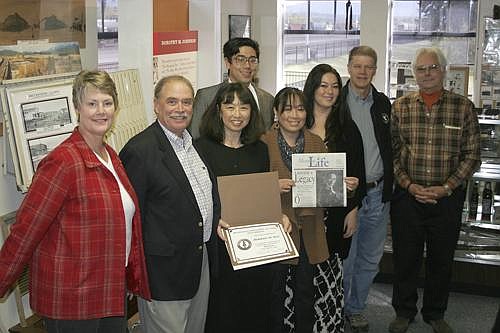 Matt Baldwin / Whitefish Pilot Descendants of Mokutaro M. Hori came to Whitefish to accept an award in his name from the Montana Cowboy Hall of Fame & Western Heritage Center. Gathered at the Whitefish Museum on Saturday, Sept. 11, are, left to right, Michelle Reese, who nominated Hori for the award, Lane, Esther and Courtland Premo, Judy, Remi and Tom Williamson, and city councilor Turner Askew.
One of Whitefish's most important pioneers was recognized by the Montana Cowboy Hall of Fame & Western Heritage Center. Family members who drove over from Seattle to represent Mokutaro M. Hori included his granddaughter Judy Aya Williamson, her husband Tom and daughter Remi and granddaughter Esther Premo, her husband Lane and son Courtland.
Escorted by Stumptown Historical Society executive director Jill Evans, the family members had lunch on Friday inside The Remington at the La Hacienda restaurant. The Remington was the site of Hori's hotel and cafe.
Hori's wife, Aya, took over management of the Hori Ranch and Gardens and the Hori Cafe after Hori died of stomach cancer in December 1931. According to local lore, Aya never let anyone go hungry who came to the cafe.
Mark Berney, who works at The Remington, escorted family members to the basement of the historical building to hear a ghost story. Whenever the radio stopped playing, Berney said, he would ask Hori if it was OK for him to listen to the radio, and it would suddenly come back on again.
Judy Williamson had a copy with her of Leslie Rule's book, "Coast To Coast Ghosts," which mentions three different ghosts residing in The Remington, but none of them were related to Mokutaro Hori.
On Saturday, family members went to the Whitefish Museum at the train depot for the award ceremony. That afternoon, they visited the Conrad Mansion in Kalispell, where Hori first went to work as a house boy in 1898.
Michelle Reese, who sits on the board of the Montana Cowboy Hall of Fame, said she nominated Hori for the award. Reacting to perplexed looks on the family's faces, Reese explained that the award is not "just for cowboys' but for pioneers from various walks of life who are part of Montana's diverse history.
Whitefish native Mike Muldown told family members that his grandfather, Whitefish banker Charles Jennings, gave Hori the nickname "Swede." Muldown said the two were best friends. Hori was one of the town's most loyal boosters and belonged to the Blue Room Bunch, a group of prominent businessmen who lunched together regularly at the Hori Cafe. Hori was buried at Whitefish Cemetery near Jennings' resting place.
In addition to Hori's contribution to Whitefish history as a businessman, he is credited with donating the land that Whitefish City Hall now sits on and for helping the Presbyterian Church get its stained glass windows when the building was built.
Sam Takahashi, who accompanied the Hori descendants to Whitefish, explained how the family members had been located. He was in Eureka in the early 1980s looking over a real estate deal when someone mentioned the Horis of Whitefish. He put an article about the Horis in a Japanese community newspaper in Seattle and was soon contacted by Hori's descendants.
Takahashi later put a similar article in a Japanese financial newspaper and heard back from people who knew of Mokutaro Hori, who was born in Oita, Japan, in 1873. Takahashi, whose daughter Yoko lives in Whitefish, said he's interested in promoting ways to connect the successful, high-tech seaside town in Japan with Whitefish, perhaps through the exchange of high school students or possibly economic interests.
Aya Hori, who was born in Japan in 1882 and married Mokutaro in 1915, ran the Hori Cafe, Hori Hotel and Hori Ranch and Gardens in Whitefish until March 1942, when war conditions interfered with business. She remarried in 1949 and moved to Kalispell. Aya became a U.S. citizen on June 11, 1953, and died in Kalispell in 1972.
Mokutaro and Aya's son Toshio grew up in Whitefish. He was a sophomore at the University of Washington, in Seattle, when the Japanese attacked Pearl Harbor, initiating World War II. After the university ejected all Japanese-American students, Toshio joined the U.S. Army, where he served in Army Intelligence in the Pacific Theater translating Japanese documents.
Toshio met and married his wife in Tokyo. His son James was born in Tokyo in 1948, and the family came to Whitefish after that. Toshio's daughter Judy was born in Whitefish in 1949. The family moved to Fife, Wash., the next year. His second daughter, Esther, was born in Puyallap, Wash. James died in a car accident in 1964, taking with him the Hori name, and Toshio died in Renton, Wash., in 1988.
With his induction into the Cowboy Hall of Fame, Mokutaro Hori joins the ranks of well-known Montana historical figures such as Charles Russell, Sitting Bull, Evelyn Cameron and Frank Bird Linderman.
Family members said they were quite surprised but honored by the recognition their ancestor has received. Courtland Premo and Judy Williamson both expressed interest in working on a documentary or fictional work on Hori for theater or video. Family members also said they'd like to return to Whitefish for visits — including some skiing.
Recent Headlines
---