Big game against Dillon this Friday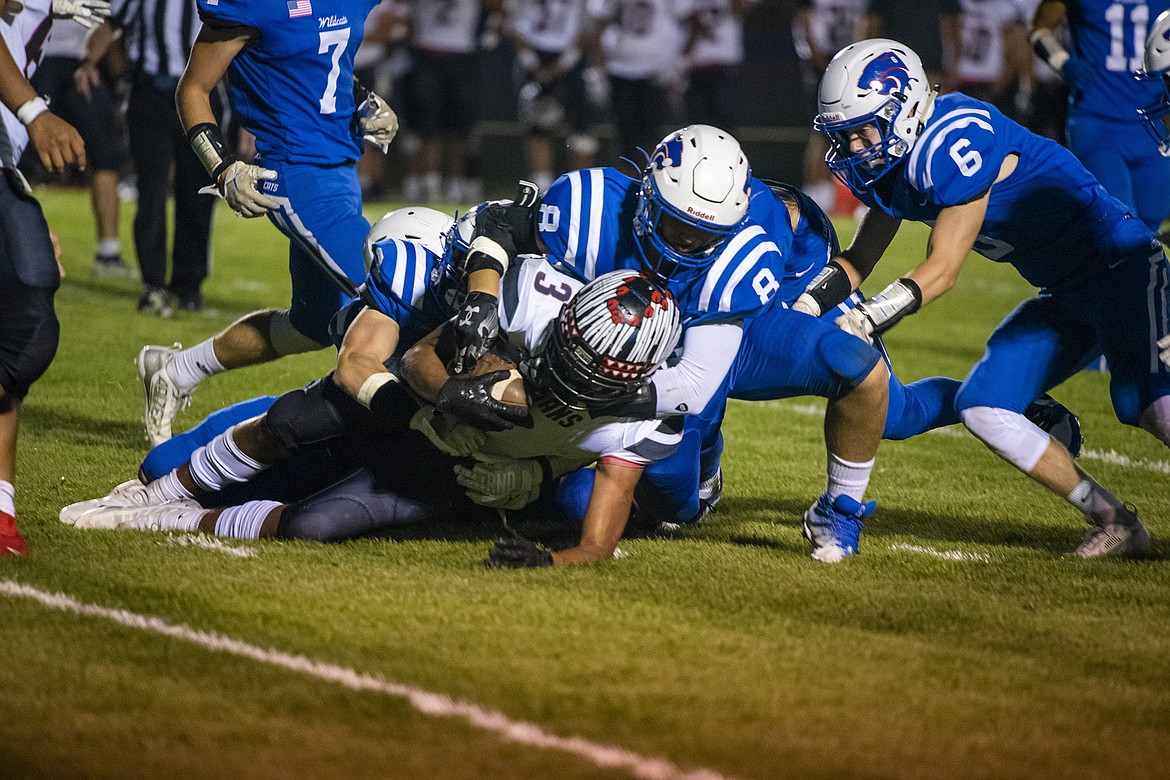 A Browning Indian goes down in a wave of Wildcat blue at Columbia Falls High School on Friday, Sept. 1.
|
September 6, 2023 2:00 AM
The Columbia Falls football team blanked Browning in its home opener Friday night, 49-0.
The Cats were led by senior quarterback Cody Schweikert who had three touchdown passes and ran for another in the rout.
Schweikert was 10 for 13 passes for 235 yards. He threw touchdowns to Mark Robison, Chance Miller and Alihn Anderson.
Schweikert also had a 15-yard rushing TD.
Brandon Torpen had a nice night as well as the reserves played in the second half. Torpen ran for two touchdowns in the second half, a one-yard run and a 7-yard run.
Kicker Kai Golan was perfect on point after attempts.
The Cats face much stiffer competition this Friday, as they face Dillon at home.
Dillon is coming off a 44-0 blanking of Stevensville.
Dillon will look to pound the ball behind a big line with five players between 230 and 295 pounds, according to J.P. Plutt of the Dillon Tribune.
They are led by senior quarterback Kee Christiansen as well as a slew of running backs.
It should be a great game.
Browning 0 0 0 0 - 0
C-Falls 21 14 0 14 - 49
CF — Mark Robison 26 pass from Cody Schweikert (Kai Golan kick)
CF — Schweikert 15 run (Golan kick)
CF — Reggie Sapa 17 run (Golan kick)
CF — Chance Miller 28 pass from Schweikert (Golan kick)
CF — Alihn Anderson 28 pass from Schweikert (Golan kick)
CF — Brandon Torpen 1 run (Golan kick)
CF — Torpen 7 run (Golan kick)
Recent Headlines
---