Wildcats cap off season by drubbing Ronan, face Bulldogs in playoffs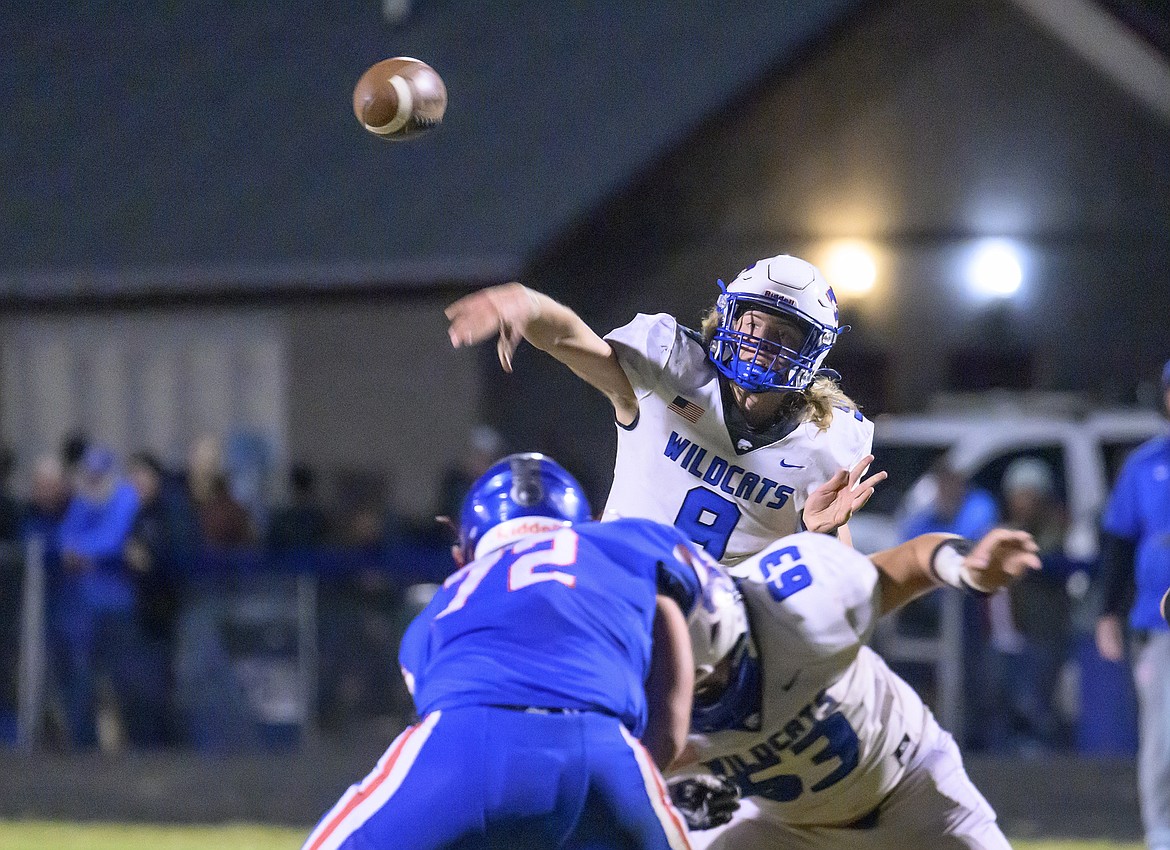 Cody Schweikert has a quarterback rating of more than 140. Here he throws a pass against Bigfork.
|
October 25, 2023 2:00 AM
The Columbia Falls football team walloped Ronan on the road last week to cap off the regular season, 53-0.
Senior quarterback Cody Schweikert was a perfect 10 for 10 passing for 201 yards as he threw for four touchdowns — two to Jace Hill, one to Lane Hoerner and another to Chance Miller. Alihn Anderson had a 12-yard TD run and Blaise Cronk had a 6-yard TD run.
Kai Golan made every extra point but one and kicked a 20-yard field goal.
The Cats also had a safety in the win and Banyan Johnson, Schweikert's heir apparent, had a 44-yard run to cap off the scoring for the Wildcats. Johnson is a freshman this year, but is already 6-foot-2, 190 pounds.
The Cats racked up 20 points in the first quarter and 23 more in the second against Ronan.
The Cats outgained the Chiefs 448 yards to 24 as the defense once again proved stifling.
They are now 6-2 on the year, losing to top-ranked Dillon earlier this season by just 3 points and to Whitefish in OT by a touchdown.
The Cats host Whitefish at 7 p.m. this Friday in the playoffs.
The Bulldogs beat the Wildcats 20-14 in overtime on the road earlier this season. The Cats will definitely be up to showing they're better than the last matchup against the rival Bulldogs.
The Cats have been playing some of their best ball of the season in the past few games.
"We feel good," coach Jaxon Schweikert said. "We're moving the ball really well, playing at a high rate."
The Cats have also cleaned up many of the mistakes they made the first time they played the Dogs, but don't expect any great changes in the game plan.
"We spend a lot of time trying to perfect what we do," Schweikert said.
Cody Schweikert completes 78% of his pass attempts and has a quarterback rating of 147.4. He also leads the team in rushing with 57 yards per game.
Jace Hill leads the squad in receiving touchdowns with five,
On the defensive end, Schweikert has 5.6 tackles per game, tied with fellow linebacker Hunter Goodman. Chance Miller leads the team in sacks with four, according to MaxPrep stats.
If the Cats can get past Whitefish, they'd face Billings Central on the road the following week.
Recent Headlines
---