Girls soccer drops Bigfork, face Whitefish for title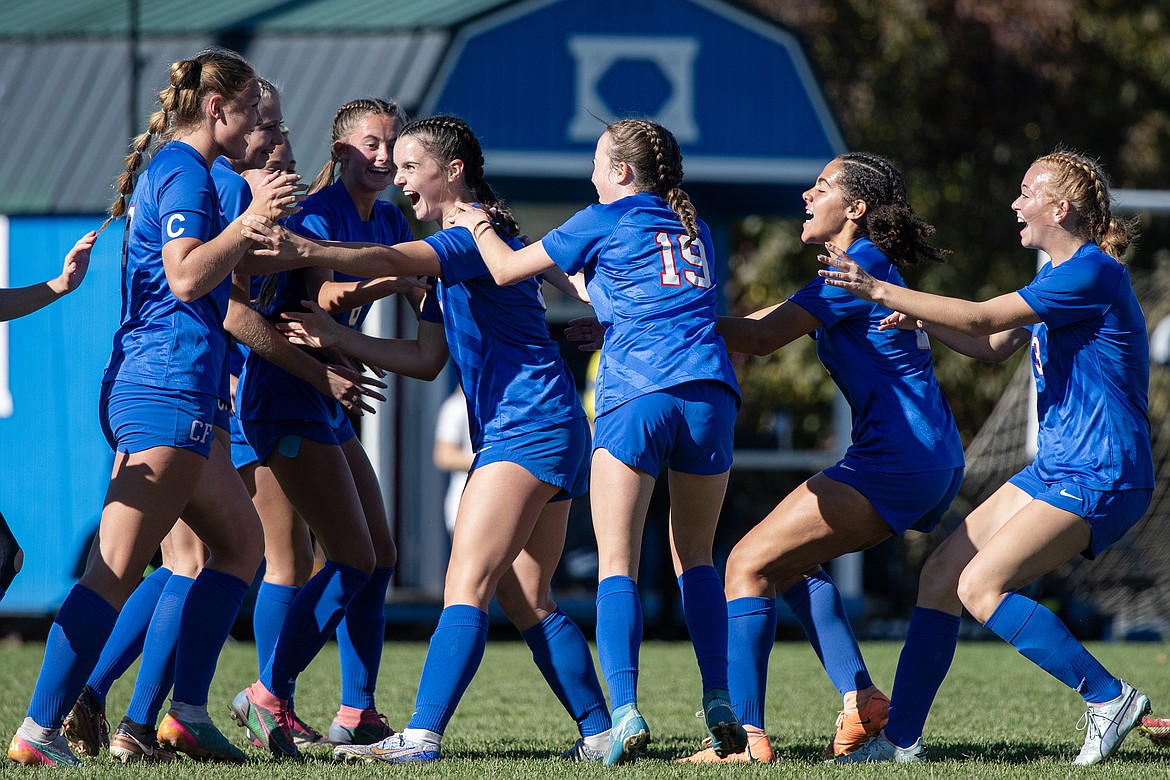 The Wildcats celebrate Riley Byrd's goal against Bigfork on Saturday, Oct. 21. Columbia Falls won 6-4 and will go on to face Whitefish in Whitefish for the championship match on Saturday, Oct. 28 at 2:30 p.m.
by
AVERY HOWE
Photographer
|
October 25, 2023 2:00 AM
Columbia Falls Wildcats girls soccer is heading to the Montana A championship after defeating Bigfork 6-4 on Saturday, Oct. 21.
The girls came out strong in the first half, with Josie Harris scoring a hat trick, two additional goals by freshman Riley Byrd and Hope McAtee for one. McAtee also had three assists, Onnikka Lawrence had two and Byrd one.
"The past few weeks we've been able to get hot in a game and keep it going," coach Thomas Clark said. He noted that the best teams can consistently string together good spurts of energy and action, and for the first half on Saturday, his team did just that. With young players stepping up and team leaders staying strong, the Cats played at the top of their game.
In the second half, the Valkyries came back and made four goals, but Clark emphasized that if his team can play like their first half moving forward, they have a good chance at the title.
Following exciting wins against No. 1 in the north Whitefish, undefeated Hamilton, and now Bigfork — which the Cats tied twice this season, Columbia Falls is peaking at just the right time to take on Whitefish once again in the championship match this weekend.
The Whitefish Bulldogs are 12-2-0 this season, the Cats 12-1-2. McAtee and Harris still lead the state in goals scored, with Bulldogs Olivia Genovese, Delaney Smith and Isabelle Cooke trailing just behind. But the Dogs are a dangerous team, well-coached and tough to beat Clark noted.
"What we learned the most from last time is that we can beat them," Clark said. That mentality, and the rush coming off a streak of important wins, will hopefully give the Cats a leg up in their first championship game since 2014.
If they win, it would be the girls' first title since 2004.
The Cats will take on the Dogs in Whitefish Saturday, Oct. 28 at 2:30 p.m.
Recent Headlines
---