Girls drop undefeated Hamilton; face Bigfork at home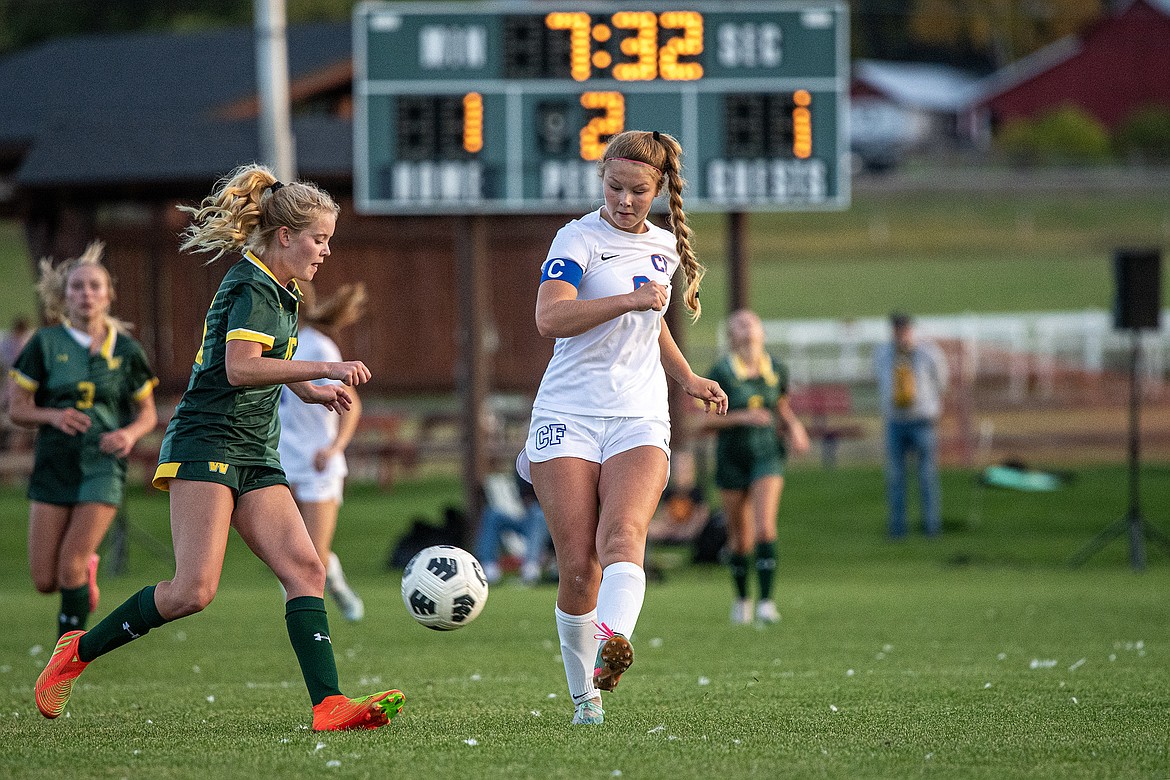 Hope McAtee, shown here making a pass for the Wildcats against Whitefish earlier this year, tied the single season record for assists at 21. (Avery Howe photo)
by
AVERY HOWE
Photographer
|
October 18, 2023 2:00 AM
The Columbia Falls Wildcats girls soccer team will move on to the Class A semifinals after defeating Hamilton 2-0 on Saturday, Oct. 14.
"The girls came out firing immediately in the first half," coach Thomas Clark said, with Josie Harris scoring eight minutes in.
Hope McAtee's assist tied the state single season record of 21. Clark said the pace, location and quality of Harris's shot is not often seen at this level, and he was extremely excited to see his team leaders pull it off. Despite the fact that the game held at 1-0, Clark said it felt like the Cats were in complete control the entire game. McAtee made the second goal in the 78th minute with assist by Onnikka Lawrence.
The Cats will go on to play the Bigfork Valkyries in the semifinals.
"Bigfork is a strong team - big, fast, athletic, and they defend super well," Clark said. "They make things difficult defensively."
The Cats (11-1-2) have tied Bigfork (8-3-2) twice this season.
"We feel confident that we're playing the way we want to play…dictating play and creating opportunities," Clark said.
Leading the state in goals scored and with only one loss this season, the Cats could very well see themselves in the championship, likely with Whitefish.
The Cats will take on the Valkyries Saturday, Oct. 21 at 1 p.m. in Columbia Falls.
Recent Headlines
---