Girls fall short in championship to Bulldogs, 3-1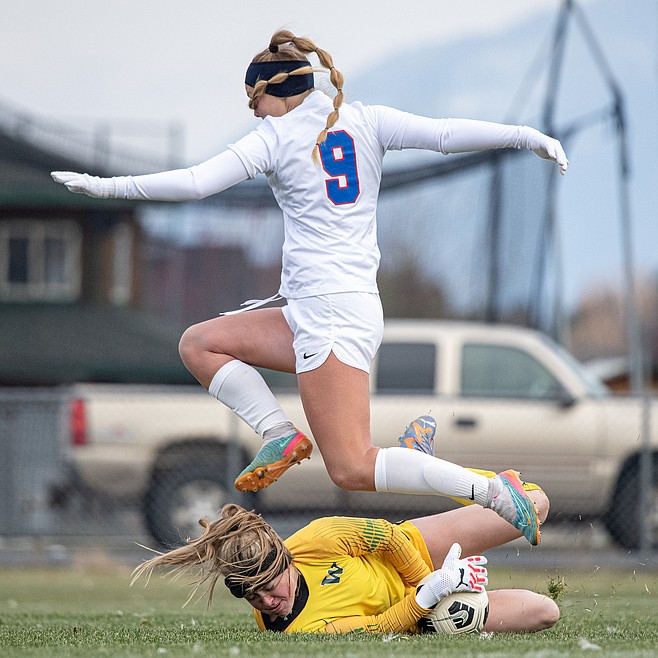 Wildcat Hope McAtee hurdles Bulldog keeper Norah Schmidt as her attempted goal is stopped on Saturday, Oct. 28. (Avery Howe photo)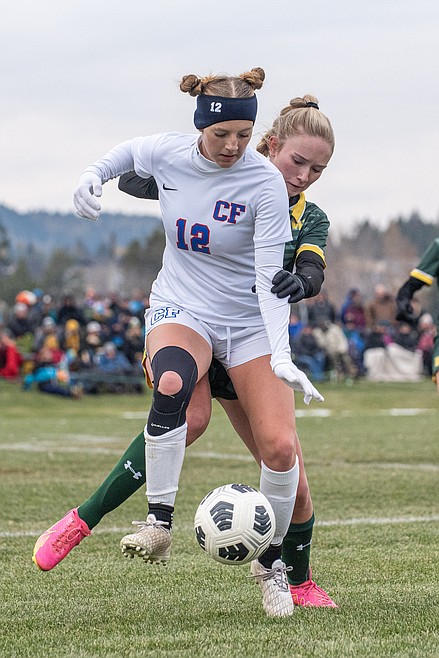 Wildcat Josie Harris maintains control of the ball as Bulldog Madison Gordon puts on the pressure in the Montana A girls championship soccer game on Saturday, Oct. 28 in Whitefish.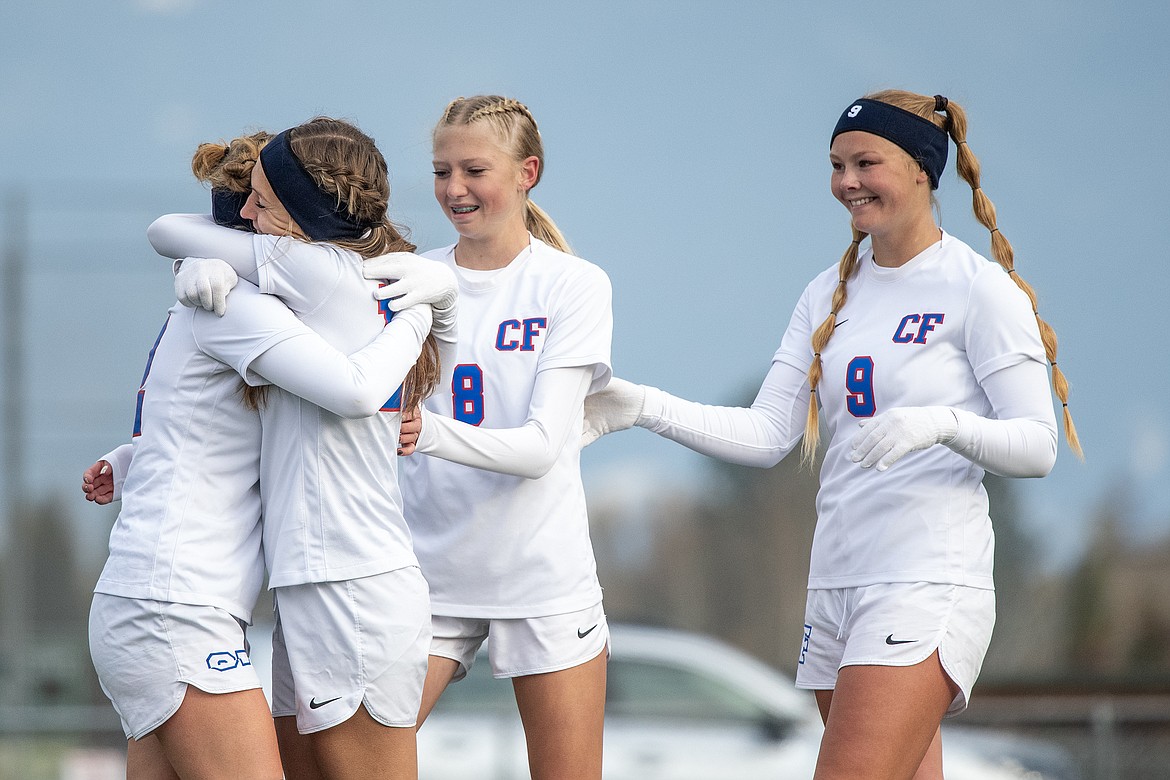 McKenzee West, Onnikka Lawrence and Hope McAtee celebrate Josie Harris's (far left) goal in the second half of the Montana A girls soccer championship against Whitefish on Saturday, Oct. 28.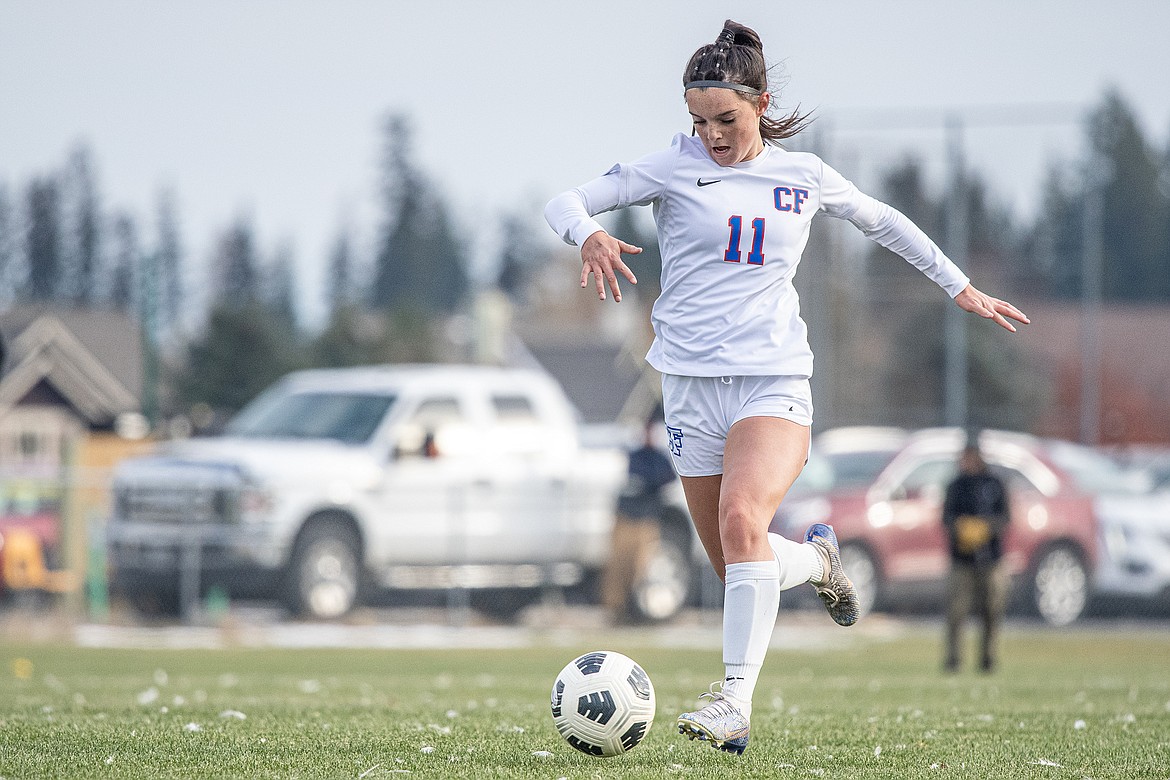 Riley Byrd makes her way downfield in the Montana A girls soccer championship against Whitefish on Saturday, Oct. 28.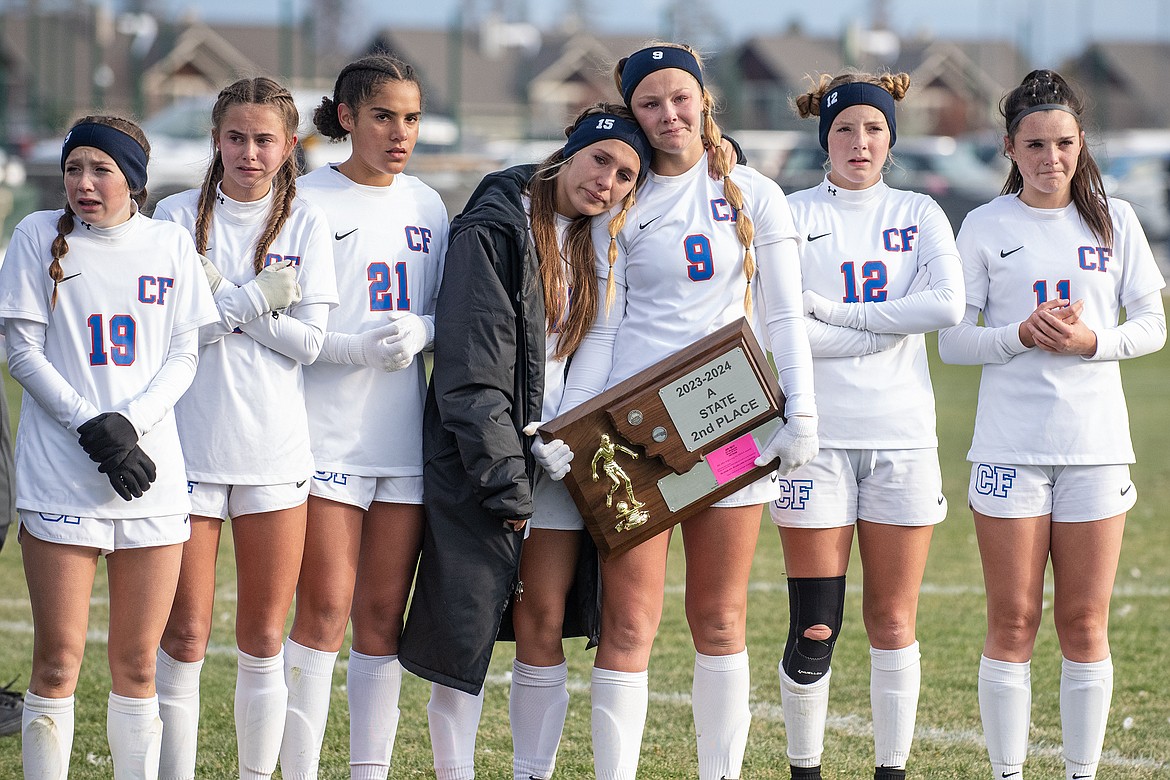 Wildcats Taylor Rodgers, Mila Johns, Apani Awua, McKenzee West, Hope McAtee, Josie Harris and Riley Byrd accept their second place trophy after falling to Whitefish in the Montana A girls soccer championship on Saturday, Oct. 28.
Previous
Next
by
AVERY HOWE
Photographer
|
November 1, 2023 2:00 AM
After a hard-fought game and a great season, the Columbia Falls girls soccer team settled for second place in the Montana A championship against Whitefish on Smith Fields on Saturday, Oct. 28.
Columbia Falls came out strong in the early minutes with a flurry of shots and chances that either went wide or were stopped by Whitefish's keep.
Whitefish, in turn, may have lost the war of possession, but they made the most of their chances, going up 2-0 in the first half.
Olivia Genovese scored first for Whitefish.
Another goal just before half by Isabelle Cooke put Whitefish up 2-0, followed by a Delaney Smith dagger early in the second. 
The momentum shift was hard to recover from for Columbia Falls. 
"We just couldn't put away some of the chances we created," coach Thomas Clark said. Josie Harris sank a corner kick from Riley Byrd in the second half, and the game ended 3-1. 
While the blow of the loss was hard to stomach, Clark was proud of his team's performance this season. With seven underclassmen on the field alongside well-decorated seniors Harris and Hope McAtee. 
"These girls never shied away from the pressure of being a championship-caliber team," Clark said.
Clark said the team will miss not only the seniors' output, but their leadership. McKenzee West, another senior and team captain, as well as Ilah McKenzie and manager Hailey Thomas, led the squad by example. 
"The whole senior class had a great season, I'm very proud of them," Clark said. The girls will be looking to make up 52 goals next year with the loss of Harris, who finished with 27 this season, and McAtee, 25. 
But Clark sees potential for the program in his younger players. 
"When you have a really young team like we did this year, you're excited for the future," Clark said. Having such strong competition in the valley will hopefully continue to build the soccer teams up for future state-level competitions. 
Columbia Falls ended the season 12-2-2.
Recent Headlines
---