Track squads do well at Western A Divisional Tourney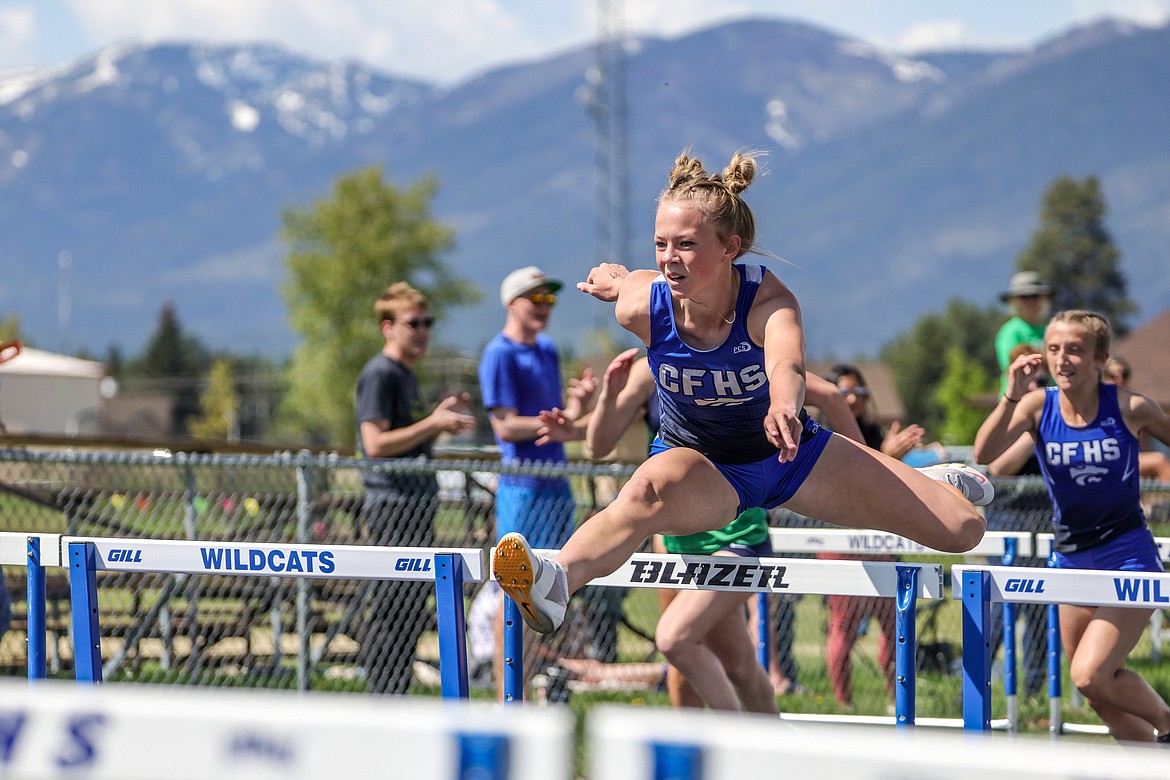 Courtney Hussion competes in the hurdles in this photo from earlier this season. (JP Edge photo)
The Columbia Falls track squads did well at the Western A Divisional meet last week.
The girls took second and the boys took fourth.
Leading the charge for the women were Siri Erickson, who took first in the 1,600 with a 5.17.76 and Ally Sempf, who took second in the 200 with a 24.45 — a personal record.
Sempf took fourth in the 100 with a 12.86, and fourth in the 400 with a 1.00.73.
Erickson was second in the 800 with a 2.22.27. Courtney Hussion was fourth in the 300 hurdles with a 16.63. Courtney Hoerner took third in the 3,200 with a 12.40 and Nina Badger was fifth with a 12.49.55 — a personal record for her.
In the 300 hurdles it was Tia Baker who shined for the Wildkats with a third place finish at 48.45. Hussion was sixth with a 50.35.
The girls took sixth in the 400 and 1,600 relays.
Ellie Stutsman was fifth in the shot put with a throw of 34.5.5, a best mark for her. Hussion was sixth in the high jump with a 4-8 and second in the long jump with a 16-4. Emma McAllister took third in the pole vault with a 10-6.
On the boys side, Malaki Simpson continues his winning ways with 10.99 in the 100 meters, another personal best as he chips away at that time every week. He also won the 200 with another personal best at 22 seconds even.
Adam Schrader was fourth in the 110 hurdles with a 15.89 and third in the 300 hurdles with a 40.56.
The Wildcats won the 400 relay with a 43.32 and the 1,600 relay with a 3.27.10.
Lane Voermans took fourth in the shot put and 49-5 and second in the discus with a 148-8.
Mason Bates took sixth in the pole vault with an 11-6 and Jace Duval was fifth in the long jump with a 20-5.25.
Stanley Stremick rounded out the boys scoring with a fifth-place finish in the triple jump, 40-2.5.
Recent Headlines
---