City looks to narrow scope of bear law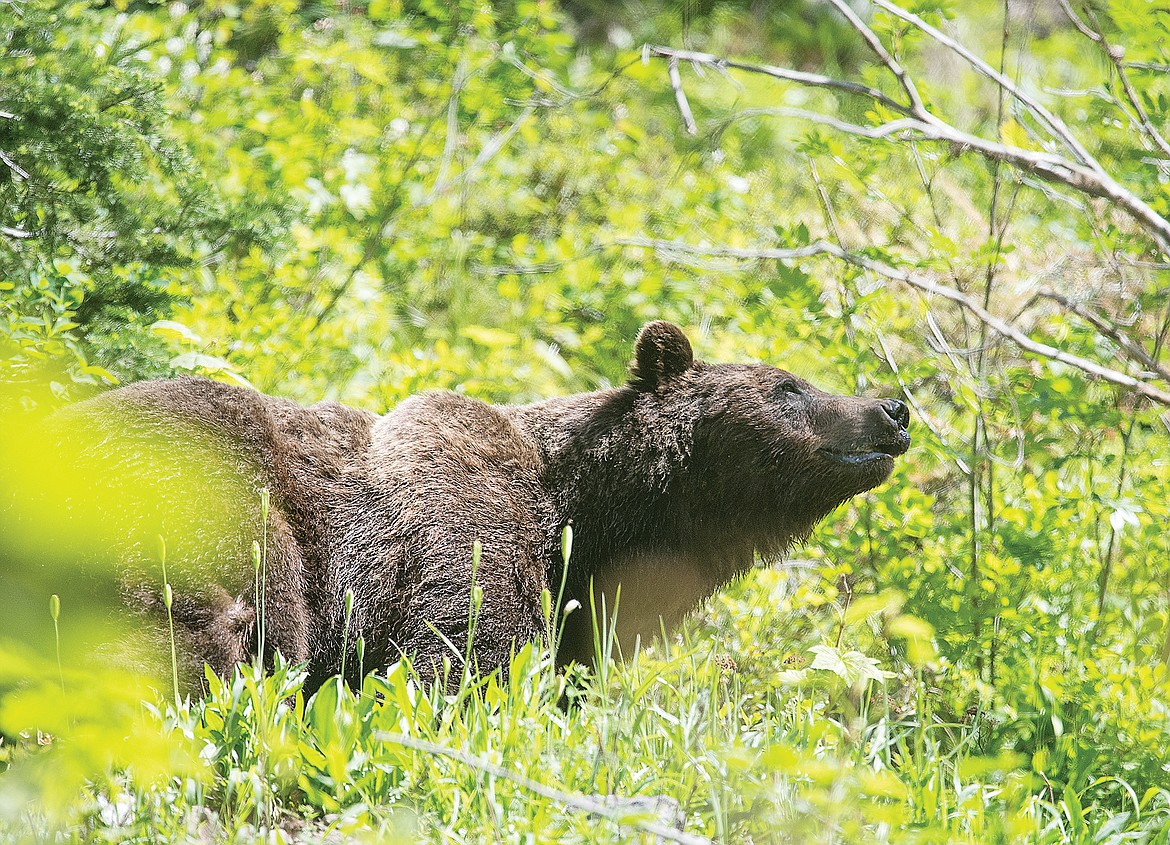 A grizzly bear in this file photo.
by
CHRIS PETERSON
Editor
|
May 17, 2023 2:00 AM
The Columbia Falls City Council Monday night mulled a new Animal Conflict Prevention ordinance, but decided to further discuss the matter rather than go ahead with a broad ordinance at the moment.
The city passed an emergency "bear law" last fall when numerous bears were getting into garbage and other attractants. It's now considering making the law — in some form or another — permanent.
But councilmembers raised concerns about the enforceability of some sections of the proposed law. They agreed that securing garbage from bears was easily enforceable, since garbage is typically viewable from the street without going onto private property.
But other sections of the law look to curb use of outdoor feeding of pets, cleaning up after fruit trees, putting in outdoor barbecues when not in use and not feeding birds in the summer.
It was those latter things that could have officials peeking into folks' backyards.
Rather than pass a law on the latter items, council will likely consider a resolution, which doesn't hold the weight of law, but would encourage people to address those issues if the need arises.
But as far as garbage control was concerned, council agreed it was something that could be codified.
"I think I could support an ordinance, especially in the field of garbage. That's a public health and safety issue … reaching into people's backyards on birdfeeders and barbecues, I think that's a tough sell. Most people would agree garbage should be taken care of," said councilman John Piper.
Piper noted that some people are leaving garbage in pickups for weeks "that's ridiculous."
Police Chief Clint Peters also noted it would be hard to prove that items like barbecues and feeding dogs outside were causing bear problems.
Garbage is one of the main concerns noted Montana Fish, Wildlife and Parks wildlife conflict specialist Justine Vallieres.
She gave a presentation to council at the beginning of the meeting. Last year about half of all bear complaints in town were due to unsecured garbage.
And there are a lot of bears roaming the city, particularly on the east side.
Vallieres noted there are nine male grizzlies and seven female grizzlies that frequent town.
"And that doesn't account for the cubs the females have had," she said.
Columbia Falls is in a bottleneck of the landscape, as bears come off of Teakettle Mountain and Columbia Mountain and then follow the river. It's a migration corridor.
Most bear conflicts are east of Nucleus Avenue, she noted.
In the past three years she's responded to 66 grizzly bear conflict calls in Columbia Falls — 30 last year alone.
There's another problem as well — some of the greatest conflicts were in a trailer park outside of the city, so even if the city passed a law, it wouldn't impact that area.
Education was the key, noted councilwoman Paula Robinson.
She noted that many people don't read newspapers, but they do listen to their own children.
"One of the best ways is education through our schools," Robinson suggested.
On the subject of garbage, the number of bear resistant containers should be more available in the future, Vallieres said, as Evergreen Disposal is bolstering its supply.
There's also help with private outside funding, noted Ryan Wilbur of People and Carnivores, a private nonprofit that works with communities on bear conflicts and other wildlife issues.
There is some matching funding available for communities on solutions and education through the organization, Wilbur noted.
In the end, council directed city manager Susan Nicosia to draft both a new animal conflict ordinance and a resolution for consideration at its next meeting.
No one from the public spoke on the matter.
Recent Headlines
---