Girls have rough go against Laurel in play-in game
by
Hungry Horse News
|
March 8, 2023 2:00 AM
It was a tough ending to an otherwise good season, as the Columbia Falls girls basketball team lost to Laurel in the state A play-in game Saturday in Butte, 74-45.
Columbia Falls committed 10 turnovers in the first quarter as Laurel shot out to a 16-2 lead at one point.
"We came out real tentative and dug too big a hole," coach Cary Finberg said.
To the Wildkats' credit, they battled back to cut the margin to 6, 23-17 with two minutes left in the half, and were down by just 9 at the half, but Laurel would answer with a couple of treys to re-extend the margin the opening of the third.
Hope McAtee led the Kats with 15, followed by Alanis Peterson with 8.
Taryn Borgen who had been leading the team in scoring as of late, got into foul trouble early and had 3 points. The Kats had 30 turnovers total.
Kierra Kemppainen had 8 rebounds, Emalee Alton had 6.
On the bright side, the squad just had one senior — Kya West — and a host of sophomore and junior talent, so they should be right in the mix again next season as well.
They finish the year 13-9 overall.
Finberg said the girls have potential to be a good team. They just need to put in the work in the offseason to clean a few things up.
The underclassmen squads did well. The JV team went 16-0 and the freshmen went 14-3.
C-Falls 5 12 14 14 - 45
Laurel 18 8 22 26 - 74 
COLUMBIA FALLS — Hope McAtee 15, Taryn Borgen 3, Kierra Kemppainen 3, Alanis Peterson 8, Lexi Oberholtzer 3, Demye Rensel 5, Ellie Stutsman 4.
LAUREL — Lily Waddell 3, Kaity Dantic 12, Alyse Aby 12, Sannah Windy 17, Emma Timm 6, Madison Erving 7, Mya Maac 8, Paisley Hunter 3, Kaiya Graves 6.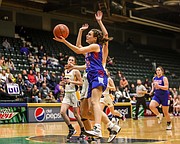 Recent Headlines
---