Congressman Zinke says Glacier National Park reservation system locking out locals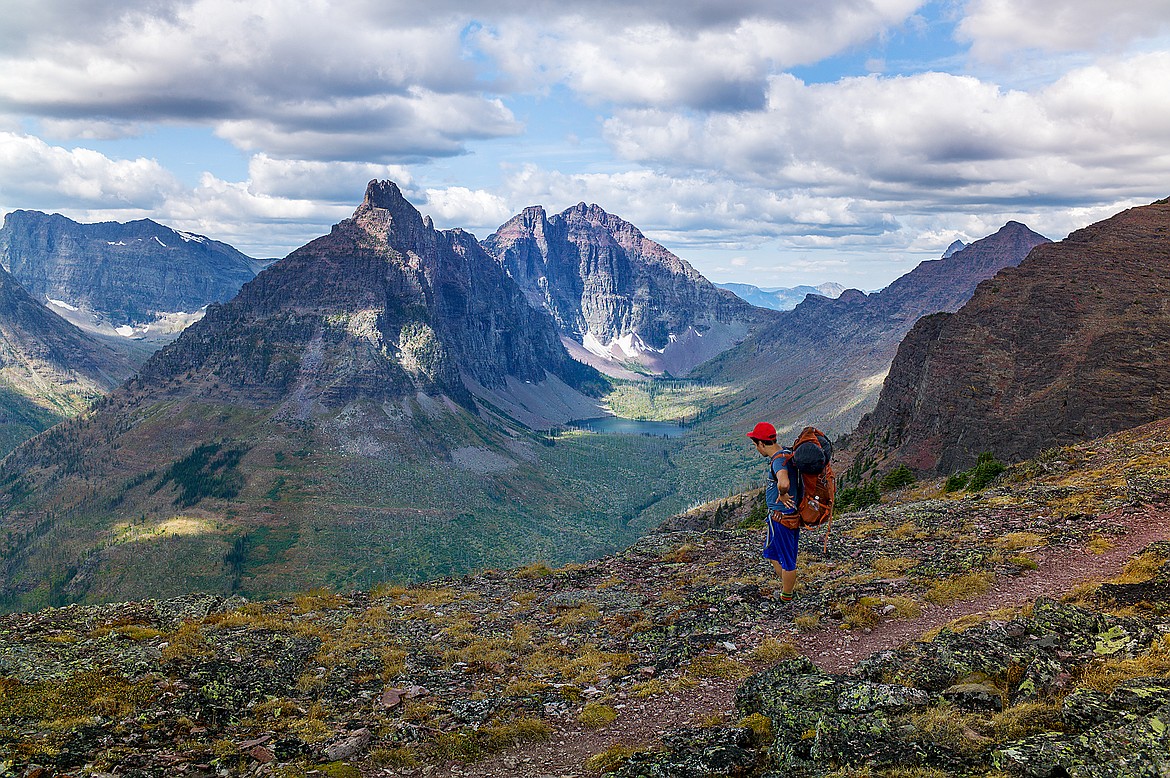 A hiker looks down at Isabel Lake from Two Medicine Pass in this photo from 2017.
by
CHRIS PETERSON
Editor
|
March 2, 2023 6:25 AM
Montana Congressman Ryan Zinke has concerns about Glacier National Park's reservation system, claiming it locks out locals. Instead of ticketed entry, the Republican is suggesting investment in a more robust shuttle system that accesses the entire park.
"Attention locals, the federal government is announcing when you can try — and likely fail — to get permission to access your public lands. The reservation system has to go," Zinke tweeted recently.
In an interview with the Hungry Horse News on Wednesday, Zinke expanded on his concerns, claiming that a person competes with 330 million other Americans for a chance to secure a vehicle reservation to enter Glacier Park.
"They don't stand a chance, statistically," he said, adding the reservation system "primarily puts a burden on locals, who no longer have access to the park."
The last round of advanced reservations for the month of July went quickly on March 1 — about a half hour for the three-day Going-to-the-Sun Road Reservations; 10 minutes for the North Fork, Many Glacier and Two Medicine regions, park spokeswoman Brandy Burke said in an e-mail.
Park officials first initiated the reservation system for the 2021 summer season. This summer, a vehicle reservation is required to access Going-to-the-Sun Road, the North Fork entrance, Two Medicine and Many Glacier valley. About half of the reservations for July were made available online March 1 and quickly sold out.
On March 1, Zinke posted a screenshot on Twitter of his failed attempt to reserve a ticket.
"The entire reservation system is a deliberate strategy to keep the public out of parks and this website is a total scam," he tweeted, about an hour after reservations opened.
In speaking with the Hungry Horse News, Zinke said he did appreciate that the park eased back the reservation window this summer, allowing people to access the park without a ticket before 6 a.m. and after 3 p.m. Montana has long days during the summer months, when it can stay light until after 10 p.m. in June and early July.
Still, he said he'd rather see Glacier do away with the reservation system entirely and go to a system of shuttles parkwide. He said he envisioned electric shuttles with the ability to open the top so people could enjoy the vistas and fresh air. It would be integrated with the trail system, so that if a trail were at capacity, the bus wouldn't make a stop there, but would go to another location.
He said such a system could be constructed with "off the shelf" technology, though it would require an investment by the Park Service and the federal government.
Zinke added that outside the park, the Forest Service could do a better job with its trails, noting that currently many of the trails on Forest Service lands don't align with trails in Glacier.
The Continental Divide Trail, for example, does not align with trails in the park. A hiker has to go up or down U.S. 2 to continue the journey into Glacier.
He also said he's heard frustration from Glacier National Park employees who say their jobs have been transformed into parking attendants.
Zinke's ideas are not new — many of them are outlined in detail in Glacier's Sun Road Corridor Management Plan, a document Zinke worked on when he was Interior secretary under the Trump Administration.
That plan added more parking spaces inside the park, potentially made a portion of the popular Highline Trail a one-way hike, and banned most overnight parking in the Sun Road corridor, save for lots near the lodges.
The plan was initially completed in 2019. But in 2021, under the Biden Administration, a sentence was added that allowed the Park Service to implement a reservation system.
"If implementation of this [the Sun Road plan] is not successful in managing desired conditions in the Sun Road corridor, the NPS may consider a reservation system for the entire corridor," the revised plan stated.
Glacier, in turn, implemented a Sun Road reservation system in 2021, then expanded it to the North Fork in 2022 and this year expanded to all the major entrances of the park, requiring a reservation to enter from 6 a.m. to 3 p.m.
With advance reservations for July sold out, people will now have to wait until the day before they plan to visit, as the Park Service will release the remaining reservations then at Recreation.gov.
The park released about half of the Sun Road reservations and 30% of the other entrances in the 120-day release on March 1.
The next advanced reservations for August will be released online April 1.
"The park welcomes all to visit. The past two years of the pilot program have been successful in spreading visitation throughout the day during peak hours on Going-to-the-Sun Road so that there are fewer closures, better traffic management, and a more enjoyable park experience," Burke said in a release.
She also noted that visitors both within Montana and from across the country successfully obtained vehicle reservations. Approximately 53% of advance May and June reservations and 33% of July reservations were obtained by Montanans, making Montana the state with the highest percentage of reservations booked for both releases.
People can also get into Glacier without a reservation by walking or biking or if they have a reservation to a campground, lodge, restaurant or a trip, like a horseback ride or a boat ride.
People still need an entrance pass as well, reservation or not.
Tribal members with appropriate identification also do not need reservations.
This story has been updated, adding more information from the Park Service.
Recent Headlines
---