Girls take fifth, will have play in game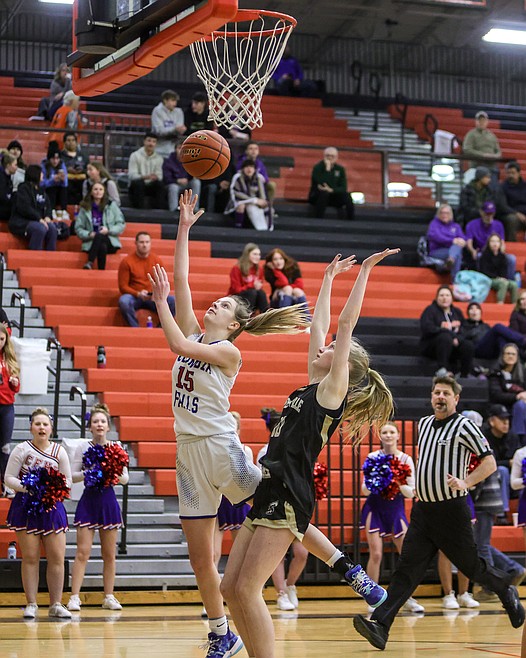 Sophomore Taryn Borgen makes a lay up against Stevensville on Friday in Ronan in the Western A Divisional Tournament. (JP Edge photo)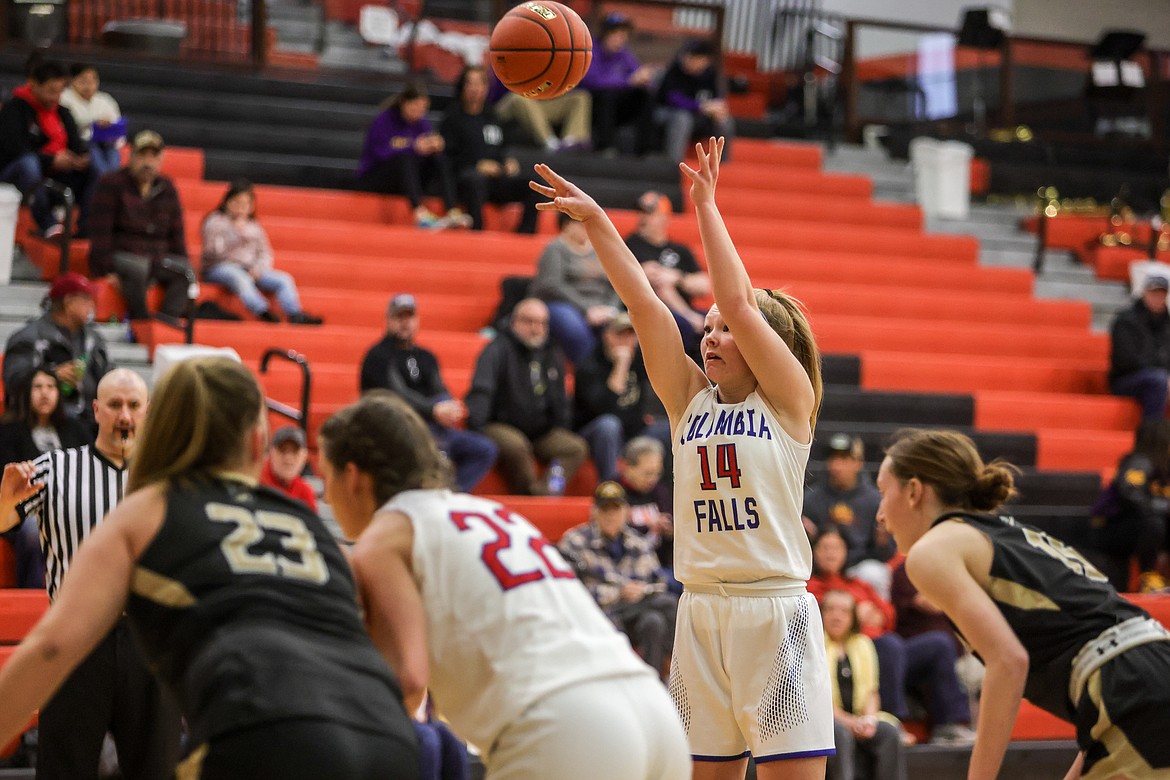 Junior Hope McAtee takes a free throw against Stevensville on Friday in Ronan in the Western A Divisional Tournament. (JP Edge photo)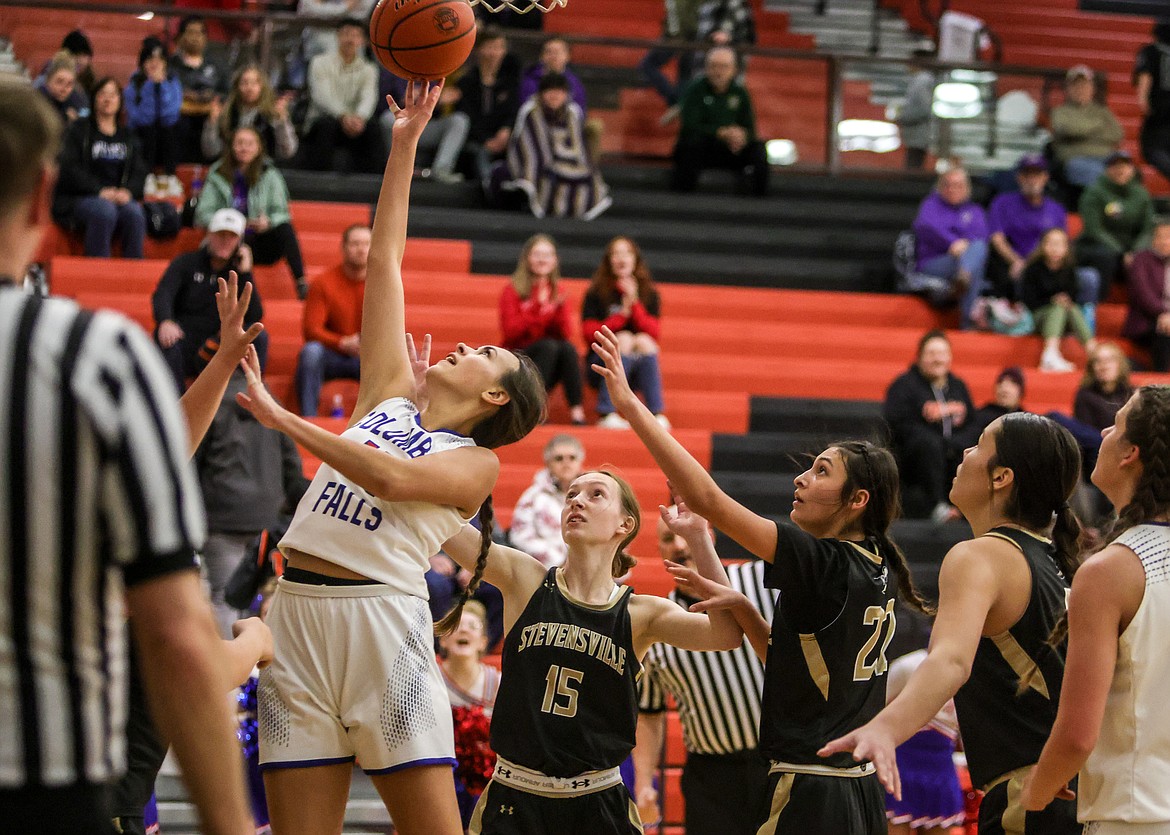 Senior Kia West goes for a lay up against the Yellowjackets on Friday in Ronan at the Western A Divisional tournament. (JP Edge photo)
Previous
Next
by
Hungry Horse News
|
March 1, 2023 2:00 AM
Their season isn't over just yet.
The Columbia Falls girls basketball team took fifth at the Western A Divisional tourney in dramatic fashion last week in Ronan.
The Wildkats opened the tourney with a 51-35 loss to Frenchtown Thursday.
But the Kats battled back Friday and beat Stevensville 58-52 to stay alive for the consolation bracket on Saturday. Taryn Borgen had a great game against the Yellowjackets, scoring 23 points — she hit five three-pointers.
They then faced top-ranked Dillon on Saturday, taking the Lady Beavers to overtime before losing 65-57.
Despite the loss, in many ways the Dillon game was one of the Kats' best performances of the season. Borgen had 19, Hope McAtee had 13 and a chance to win it in regulation, but the second free throw of a one-and-one which would have given the Kats the lead was just off the mark.
The girls still had a shot at fifth and got the job done, beating Polson in a squeaker, 59-57. The Kats had a 17-6 lead after the first period, but the Lady Pirates battled back to make a game of it.
Borgen led the squad with 17; McAtee had 13 as the Kats held off Polson with a 17-12 fourth quarter.
Coach Cary Finberg was pleased with the girls' overall play. He noted that outside of three bad second quarters — one against Frenchtown, one against Stevi and one against Polson, where the girls were outscored 19-2, 24-4 and 16-5 respectively, the Kats played well. They were able to overcome those second quarter letdowns other than Frenchtown.
He noted all five starters played well. McAtee led the team in assists and was great at finding open teammates; Demi Rensel came up big on defense taking charges at key moments in the games; Emalee Alton was great on the board with 11 rebounds against Frenchtown and 16 against Dillon; Borgen had her best offensive showing of the season and Lexi Oberholtzer hit some key shots for the Kats as well. The team also got solid help from the bench in Kia West and Kierra Kemppainen.
"They showed what they're made of," Finberg said. "They never gave up."
The girls now face Laurel at the Butte Civic Center Saturday. The winner will advance to the state tournament. Game time is 1 p.m.
Laurel is a talented team and very athletic.
"We'll have to play well," Finberg said. "But I like where we're at."
Frenchtown went on to win the title, beating Hamilton, 49-42.
Stevi 15 16 8 13 - 52
C-Falls 21 5 9 23 - 58
STEVENSVILLE — Shilo Lampi 16, Cambree Praast 12, Dawsyn Brewer 9, Claire Hutchison 9, Addi Drye 3, Alexa Perez 3.
COLUMBIA FALLS — Tayrn Borgen 23, Hope McAtee 13, Lexi Oberholtzer 8, Kya West 6, Emalee Alton 5, Kierra Kemppainen 2, Demye Rensel 1.
C-Falls 10 6 17 19 5 - 57
Dillon 16 7 14 15 13 - 65
COLUMBIA FALLS — Taryn Borgen 18, Hope McAtee 13, Emalee Alton 13, Demye Rensel 7, Lexi Oberholtzer 6.
DILLON — Kenleigh Graham 17, Kylie Konen 12, Leila Stennerson 11, Halle Fitzgerald 10, Sydney Petersen 9, Josie Robbins 3, Ariel Thomas 2, Hailey Powell 1.
Polson 6 17 22 12 - 57
C-Falls 17 10 15 17 - 59
POLSON — Julia Barnard 3, Samantha Rensvold 5, Mila Hawk 17, Nikki Kendall 11, Grace Simonich 12, Alysia Adams 9.
COLUMBIA FALLS — Kya West 3, Hope McAtee 13, Taryn Borgen 17, Kierra Kemppainen 8, Emalee Alton 9, Lexi Oberholtzer 2, Demye Rensel 5, Ellie Stutsman 2.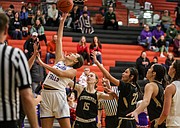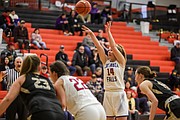 Recent Headlines
---