Girls hoops start off year on a high note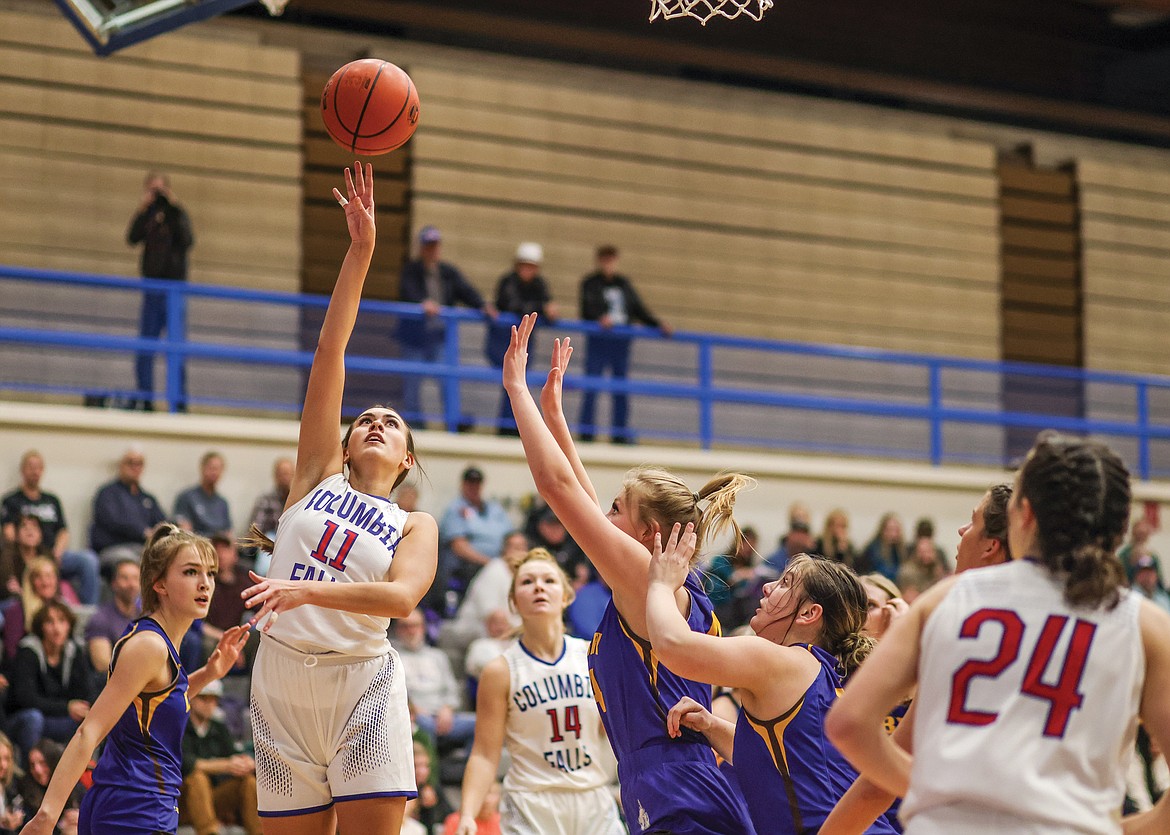 Senior Kia West goes for a shot against Libby at home on Thursday. (JP Edge photo)
|
January 11, 2023 12:50 PM
Hungry Horse News
The Columbia Falls girls basketball team opened 2023 on a high note, dropping Libby at home Thursday, 65-26 and then beat Class B Shelby on the road, 69-54, Saturday.
The Wildkats spread the scoring around in a balanced attack against the Loggers. Hope McAtee had 14, Taryn Borgen 13 and Emalee Alton had 11 with 10 rebounds to boot.
Coach Cary Finberg said he was pleased with the way the girls played D against Libby.
"I thought we came out and played very good defensively," he said. "We set the tone early."
But against Shelby, the young squad played almost no defense at all in the first half, as Shelby jacked up 25 treys in the first half alone.
The Wildkats were up by just a point at the break.
They played better defensively and pulled away in the second half for the win.
McAtee lead the squad with 20 points and 11 rebounds, while Borgen had 15 points, five boards, eight steals and four assists. Kierra Kemppainen had a solid game with six points in the third when the Kats really needed it and Lexi Oberholtzer had 11. Demy Rensel did the little things that matter in a game, Finberg noted, included taking a charge, grabbing 6 points and 6 rebounds.
The Kats now travel to Whitefish Thursday and and face Ronan Friday. The Bulldogs are at 6 p.m., Ronan at 7:15 p.m. Finberg said there's more parity in the league then there has been in years, so the Kats will have to be sharp to get some key conference wins.
The girls have shown they can score.
But with a host of underclassmen on the roster, "We have to get more consistent on the defensive end," Finberg said.
The girls are now 5-2 on the season.
Recent Headlines
---