Injured trooper says there's a long and difficult road ahead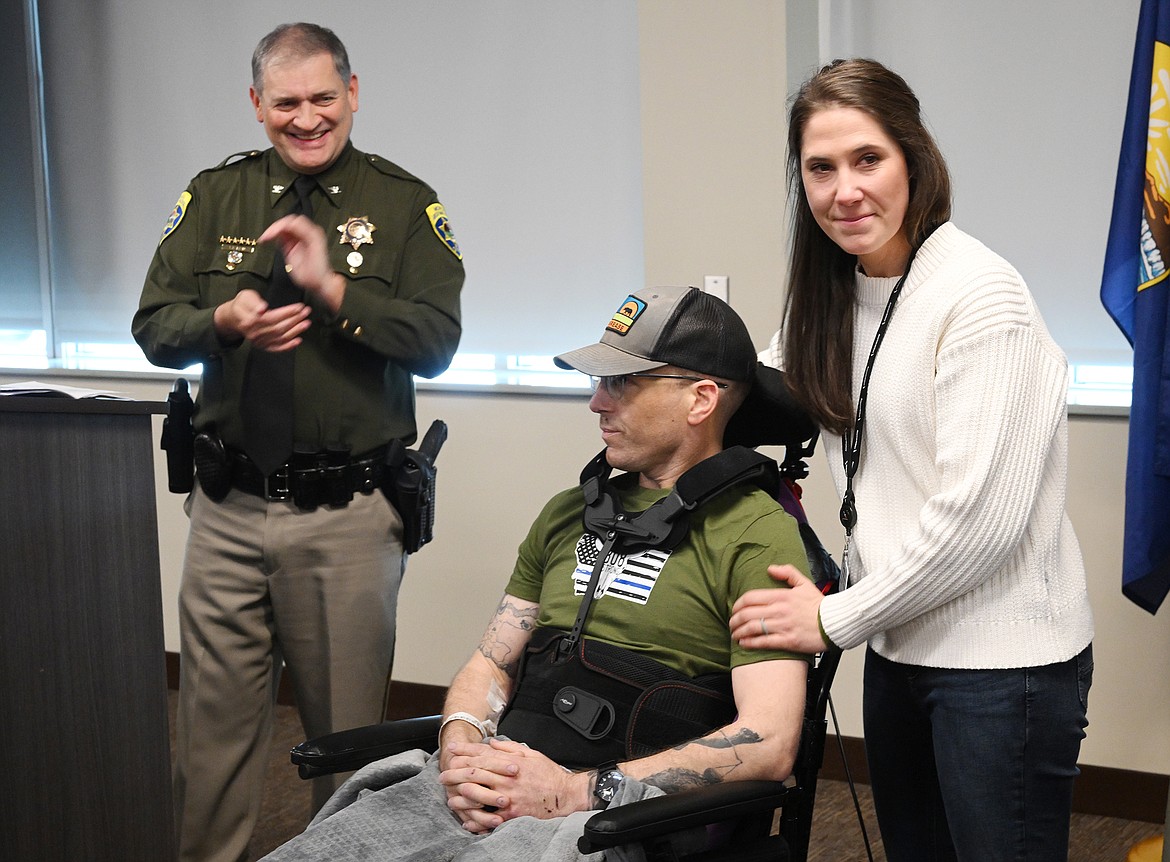 Montana Highway Patrol Trooper Lewis Johnson, his wife and fellow Trooper Kate Johnson, address a crowd of law enforcement, community members and medical staff during a rally for Johnson Sunday at Logan Health Hospital in Kalispell. To the left is Colonel Steve Lavin of the Montana Highway Patrol. (Chris Peterson/Hungry Horse News)
by
SCOTT SHINDLEDECKER
Hagadone News Network
|
February 27, 2023 5:30 AM
When Montana Highway Patrol Trooper Kate Johnson wheeled her husband and fellow Trooper Lewis Johnson into a conference room Sunday afternoon at Logan Health it was a welcome sight.
Just 10 days after he was nearly killed after being run over by a man he was trying to arrest during a chase on Feb. 16 on Highway 37, Lewis Johnson spoke briefly to the assembled crowd who greeted him with a hearty round of applause at a rally of support.
His voice wavering with emotion, Lewis thanked everyone for their efforts to keep him alive and their prayers and well wishes since the tragic incident.
"Thanks," Johnson said. "With my level of comfort, while I am being well taken care of here, I don't think I can make it through this entire event due to the physical and emotional feelings I have."
Johnson, stationed in Eureka, was assisting deputies from the Lincoln County Sheriff's Office in an attempt to arrest 41-year-old Rexford resident Jason A. Miller. County officers had sought Miller for absconding from parole following convictions for criminal possession of methamphetamine and two counts of theft.
Miller is accused of leading officers in a vehicle pursuit in his pickup
south on Highway 37, south of Eureka. Authorities said Miller attempted to turn onto Camp 32 Road and lost control of his vehicle. According to a press release from the Lincoln County Sheriff's Office, deputies and the trooper approached the vehicle while giving commands to gain the man's compliance and execute the arrest. But officers say Miller regained control of his truck and drove at the deputy and trooper, striking the trooper. 
Deputies rendered aid to Lewis Johnson while other officers continued the pursuit.
A Montana Fish Wildlife and Parks Warden Ben Chappelow intercepted Miller off Camp 32 Road and Miller allegedly rammed the warden's vehicle. Miller was then taken into custody.
Much credit was given to the officers and other first responders who cared for Johnson immediately after he was run over as well as the medical team at Logan Health.
"Deputy Clint Heintz ran to Trooper Johnson and immediately called for the ambulance," MHP Col. Steve Lavin said. "'Thank you for helping save his life.'"
Heintz, a former Eureka Police Department officer before joining the county Sheriff's Office, is a combat medic who served his country in the Middle East.
"I did what I could for him just like what he'd do for me," Heintz said.
Logan Health Chief of Surgery Dr. Erik Peltz had high praise for Heintz's life-saving efforts.
"He kept the trooper's airway clear and kept him warm until the 'copter showed up," Peltz said. "It's really remarkable Lewis is alive. He had several broken ribs and suffered major injuries to his lung, liver, stomach and severe spinal trauma."
Johnson also suffered a broken leg and broken arm.
Peltz also lauded the efforts of Eureka Fire and Rescue in getting Johnson to a location where Logan Health's ALERT air ambulance could pick him up and take him to Kalispell.
"Eureka Fire and Rescue is an all-volunteer operation," Peltz said. "Without our volunteers, we couldn't even get treatment started."
Johnson's sister, Jill Streit, shared her heartfelt thanks to first responders and shared some information about her brother.
"Thank you for saving my brother's life. I have no doubt he'll make a full recovery," Streit said. "I'm only 14 months older than Lewis, but he's always protected me.
"He joined the Army National Guard before the end of his junior year of high school so he chose a life of public service at a very young age. I appreciate the support and ask that you keep him in your prayers."
Lincoln County Sheriff Darren Short quietly thanked Heintz for his efforts and gave him a certificate recognizing what he did.
"Every day we go to work and it's challenging, dangerous and frustrating, but it's also rewarding," Short said while recognizing the various officers who assisted Johnson following the incident.
Many state and federal elected officials offered their support and prayers for the Johnson family through representatives or on video, including Gov. Greg Gianforte, U.S. Sens. Steve Daines and Jon Tester, U.S. Rep. Ryan Zinke and Montana Attorney General Austin Knudsen.
"We are holding you up in prayer for a quick and speedy recovery," Gianforte and his wife, Susan, said in a video message. "To both of you, you are heroes. God bless every single Montanan who wears a badge."
Johnson said he and his family appreciate the support they've received.
"I suffered a catastrophic spinal injury and we have a long and difficult road ahead of us. We appreciate all the support as we navigate this difficult road," Johnson said.
Johnson's verified GoFundMe (https://gf.me/v/c/5pn7/support-for-trooper-lewis-johnson-family) has raised nearly $188,000 via 1,500 donations. The goal is $300,000.
For those who wish to donate to the family, they may send checks payable to Lewis and Kate Johnson to P.O. Box 356, Chester, MT 59522. Anyone interested in fundraising opportunities can email johnsonfamilystrong2023@outlook.com.
This story has been updated to reflect the correct spelling of Jill Streit's last name.
Recent Headlines
---