C-Falls teams look to make their mark at divisionals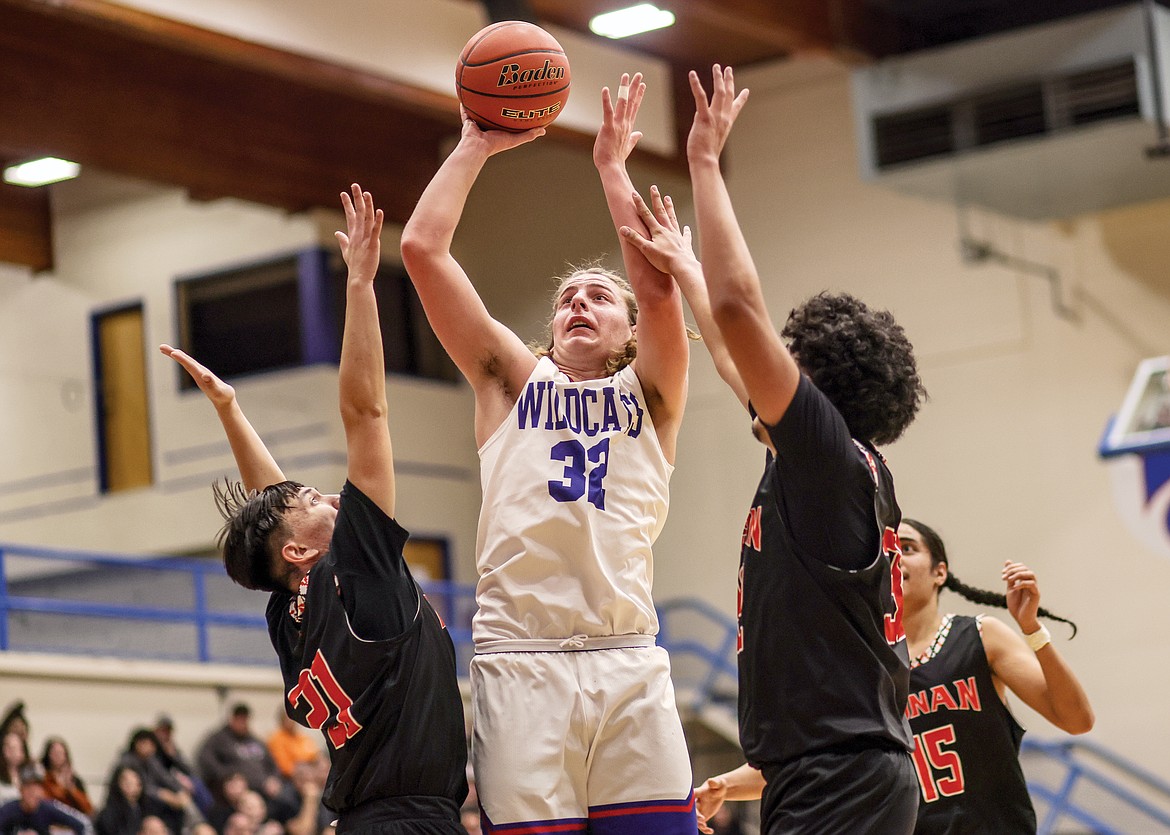 Cody Schweikert takes a shot against Ronan earlier this season. (JP Edge photo)
by
CHRIS PETERSON
Editor
|
February 22, 2023 2:00 AM
The Columbia Falls boys and girls basketball teams will be back on the hardwood this week at the Western A Divisional tourney in Ronan.
The boys are coming off their best season since 2015 with a 14-3 overall record and a 9-1 record in Northwest A Conference play.
The Wildcats took the regular season conference title and will look to build on that success with a balanced offense attack.
The Cats' offense runs through point guard Jace Hill who does an excellent job of distributing the ball and finding the open man.
He leads the state with 7.8 assist per game and is fifth in the Northwest A in scoring at 12.8 points per game. Teammate Alihn Anderson averages 12.2 points per game and Cody Schweikert averages averaged 11.9 points per game.
All three are juniors.The Cats also get quality minutes out of Mark Robison, Hunter Goodman and senior Bryce Dunham to name a few.
With a balanced scoring attack, the Cats are averaging 67 points per game, the third highest in the state behind Browning and undefeated Lewistown.
But the team to beat at the divisional tourney is Butte Central. Central features Dougie Peoples, who leads the state in points per game with 23.7.
The boys open the tourney against Frenchtown, who was 8-6 in league play and 13-6 overall. The Broncs are the No. 4 seed. Gametime is 1:30 p.m. Thursday.
On the girls side, the young squad ended up third in Northwest A. Coach Cary Finberg said the Wildkats would be working on their defense heading into the tourney.
The team's top scorer is Hope McAtee, who leads the conference in scoring and is fourth in the state A rankings at 15.2 points per game. McAtee also averages 8.2 rebounds a game.
Over the season they're seen good things from guard Taryn Borgen, Emalee Alton, Kierra Kempainnen and Demi Rensel.
But at times they're inconsistent and coach Cary Finberg said the girls would be working on their defense heading into the tourney, as lapses on that end have hurt them this season.
The girls went 6-4 in league play and 11-5 overall.
The Wildkats have just one senior on the squad — Kya West.
They open the divisional tourney against Frenchtown, who went 10-2 in league play and 13-4 overall. The game is an early one — starting at 9 a.m. Thursday morning.
Frenchtown will be a tough game. The Lady Broncs beat previously undefeated Dillon, 49-40. The Broncs are led by Sadie Smith, a 6 foot junior and Madison Kaufman. Kaufman averages 13.2 points per game while Smith averages 12 and 9.2 rebounds per game.
Recent Headlines
---