Man who allegedly ran over trooper makes court appearance; account set up to help family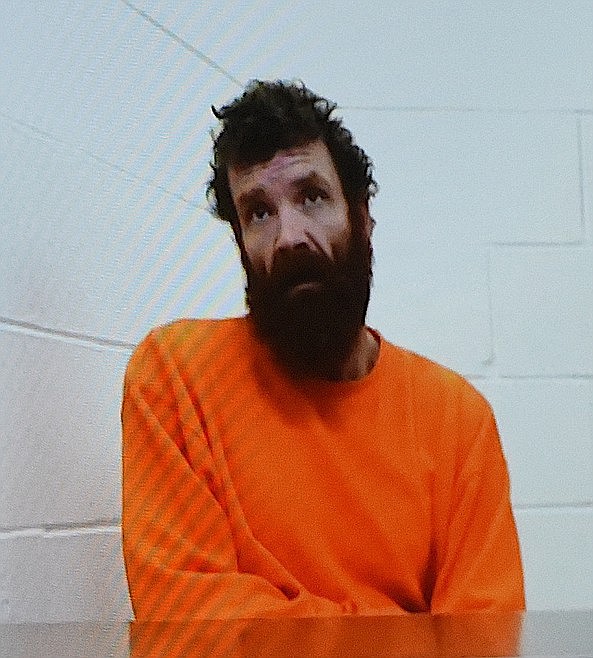 |
February 19, 2023 5:55 AM
By SCOTT SHINDLEDECKER
The Western News
A Lincoln County man accused of running over Montana Highway Patrol trooper Lewis Johnson during a law enforcement pursuit Thursday made his initial court appearance Friday.
Jason Allen Miller, 41, of Rexford appeared in front of Judge Jay Sheffield in Lincoln County Justice Court for his arrest for absconding from parole for previous convictions in the county for theft and possession of dangerous drugs.
No charges have yet been filed in the Feb. 16 pursuit. Authorities said Friday that additional charges are pending and will be announced next week.
During Miller's brief appearance on video, he leaned back in a chair in the Lincoln County Detention Center, where he is being on no bond, and said he understood everything Sheffield asked him. He also was read his Miranda rights and told he needed to fill out paperwork and have it mailed so he could obtain a public defender.
Miller's arrest followed a run from law officers after deputies from the Lincoln County Sheriff's Office attempted to arrest him shortly before 3 p.m., Feb. 16.
According to information on the Montana State Prison website, Miller was accused of theft on June 1, 2001 and Dec. 1, 2001. He was sentenced to prison time for both on May 14, 2012. He was accused of criminal possession of dangerous drugs in 2012 and sentenced to the Montana State Prison for 60 months in 2018.
According to information from the Lincoln County Sheriff's Office, deputies were joined in the pursuit by a Montana Highway Patrol trooper.
Miller attempted to turn onto Camp 32 Road and lost control of his vehicle.
Deputies and the trooper approached the vehicle while giving commands to gain compliance and execute the arrest. Miller regained control of his truck and allegedly drove at the deputy and Johnson. Johnson was struck by Miller's truck, officials said.
Deputies rendered aid to the injured trooper and while their colleagues continued the pursuit. Johnson later was transported to Logan Health Medical Center by an ALERT air ambulance.
A Montana Fish, Wildlife and Parks warden intercepted the fleeing vehicle off Camp 32 Road and Miller allegedly rammed the warden's vehicle. He was taken into custody following the collision.
A female passenger in Miller's vehicle allegedly jumped out of the truck during the pursuit and was apprehended by U.S. Border Patrol agents. She was questioned and released.
"The actions of the deputies, troopers and wardens with assistance from the Border Patrol took a dangerous person out of our community," said Lincoln County Sheriff Darren Short. "Thanks to their heroic actions, our entire community is a safer place. Our thoughts and prayers are with the trooper and his family."
U.S. Sen. Steve Daines voiced words of support for the officer in an email Thursday evening.
"Terrible news," U.S. Senator Steve Daines said. "Praying for a speedy and full recovery for the Montana Highway Patrol trooper who was injured this afternoon while serving their community."
He was joined by state Attorney General Austin Knudsen and Col. Steve Lavin of the Montana Highway Patrol. Both encouraged Montanans to pray for Johnson.
"Please join me in praying for our Montana Highway Patrol trooper who was seriously injured while apprehending suspects fleeing law enforcement today," Knudsen said in a statement. "I'm thankful for our Montana law enforcement officers who put on their uniform every day not knowing what dangers they may face."
Lavin said the trooper's injuries struck close to home.
"Our hearts go out to our MHP trooper and all law enforcement involved in today's vehicle pursuit. This is a harsh reminder of the dangers we face in our jobs as law enforcement officers," Lavin said. "I have no doubt the citizens of our great state will join with me in prayer for our trooper, the MHP family and all law enforcement in this trying time."
The Montana Department of Justice's Division of Criminal Investigation is leading the investigation. The Lincoln County Sheriff's Office and Montana Highway Patrol will be assisting.
Deputies with the Flathead County Sheriff's Office also aided in the pursuit.
Johnson has been a trooper with the Highway Patrol for eight years and is stationed out of Eureka. He remains at Logan Health in Kalispell in serious, but stable condition.

A Go Fund Me account has been set up to support the Johnson family at:
https://gf.me/v/c/dyp/support-for-trooper-lewis-johnson-family
It has already raised more than $122,000.
Recent Headlines
---