Swimmers take third at state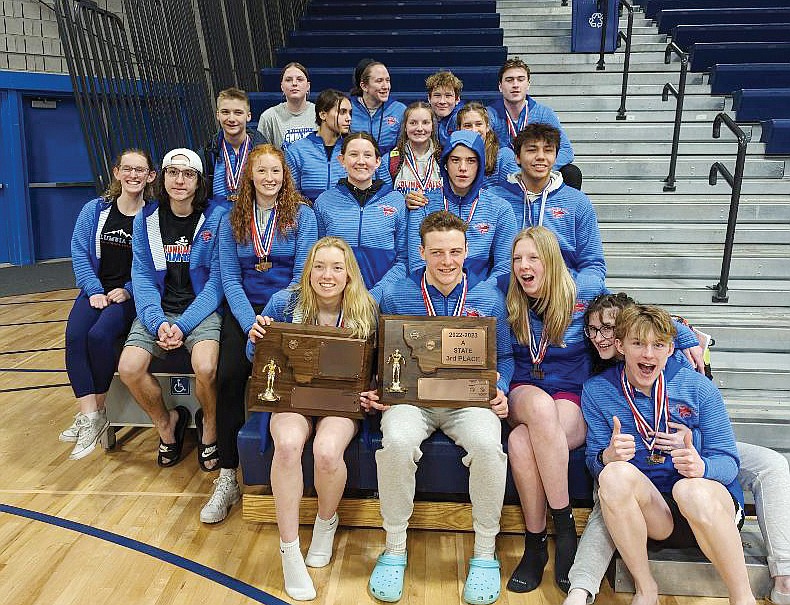 The swim team with their trophies and medals.
by
Hungry Horse News
|
February 15, 2023 2:00 AM
The Columbia Falls girls and boys swim teams both took third at the state meet in Great Falls among class A and B schools over the weekend.
"This season was amazing. We set lofty goals back in November, and we got to see those goals achieved. Going into state, the girls were ranked fourth, and it was going to be a three-way battle for second and third between us, Havre, and Hardin. Hardin only beat us by two points which says a lot about how hard our girls swam to earn their first trophy in program history," coach Amy Caudill said. "Over the weekend, we had the opportunity to celebrate dreams that turned into accomplishments and weathered storms of disappointment. I could not be more proud of how our teams swam and their sportsmanship and character throughout the weekend."
The boys did equally well, Caudill said.
"The boys faced adversity, having one sprinter slated to score points and withdraw from the weekend due to illness. Thankfully we had teammates willing to step up and take the place of their teammates on relays," she said.
The boys had two state champions in Connor Keith and Adam Schrader.
The following are the Columbia Falls results:
Adam Schrader-State Champion Class A 50 Freestyle, 3rd Place 100 Freestyle
Connor Keith-State Champion Class A 100 Breaststroke, 2nd place 200 IM 
Eloise McKeon-2nd Place 200 Freestyle, 500 Freestyle
Sadie Cheff- 2nd Place 100 Breaststroke, 3rd place, 100 Freestyle 
Kaylee King-5th place 50 freestyle, 6th place 100 freestyle 
Thane Borgan-6th place 100 Freestyle, 4th place 100 backstroke
Teagan Bates-6th place 200 freestyle, 6th place 100 backstroke
Avic Lime-5th place 100 backstroke 
Quinn Clark-5th place 100 fly, 6th place 500 freestyle
Boys 200 Medley Relay-Thane Borgen, Connor Keith, Quinn Clark, Adam Schrader, 2nd Place
Girls 200 Medley Relay-Kaylee King, Sadie Cheff, Eloise McKeon, Molly Bagley, 3rd Place
Boys 200 Freestyle Relay-Christopher Carlin, Connor Keith, Teagan Bates, Adam Schrader, 3rd Place
Girls 200 Freestyle Relay Kaylee King, Sadie Cheff, Eloise McKeon, Molly Bagley, 3rd Place
Recent Headlines
---