Girls get a split to end regular season
|
February 15, 2023 2:00 AM
They settled for a split.
The Columbia Falls girls basketball team lost to Ronan 50-48 last week on the road, but bounced back at home Saturday to down Whitefish, 70-33 at home.
The Wildkats end the regular season at 6-4 in conference play and 11-5 overall. The young squad finished third in the Northwest A conference heading into the Western A divisional tourney.
Against Ronan the Maidens outscored the Wildkats 16-8 in the third. The Kats were led by Hope McAtee with 20 points and 17 rebounds in the loss.
Coach Cary Finberg was ejected from the game for arguing a "cheap shot" foul against a Wildkat that wasn't called and then a foul on a Wildkat that was called. He said he was protecting his players, as someone could have gotten hurt.
Ciera Finberg came in and coached the rest of the Ronan game as well as the Whitefish game, as when a coach is ejected, they're disqualified from the next contest.
Finberg said Ciera did a great job. She coaches the junior varsity team as well.
Against the Lady Bulldogs, the Kats scored 21 in both the second and third quarters to rout hapless Whitefish.
McAtee had 15 points, 10 rebounds, 7 assists and 7 steals, Taryn Borgen 13, Kierra Kemppainen 10, in a balanced attack.
The girls now have two weeks off to get ready for the Western A divisional tourney in Ronan, which opens Feb. 23.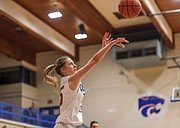 Recent Headlines
---