Boys steady in win over Loggers
|
February 8, 2023 9:00 AM
The Columbia Falls boys used a balanced attack to dispatch Libby last Thursday at home, 71-46.
The Wildcats had 10 players in the scoring column as they outscored Libby 18-8 in the second period to take a 15-point lead at the break.
The Cats were led by Alihn Anderson with 14 points, followed by Cody Schweikert with 13 and Jace Hill with 12.
Coach Chris Finberg was pleased with the play. The Cats just slowly and steadily built a lead, he said. They also had just 11 turnovers. As a team, they shot 60% on twos from the field.
A scheduled Saturday doubleheader against Shelby was canceled by Shelby — they claimed the roads were bad — on Friday night.
Saturday saw nice weather.
The Cats wrap up the regular season this week with a home games against Ronan Thursday at 7:15 p.m. and then a home game Saturday at 4 p.m. against Whitefish.
The boys are now 7-1 in conference play and 12-3
overall. If they win out, they'll win the Northwest A regular season conference title.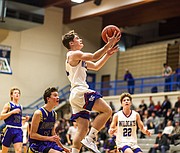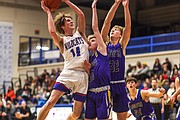 Recent Headlines
---