Fires close Hungry Horse Reservoir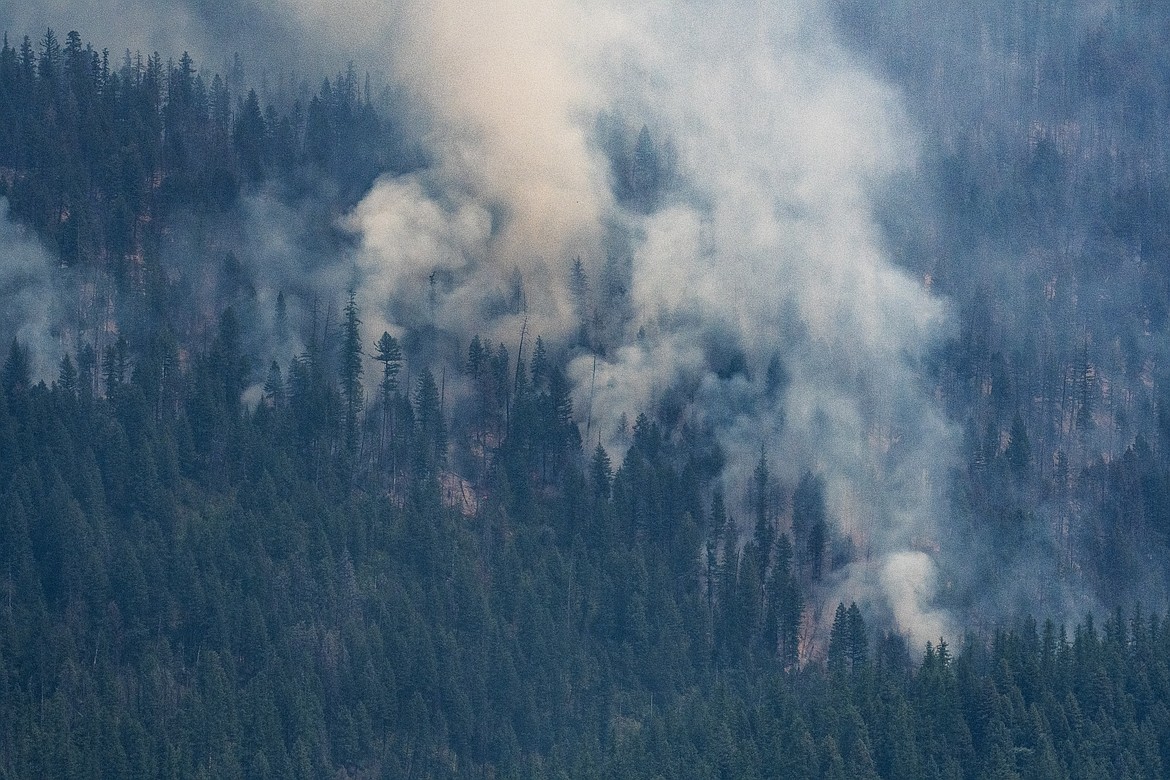 The ridge fire burns above Emery Bay on Friday, August 4. (Avery Howe photo)
|
August 8, 2023 10:07 AM
The Ridge Fire above Emery Bay on the Hungry Horse Reservoir grew substantially in the past week and is expected to get even bigger in the next few days.
The entire Hungry Horse Reservoir is now closed to public access.
As of presstime the fire was about 3,000 acres. There is a large area around the fire that is also closed to public access.
A complex incident management team, formally considered a Type I team, is taking over management of the fire.
A pre-evacuation notice has been issued for homes along the East Side Reservoir Road past Desert Mountain Road.
The Ridge Fire, however, has primarily been moving to the east. Longterm models have it eventually pushing its way east northeast to Great Bear Mountain and Triangle Peak in the Great Bear Wilderness.
It is also impacting the Coram Experimental Forest, a 7,640 acre forest that has longterm plots of woods subjected to different management methods. It is primarily a western larch forest however, and larch are, to a degree, fire resistant.
The Tin Soldier complex on the west side of the reservoir on Kah Mountain, Bruce Ridge in the Sullivan Creek area has also grown to more than 2,500 acres.
The fire has closed down access to the Bob Marshall Wilderness at Spotted Bear and the Meadow Creek Gorge.
The fires are just to the east of the Spotted Bear area, including the ranger station, which has escaped large fires in the past.
There is a large area closure around the fire including the front country of the Spotted Bear district as well the Gorge Creek drainage within the Bob Marshall Wilderness area, including Feather, Inspiration, Gorge, Canyon Trickle, and Stadium Creeks.
Folks heading into the backcountry should check inciweb.gov before they embark on a journey.
Another fire has sprung up as well.
The Sidney Fire on the Rocky Mountain Ranger District near Marias Pass at Summit has forced the closure of Trail 119 and Trail 101 to the junction of 101 and 133 and Trails 133, from Summit Trailhead, and Trail 133.1, from Summit Campground, to where these two trails join Trail 101.
Those trails are also popular access points to the Bob Marshall Wilderness and are part of the Continental Divide Trail.
The Tin Soldier Complex and the Ridge Fire were both started by lightning. A cause for the Sidney Fire had not been listed as of presstime.
Glacier National Park has no large fires as of presstime. It had a few small ones but they have been put out.
Recent Headlines
---