Yesterdays: City gets ready for Truman visit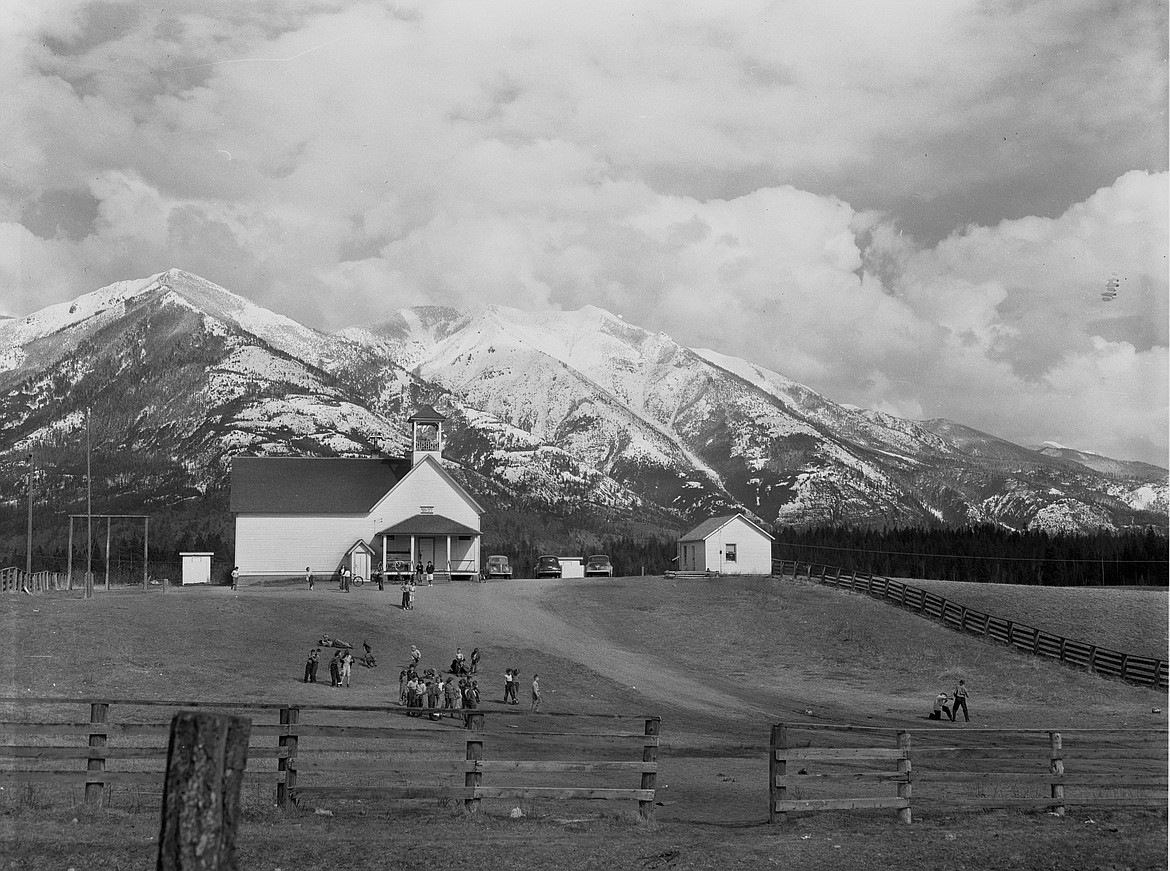 Deer Park School, 1948. (Mel Ruder photo)
|
September 28, 2022 7:00 AM
70 years ago
Nov. 26, 1952
Columbia Falls was preparing for the arrival of President Harry Truman, who would dedicate the Hungry Horse Dam. Truman was to arrive by train Oct. 1 in Columbia Falls at the depot in town and then travel to the dam itself. The president was also scheduled to make a brief stop the night before in West Glacier.
60 years ago
Sept. 28, 1962
Glacier National Park had a big building year, with a new bridge over lower McDonald Creek, the rebuilding of the Chief Mountain Highway and road work into Two Medicine as well. Campgrounds in the park also saw improvements. In 1963 there were plans to build a new visitor center at Logan Pass.
50 years ago
Sept. 29, 1972
Charles and Ellen Logan of Bad Rock celebrated their 50th wedding anniversary. The couple's home and homestead featured a barn built in 1901. The home, at one time, had 13 rooms and was built for $550 for Nathan Scott by Nick Ingerson from logs taken off the homestead.
40 years ago
Sept. 30, 1982
Leo, a lion that was living at the Trap Zoo near Columbia Falls was likely doomed. The problem was the zoo was closing down for good and Leo would no longer have a home. No other zoos were interested in buying Leo for the $500 asking price.
30 years ago
Oct. 1, 1992
Kurt Wieringa of West Glacier was mauled by a bear twice. One night when he left his camper home he was mauled when he stepped outside to go to the bathroom and stepped into the bear. That time he got swatted and ended up in the hospital for treatment for scratches. The next night he had a .44 magnum pistol and ran into the bear again in the dark near his pickup truck. The bear charged out of the brush and got on top of him. This time he was able to get his gun and fire off several rounds. But the bear still scratched him some more. He ended up in the hospital — again. The third time Wieringa decided to move to a different location in town.
20 years ago
Sept. 26, 2002
Homecoming king and queen were Tyler Jones and Trista Goodnough. Both are educators today. Goodnough teaches in Columbia Falls and Jones is an assistant principal in Whitefish.
10 years ago
Sept. 29, 2012
F.H. Stoltze celebrated its new biomass plant that would provide electricity and heat for its mill as well as provide about 2.5 megawatts of electricity to the grid through Flathead Electric Co-op. The facility burns waste wood not only from its mills, but from other mills in the area.
Recent Headlines
---