Girls soccer gets back on winning track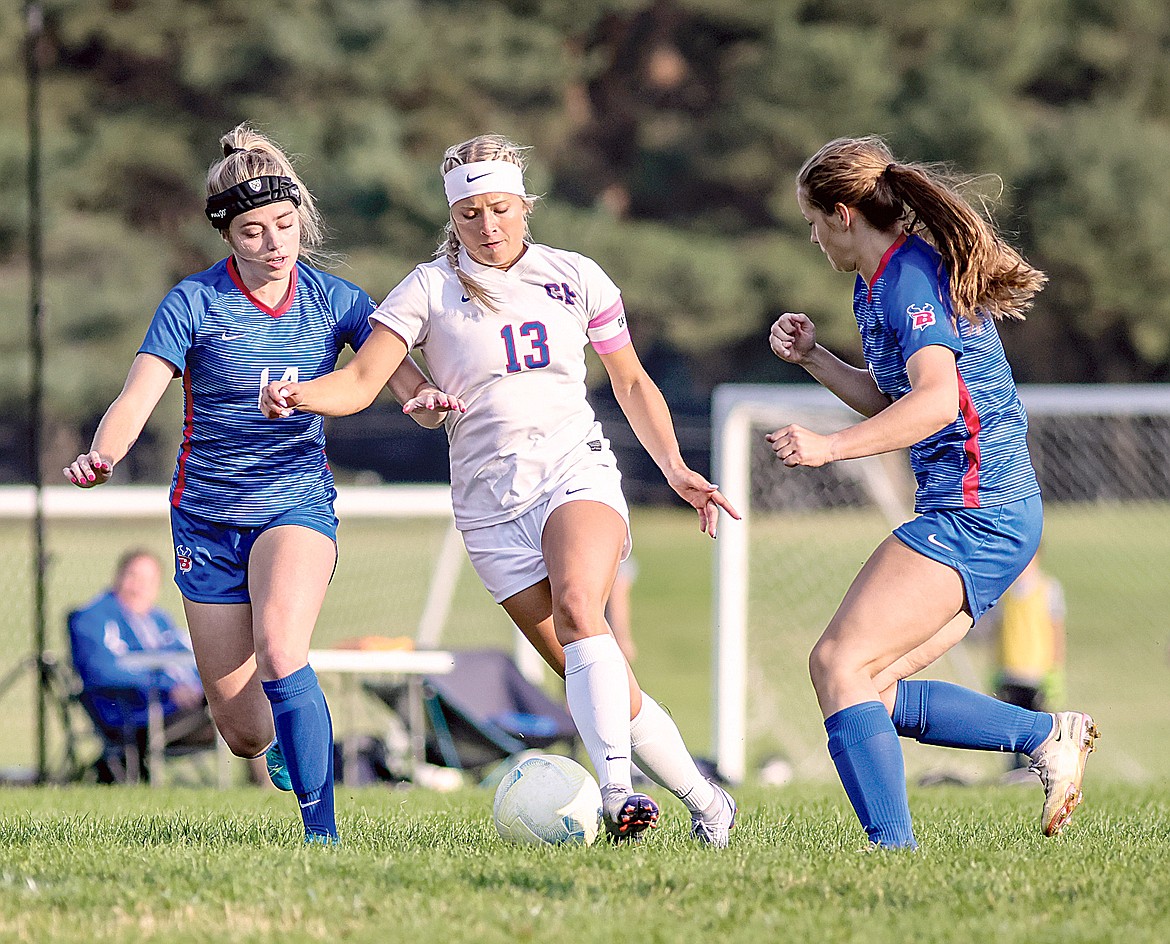 Senior Sydney Mann drives it to the goal at the opening of the Bigfork game earlier this season. The Cats are looking forward to a rematch Saturday.
|
September 28, 2022 12:10 PM
Hungry Horse News
The Columbia Falls girls soccer team got back on the winning track last week, downing Polson Tuesday and Libby Thursday on the road, 5-0 and 8-0 respectively.
Hope McAtee scored twice and Josie Harris, Tayler Lingle and freshman Mila Johns all added goals against the Pirates.
Against the Loggers, McAtee had a hat trick and four assists in the lopsided win.
Sydney Mann also had a hat trick and her younger sister Bella, also had a goal.
Josie Harris chipped in a goal as well.
Coach Thomas Clark was please with the scoring.
"The goal scoring was the most important component we needed to get sorted out," he said. And the Wildcats did just that.
He was pleased to see McAtee find the back of the net.
"She's taken another step this year," he noted.
Last year McAtee's role was to feed senior teammates the ball. Now it's her turn to score and the past two games were a great setup for the showdown this Thursday at home against the Lady Bulldogs. The Bulldogs bested the Cats 4-0 in the last match, but the Cats are better than the score would suggest.
"The 4-0 score is not indicative of how we played," Clark noted.
This time around, expect a much better performance from the Cats.
"I expect it to be a hard-fought game," Clark said.
Gametime is 5 p.m. on Flip Darling Field for homecoming. It should be an excellent match.
The girls are now 5-3-0 overall and 2-2 in conference play. The most important game of the year is actually Saturday, when the girls square off against Bigfork.
If they can win by more than two, they'd be in the driver's seat for second-place finish in the conference, as Bigfork beat the Cats 3-1 earlier this season.
Recent Headlines
---