A dip in enrollment at Glacier Gateway is a complicated tale: Housing, daycare, play into it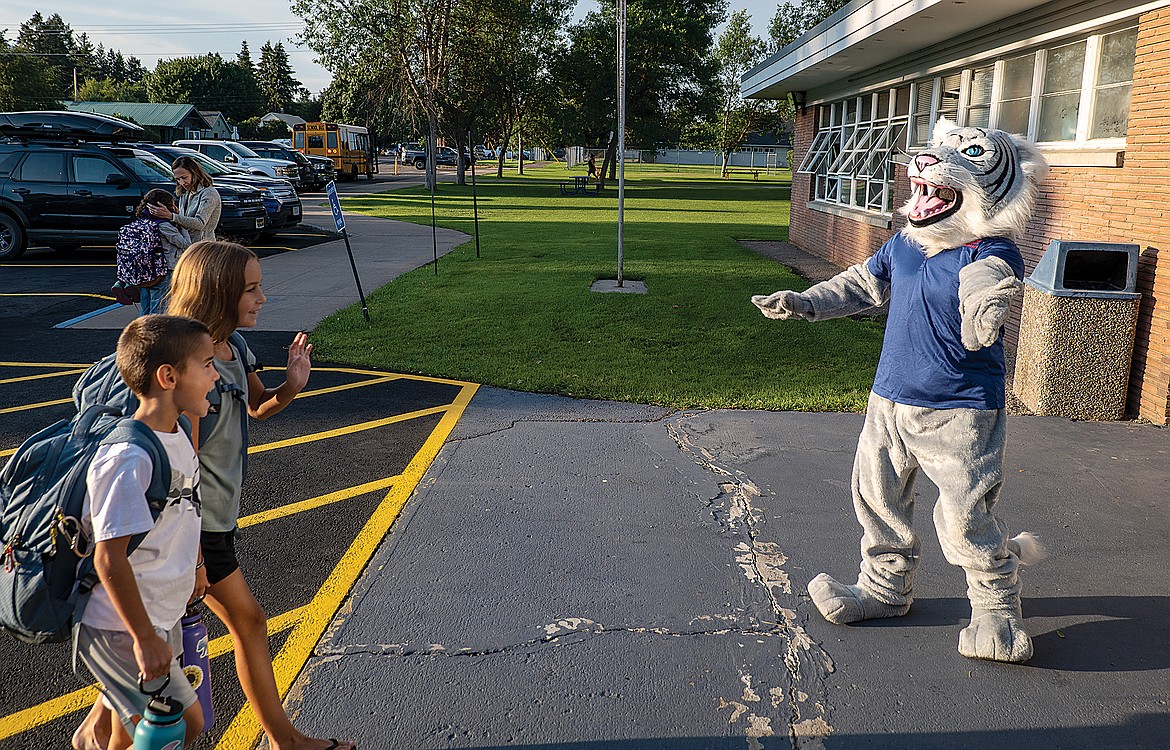 The Wildcat mascot greets children on the first day of school at Glacier Gateway Elementary School.
|
September 28, 2022 7:45 AM
By CHRIS PETERSON
Hungry Horse News
With a housing market booming, one might expect a surge in enrollment across the board at Columbia Falls schools.
But Glacier Gateway Elementary is down 20 students this year, and the reasons are both fascinating and illustrate the stark realities of housing and childcare in Columbia Falls.
Part of the reason for the decline at Gateway was rather mundane — some students — those in first and fifth grades — went to Ruder Elementary, because the school added classes in each of those grades, noted principal Penni Anello.
But another, and perhaps more telling reason, was some families lost their rental homes in the past year. The north side of Columbia Falls, which is primarily older neighborhoods and older homes, had more rental homes than the south side of town.
But with the housing market surging, some owners have opted to cash out. The new owners either don't have children, or are no longer renting to the families.
As such, the families had to move.
But it gets more complicated than that, Anello notes. Some families have moved to more affordable communities like Kalispell and Evergreen.
They would like to keep their kids in the Columbia Falls school district, but they can't find after-school childcare.
Daycares are not only full, they have waiting lists — long ones. Nicole Brown, the director of the non-profit Nature Kids Daycare on Highway 2 said last week that she has a waiting list for a whopping 76 children.
The more alarming statistic? Twenty-six aren't even born yet. They aren't even conceived, she said. Couples are holding off on even having children until they can be assured daycare, she said.
"It's that much of a problem," Brown said.
Nature Kids currently takes about 20 after school children. Brown makes a trip to the schools to pick them in a van everyday.
"I could have 60 if I had staff and bus room," she said.
Staffing is problematic, to put it mildly. The pay at daycares is traditionally low, because any pay increase has to be passed onto parents.
Brown said she has raised rates for parents once in five years. The facility is open from 7 a.m. to 6 p.m. The cost for a toddler is $210 a week. Or about $3.82 an hour.
Still, that cost adds up quickly for families with multiple children. The state through its Best Beginnings Program can subsidize some of the expense for lower income families, but not all of it.
In addition, Covid complicated the entire business — if a child has Covid, they face a quarantine. One mother, Brown noted, only worked a couple of days in a month, because she had to stay home with her quarantined kids.
Covid also makes it hard to keep and retain staff. Brown said she offers her employees free childcare — it's way to attract and retain staff.
Brown looks at empty shelves at grocery stores and businesses that have been closing early and she hears the complaints that people don't want to work.
But she sees a lack of childcare as a root cause.
"People don't think about it," she said.
The housing market has settled down a bit, noted longtime real estate agent Erick Robbins of Remax Mountain View in Columbia Falls.
"The market has seen an overall softening compared to the last couple of years," he said last week.
The hike in interest rates has had an impact and inventories overall are up.
"We're not seeing the feeding frenzy of multiple offers," he said.
But rising interest rates also mean higher mortgage rates for homebuyers.
The prime rate today is about 6.25% and is expected to go up after the Federal Reserve raised rates again last week by 3/4 of a percentage point.
And while the market may have settled, prices haven't gone down.
Currently there's about 69 homes for sale in the 59912 Zip code. Of those homes, seven are under $425,000 Robbins noted.
At 5% down, that's a mortgage of about $2,500 a month, excluding property taxes and interest. Add those expenses and it's closer to $2,800 a month.
The market over the past four years has certainly been on the side of the seller. In 2018, according to figures provided by Kimberly Wortman of Remax Mountain View, the median sale price in 2018 inside the city limits was $258,500. In 2022 to date, it is $503,950.
In 2018, the median for homes with a Columbia Falls address (which includes homes outside the city) the median in 2018 was $295,000. In 2022, it is $605,000.
Recent Headlines
---