Boys soccer drops Polson, Libby, now 8-0 heading into Whitefish match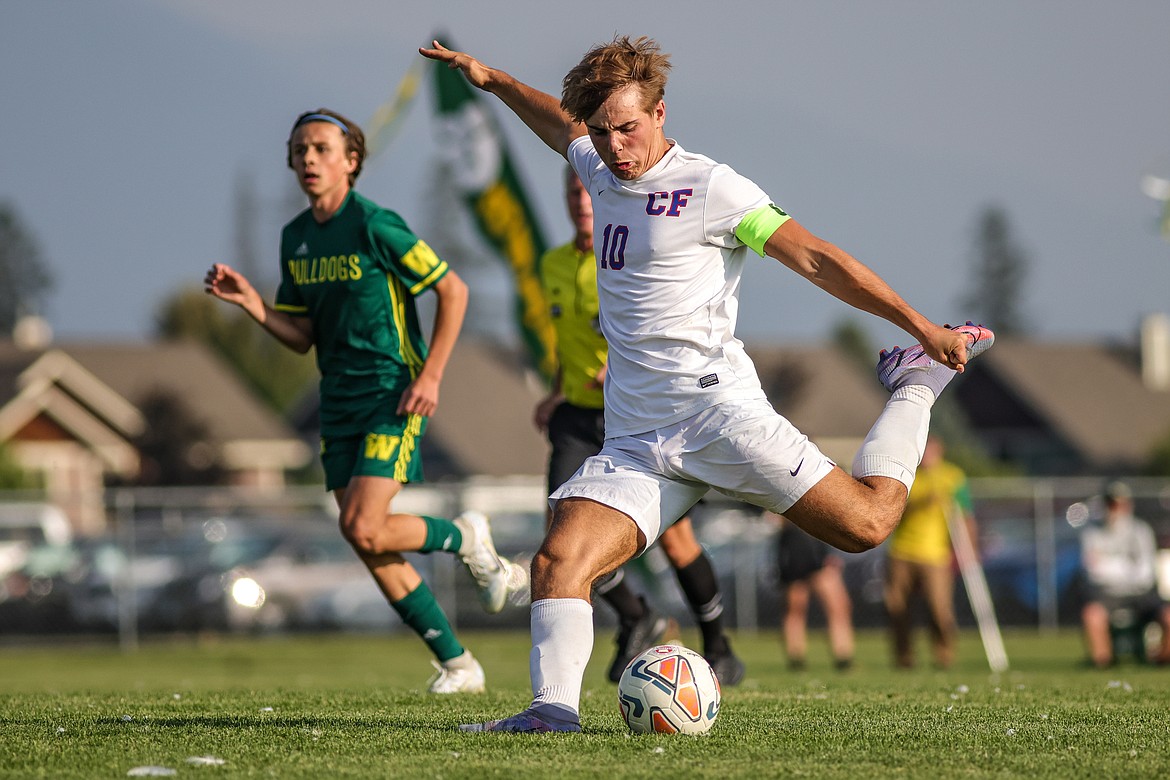 Kai Golan with a shot against the Bulldogs earlier this season. (JP Edge photo)
|
September 28, 2022 1:20 PM
Hungry Horse News
The Columbia Falls boys soccer team took care of business last week, dispatching Polson 4-0 last Tuesday on the road and then Libby 10-0 Thursday on the road.
Against Polson, Finley Sundberg had two goals, Kai Golan and Dale Blickhan each had one.
Against Libby, Golan had a hat trick as the Cats went up 9-0 at the break.
Blickhan and Sundberg had a couple of goals apiece and Ethan Henjum had his first goal of the season.
Henjum was in at center back as Adam Schrader was in foul trouble.
"He was flawless," coach O'Brien Byrd said. "It shows how deep we are."
Overall, Byrd said the Libby game was the best soccer they've played.
"We were flying," Byrd said. "One touch passes everywhere. All the stuff we've been working on."
Golan's hat trick came in a three minute span.
The Cats are now 8-0 heading into the grudge match against Whitefish this week for homecoming.
The Cats broke the Bulldogs four season undefeated streak in their last match.
This time the Cats will look to keep their own winning streak alive on their home pitch.
Byrd said he's hoping the team can keep the rhythm it had in the Libby match to the Whitefish game.
It should be another good one. Gametime is 7 p.m.
In JV action, the Cats lost to Plains ,6-4.
Plains is a tough out, noted coach Cory Pete. Arne Troy had two goals in the loss. In froshmore action, the Cats held their own against Whitefish JV, tying 2-2. Coach Kraig Moore had kudos for keeper Brady Heitz, who made some nice saves to keep the Cats in it.
Troy and Silas Ypma each had goals in the tie.
Recent Headlines
---