Harriers do well at huge Missoula meet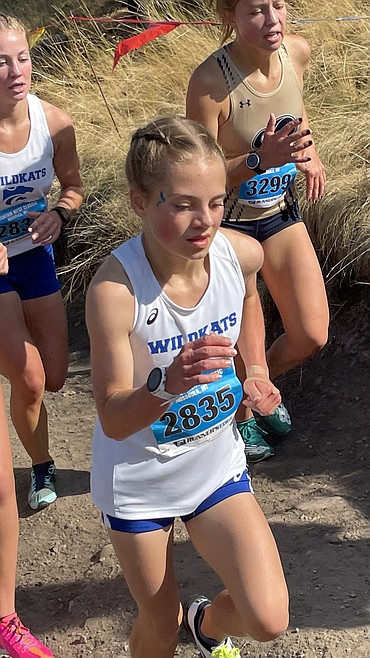 Marissa Schaeffer competes in the Mountain West Classic for the Wildcats. (Photo provided)
|
September 21, 2022 12:20 PM
The Columbia Falls cross country squads had a good showing at the Mountain West Classic race in Missoula last week.
On the girls' side, Siri Erickson led the Columbia Falls finishers in 22nd place out of 334 runners.  Her time was 19:57.  On the boys' side, Quinn Clark and Logan Peterson traded leads for Columbia Falls throughout the race.  Eventually, Peterson finished in 81st place with a time of 17:41, and Clark was 93rd in 17:51. 
"I was particularly happy with Quinn's focus and competitiveness," coach Jim Peacock said. "He is getting stronger and more confident with each race this fall."
For the girls, Ally Sempf, Marissa Schaeffer, Mya Badger, Courtney Hoerner, and Findley Dezzani packed up early, Peacock noted.
"They stayed close through most of the race and pulled each other to really good finish times," Peacock said.
The varsity girls were 8th overall — 61 teams competed.  Out of Class A teams, the Kats were second to Hardin.  Hardin tied with Bozeman for first overall, but Bozeman got the win based on the tiebreaker (the finish place of each team's sixth runner). 
"Our girls ran exceptionally well, and they navigated the size of the race field with grace," Peacock said.
The team competed at the Thompson Falls meet Tuesday after presstime and then runs at the Libby Wilderness Run on Saturday.
Recent Headlines
---