Harriers do well at Flathead Invitational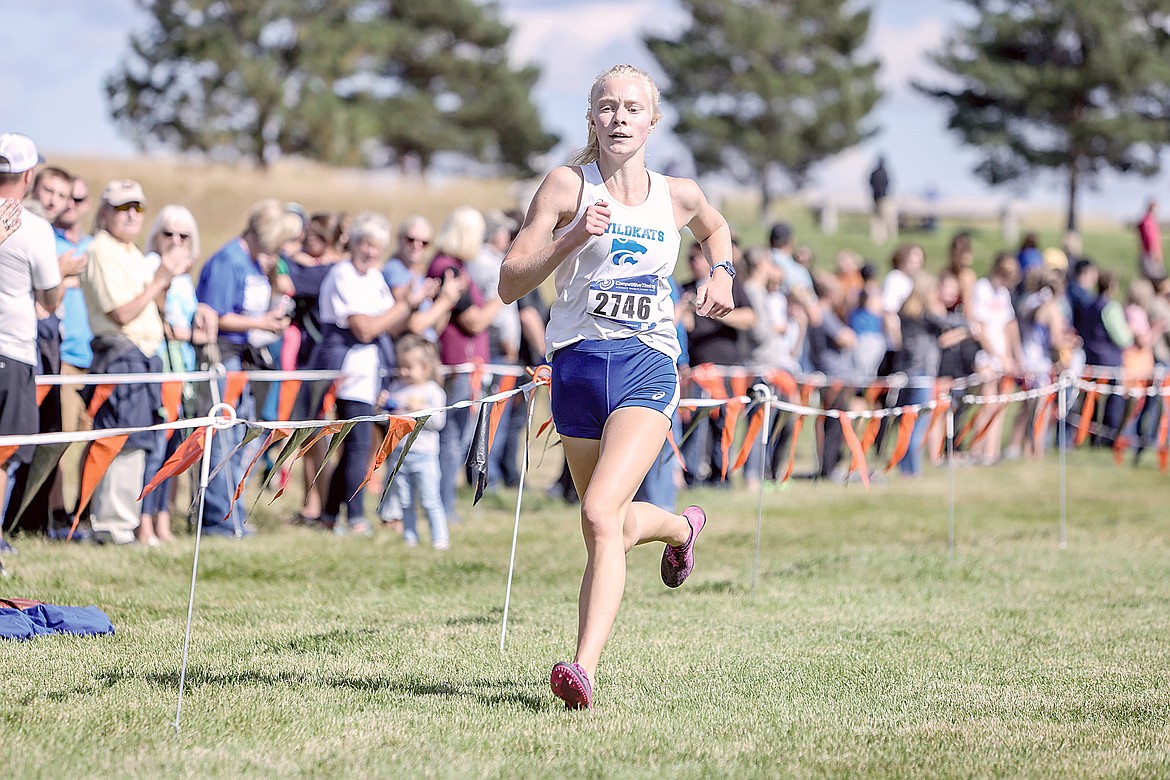 Senior Siri Erickson finishes at the Flathead Invite at Rebecca Farms on Friday Sept. 9. (JP Edge photo)
|
September 14, 2022 6:45 AM
Hungry Horse News
Siri Erickson took third and the girls varsity cross country team was third as well at the Flathead Invitational at Rebecca Farm last week.
Erickson clocked a 19:51.
Ally Sempf had a solid race, taking eighth with a 20.29. Mya Badger was 16th, Courtney Hoerner was 19th and Marissa Schaeffer was 22nd to round out the top five girls. The girl had seven runners within just over two minutes of each other.
The girls missed second by two points.
"It was fun to see such a tight competition between the top couple teams in the meet, and it will make a good benchmark for where we are trying to run by the end of the season.  I was really pleased with how the girls packed up, and we crowded our entire varsity lineup into the top 30 finishers in a race with over 100 girls.  Our depth is really good," coach Jim Peacock said. On the boys' side, Logan Peterson was the top runner taking 16th with a 17:23.70. Quinn Clark was 28th with a 17:49.73.
Rounding out the top five for the Wildcats was Brock Swope, 46th, Jonathan Blankenship, 47th and River Blazejewski, 50th. The boys took seventh overall.
"The varsity boys are continuing to gain confidence and improve.  They finished third out the Class A teams, and though we hoped to finish a little higher, we can use this race to have a better understanding of our competition and know how to match up better with other runners in future races.  I was particularly impressed with how the younger runners are improving and getting better at managing their races," Peacock said. He also gave kudos to his junior varsity runner.
"The junior varsity programs don't get much attention in the media, but I feel it's worth mentioning that our JV teams are competing extremely well.  The coaching staff is excited about this, because it demonstrates the depth of the teams, and these are the kids that will be the program's future.  They are working hard, and their race performances show it," Peacock said.
Recent Headlines
---