Whisper Dawn Mari Sellars-Crosswhite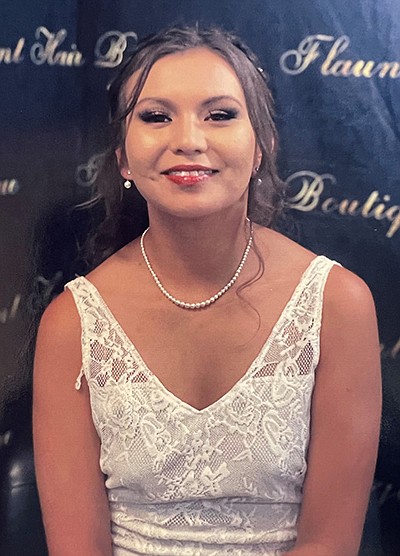 Whisper Dawn Mari Sellars-Crosswhite
|
September 2, 2022 12:35 PM
Whisper Dawn Mari was born to Dennis and Rebecca Sellars in Great Falls on Aug. 31, 1993. She was a force to be reckoned with from the beginning. One time when someone asked her older sister who she was she said, "I'm Whisper's sister."
Her family moved to Martin City when she was 6 years old and she attended school in Hungry Horse and Columbia Falls where she graduated from high school. Whisper was in several Montana Children's Theater productions and she was on the Columbia Falls Swim Team.
Whisper met her future husband Doug Crosswhite when she was 14 and never looked at another man. They were together for 15 years. They made Hungry Horse their home and started a family. She brought five children into that home. Aiden (12), Carter (9), Olivia and Owen (6) and Calvin (4). She was an amazing mother and loved nature and all sorts of outdoor activities, especially ones that she could be with her husband and children.
She is survived by her husband Doug; sons Aiden, Carter, Owen and Calvin; her daughter Olivia; brothers Chris (Kim) Gilham (Andrea, Darryn and Isabella), Andrew Burd, Mister Sellars (Daughter Gabrielle), Dennis Sellars; sister Brittney (James Ekvall) (Chloe, Jamie Lynn, Zuriah, and Rebecca Rose); uncles Gary (Wanda) Gilham and Doug (Debbie) Gilham; brothers-in-law Joey (Kari) Crosswhite (Cash and Asher), Brad (Kristen) Crosswhite (Kai, Kacen and Kieran); sister-in-law Alicia Crosswhite (Alayah and Ryker).
She was preceded in death by her mother Rebecca Gilham, grandfather Alan Gilham, uncle Vernon Gilham and cousin Russell Gilham.

There will be visitation on Tuesday, Sept. 6, 2022 from 3 to 5 p.m. for friends at Columbia Mortuary in Columbia Falls. Funeral services will be held 10:30 a.m., Wednesday, Sept. 7, 2022 at the Canyon Community Church in Coram with a graveside committal to follow at Woodlawn Cemetery in Columbia Falls. A reception will follow back at the Canyon Community Education Building, 185 Coram School Lane in Coram.
It's not goodbye Whisper, your kids and husband have the support of the family and countless others. Sleep well and we will see you again. See you later, love you.
Online condolences may be submitted on Whisper's tribute page at www.columbiamortuary.com.
Recent Headlines
---