Mistakes hurt Wildcats in loss to top-ranked Broncs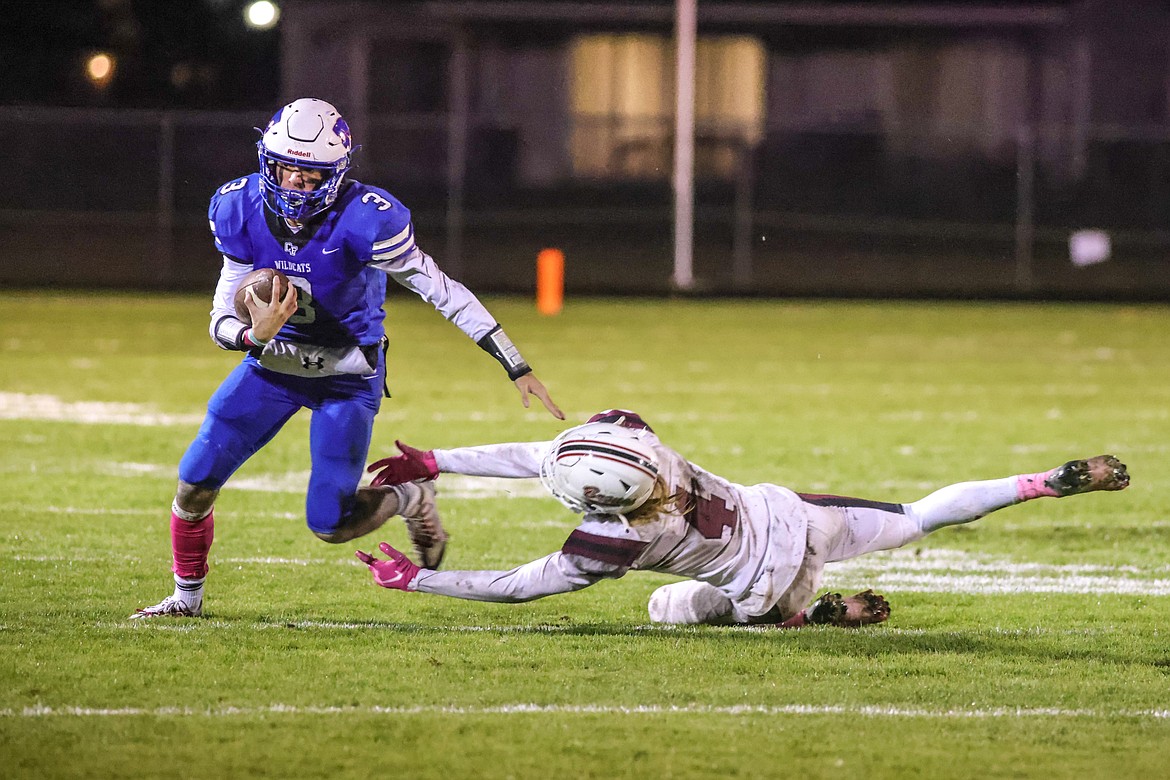 Senior Jace Duval dodges a Hamilton defender at home on senior night. (JP Edge photo)
|
October 26, 2022 12:00 PM
Hungry Horse News
They had a solid game defensively. But the offense just made too many mistakes, as the Columbia Falls football team lost to undefeated Hamilton at home Friday night, 23-7.
The Wildcats led the game at one point in the second quarter — 7-2.
The Cats scored the first touchdown when Cody Schweikert hit Mark Robison on a 16-yard pass. Kai Golan's point-after kick was good.
But with a steady rain and sloppy conditions, the Cats gave up two safeties in the game — one in the first quarter and another in the fourth.
Hamilton was without their starting quarterback Tyson Bauder most of the game. He was knocked out of the game with what appeared to be a concussion. Still, they had a potent running game and went up 8-7 just before the break after the two-point conversion failed.
The Cats defense kept them in the game, but the offense suffered from bad snaps and turnovers which gave the Broncs a short field, as they scored 13 points in the third.
The Cats looked prime to even take the lead in the third as Alihn Anderson had a nice reception up the sideline to put the Cats into Hamilton territory, but a subsequent fourth-down pass was batted away by the Broncs.
The Cats thought it was pass interference on receiver Justin Windauer, but there was no flag.
The field was muddy and the ball was slick, both of which didn't help the Cats throwing game any. Hamilton did what everyone expected — pound the ball up the middle behind a beefy offensive line.
The Wildcats, (6-2) the fourth seed in the West, host Miles City at 11 a.m. in the opening round of the playoffs Saturday.
Hamilton rushed for 310 yards, led by backup quarterback Liam O'Connell with 105. Schweikert finished 13-for-32 passing for 119 yards with one TD and one interception.
Recent Headlines
---