Girls drop Bigfork 2-1 in play-in game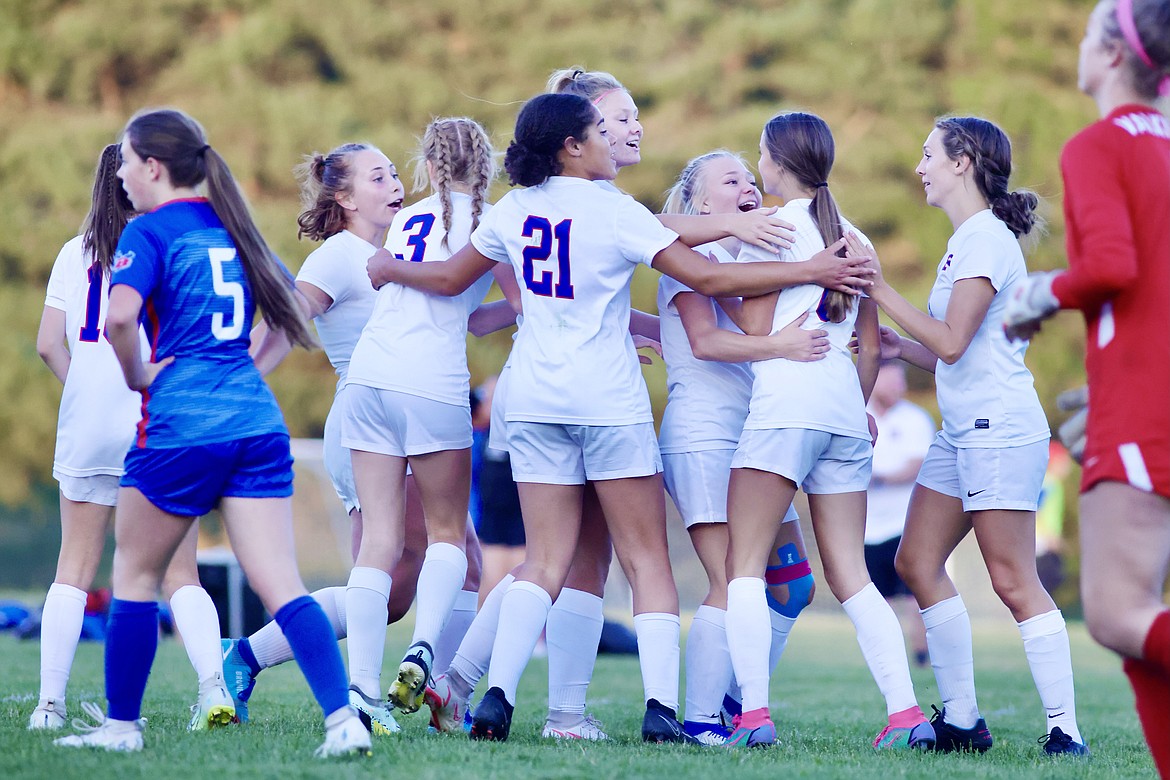 The Wildcats celebrate Tayler Lingle's goal that put the girls ahead of Bigfork in the play-in game on Wednesday. (JP Edge photo)
|
October 13, 2022 7:55 AM
The Columbia Falls girls soccer team dropped Bigfork Wednesday night 2-1 in a dramatic play-in game on the road to advance to the quarterfinals of the state A playoffs.
The Wildcats will now host Corvallis Saturday at 11 a.m. at Flip Darling Field.
The Cats struck first on a goal by Hope McAtee at the 15-minute mark with an assist by senior Sydney Mann, but Bigfork responded with a goal 5 minutes later.
The teams ground it out through the rest of the first half and 25 minutes into the second half.
Wildcat senior keeper Zoey Byrd had a stellar game, turning away 13 Bigfork shots, including a shot that bounced off her and she was able to secure the rebound, noted coach Thomas Clark, who was a keeper himself during his high school career.
"Zoey came out and played like she didn't want her career to be over," Clark said. "…Good players make the hard stuff look easy."
The winning goal came when freshman Mila Johns cranked a shot at the goal and speedy sophomore Tayler Lingle buried in the rebound.
"Super proud of the girls," Clark said. "It was one of those gut check games."
The Cats were able to hold off Bigfork on their home field for 15 minutes for the win. Clark said the boys team came over to cheer them on and they had as many fans on the sidelines as the Valkyries did. It was a big help.
The girls were 3-3 at one point in the season. They won six of the last seven to finish 9-4. The one loss was by a goal to Whitefish in a game where they threatened to tie it up in the closing minutes.
The Cats aren't taking the Lady Blue Devils lightly, Clark said, but he likes the fact that the Cats are peaking at the right time.
"It's going to be a fun game," Clark said.
If the Cats get past Corvallis, they would likely travel to Billings for the semifinals.
Recent Headlines
---