Rotary Brunch with Santa returns this year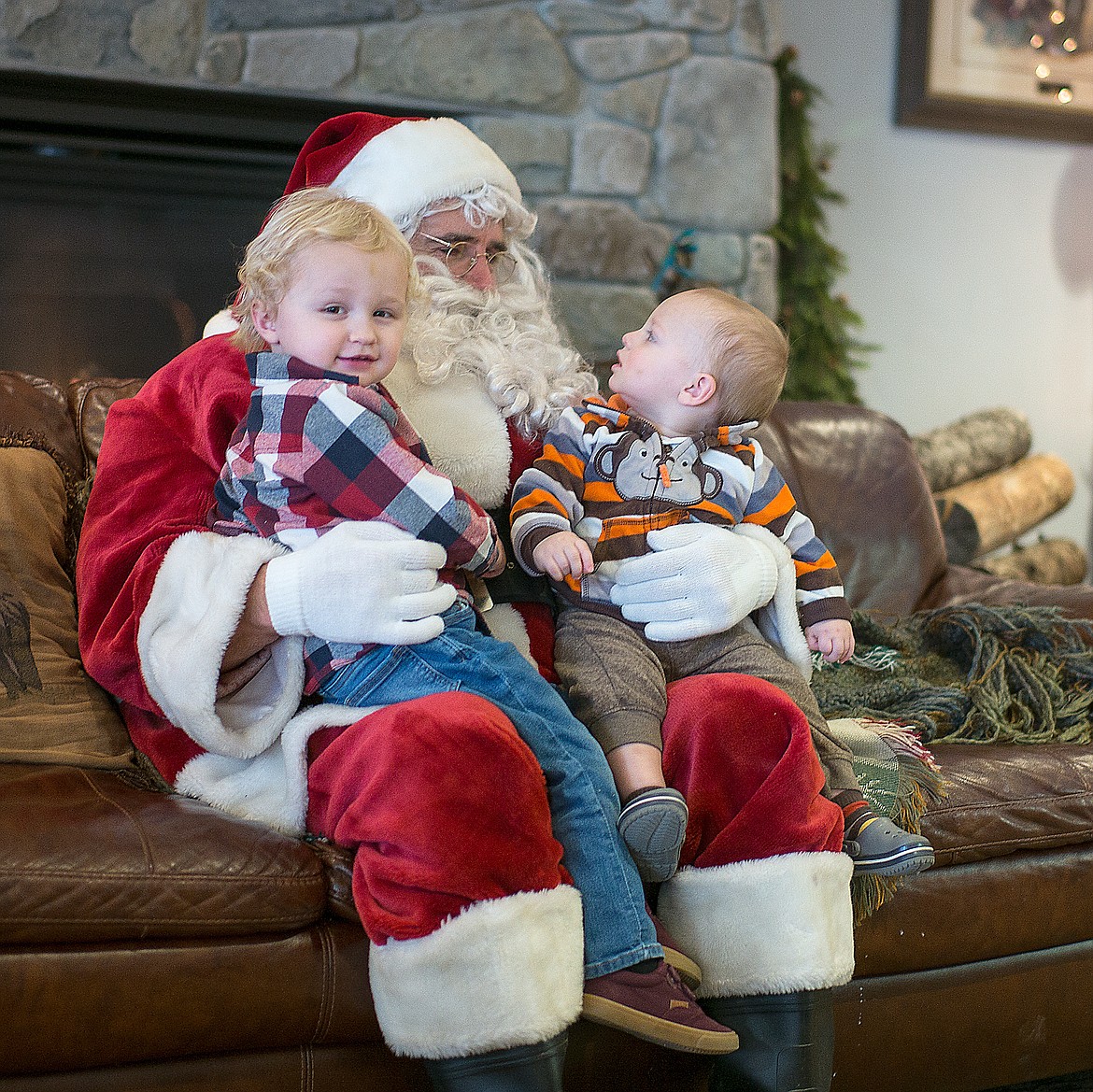 Youngsters visit with Santa during the Rotary Brunch with Santa in this file photo.
|
November 23, 2022 8:45 AM
After a two-year absence due to Covid, one of the most popular events of the holiday season is back this year.
The Columbia Falls Rotary Club's Brunch with Santa had been an annual event, much anticipated by children and parents in Columbia Falls and throughout the valley for several years. Sponsored by the Rotary Club of Columbia Falls, it follows the arrival of Santa at the annual Night of Lights parade down Nucleus Avenue in downtown Columbia Falls the night before, Friday, Dec. 2. Doors open at 9:30 a.m. Sat. Dec. 3 at Timber Creek Village, 375 Meadow Lake Blvd., to welcome children and families to talk to Santa and enjoy a meal while gathering with friends and family in the spirit of Christmas. Also throughout the morning is a silent auction where bids are accepted for dozens of donated goods and services from area businesses and individuals.
Kids 12 and younger are free to enter. Adult tickets for the meal are $10. All proceeds from the event go back into the community by means of the charitable work of the Rotary Club.
"It's our major fundraiser of the year," said club President Roger Hopkins. "The success of our efforts are due to the generosity of community residents and businesses."

The income supports numerous activities, including the Boys and Girls Club, which has received more than $15,000 in the last 12 years in money and in-kind donations; CASA for Kids; Flathead CARE; Braveheart Ministries; elementary after school sports programs, and dictionaries to third-graders. Donations have also gone to Boy Scout Troop 1941 the past several years. In addition, club members donate time and labor to the Food Pantry and Land-to-Hand, both in Columbia Falls.
In addition, Rotary Youth Leadership Academy sends two campers to the Montana camp each summer, and provides a $500 scholarship to RYLA campers who continues their education beyond high school. This has amounted to over $5,000 since the club started making those donations.
Club Secretary-Treasurer Roger Elliott said another crucial part of the event are the in-kind donations and support from local businesses, such as food from The Nite Owl, Tien's, Laurie's Deli, Three Forks Grille, Backslope Brewery, Panera Bread Restaurant, The Uptown Hearth, and Outlaw Diner. Also Timber Creek Village provides the space for the event at no charge, and several banks and businesses provide sponsorships with donations ranging from a $100 to $1,000 or more in cash.
"This event, and the club's work throughout the year, couldn't happen without all this community support," said Elliott.
Businesses and individuals who have not been contacted and wish to donate can call 406-892-1905 to leave a message, or send an email to club@columbiafallsrotary.com. Donations can also be made via PayPal on the club's website: www.columbiafallsrotary.com.
Recent Headlines
---