Cats fall just short against Golden Eagles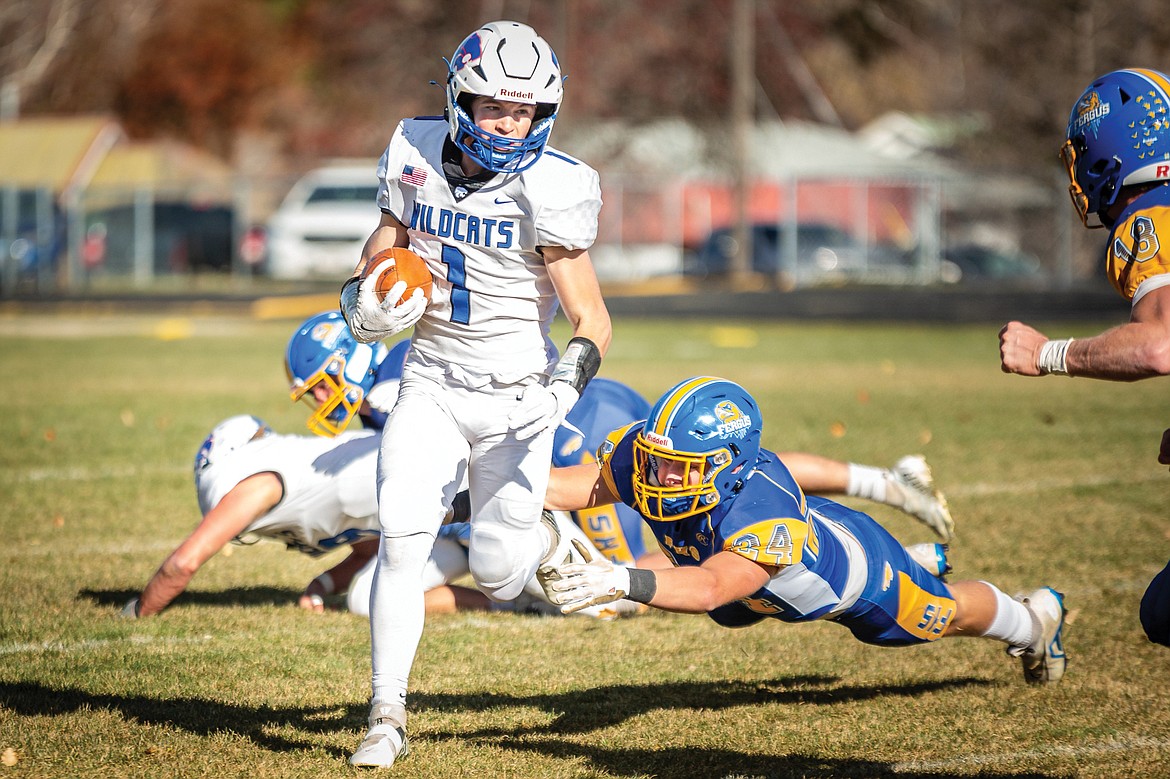 Justin Windauer looks to get more yards against the Eagles last week. (Matt Strissel/Lewistown News-Argus)
|
November 9, 2022 12:40 PM
Hungry Horse News
The Columbia Falls football team had a tough ending to an otherwise solid season, as they lost in the quarterfinals of the state A playoffs to Fergus County, 14-6 on the road.
Fergus scored first after they blocked a Wildcat punt in the second quarter. The Golden Eagles recovered the ball on the 1-yard line and punched in their first TD. The PAT was good and the score was 7-0.
Later in the quarter the Eagles picked off a Wildcat pass turned that into their second and last touchdown of the game. Fergus went into the half up 14-0.
The Wildcats battled back in the third when quarterback Cody Schweikert rumbled in for a 8-yard touchdown run at the 7:43 mark of the third.
The PAT was no good.
The rest of the game was a defensive battle. The Cats had one last chance with 1:40 left in the fourth on their own 25.
But they couldn't get a first down and Fergus took over about 40 seconds later and was able to run out the clock.
It was a windy day in Lewistown, with sustained winds of 50 mph, which didn't help the Cats' throwing game any.
The Cats finish another solid season at 7-3 overall. Lewistown remains undefeated on the year.
The future looks bright for next year, as they return Schweikert and several key players, like Jace Hill, Reggie Sapa and Alihn Anderson to name a few.
Coach Jaxon Schweikert said they're going to work on developing a solid running attack in the offseason.
"Our kids did an awesome job," he said. "They were so much fun to be around. We'll have a great team coming back."
He said the team was already hitting in the weightroom and he expects them to be in contention for a state title next year.
Columbia Falls 0 0 6 0 - 6
Lewistown 0 14 0 0 - 14
L — Gage Norslien 1 run (Kieran Netburn kick), 9:50-2Q
L — Royce Robinson 10 pass from Norslien (Netburn kick), :49-2Q
CF — Cody Schweikert 9 run (kick failed), 7:43-3Q
Individual Statistics
RUSHING: Columbia Falls (29-49) — Schweikert 18-34, Reggie Sapa 6-20, Blaise Wunderlich 2-5, Justin Windauer 1-minus 1, Brandon Role 1-minus 1, Alihn Anderson 1-minus 8. Lewistown (41-161) — Norslien 24-86, Jett Boyce 13-73, Brody Jenness 2-5, Netburn 1-0, Greysen Arndt 1-minus 3.
PASSING: Columbia Falls — Schweikert 11-23-1 for 79 yards. Lewistown — Norslien 3-6-0 for 29 yards, Robinson 0-1-0 for 0 yards.
RECEIVING: Columbia Falls — Justin Windauer 4-49, Mark Robison 2-20, Jace Duval 2-8, Reggie Sapa 2-5, Schweikert 1-minus 3. Lewistown — Robinson 2-29, Boyce 1-0.
Recent Headlines
---