Get a sneak peek at Columbia Falls Museum June 1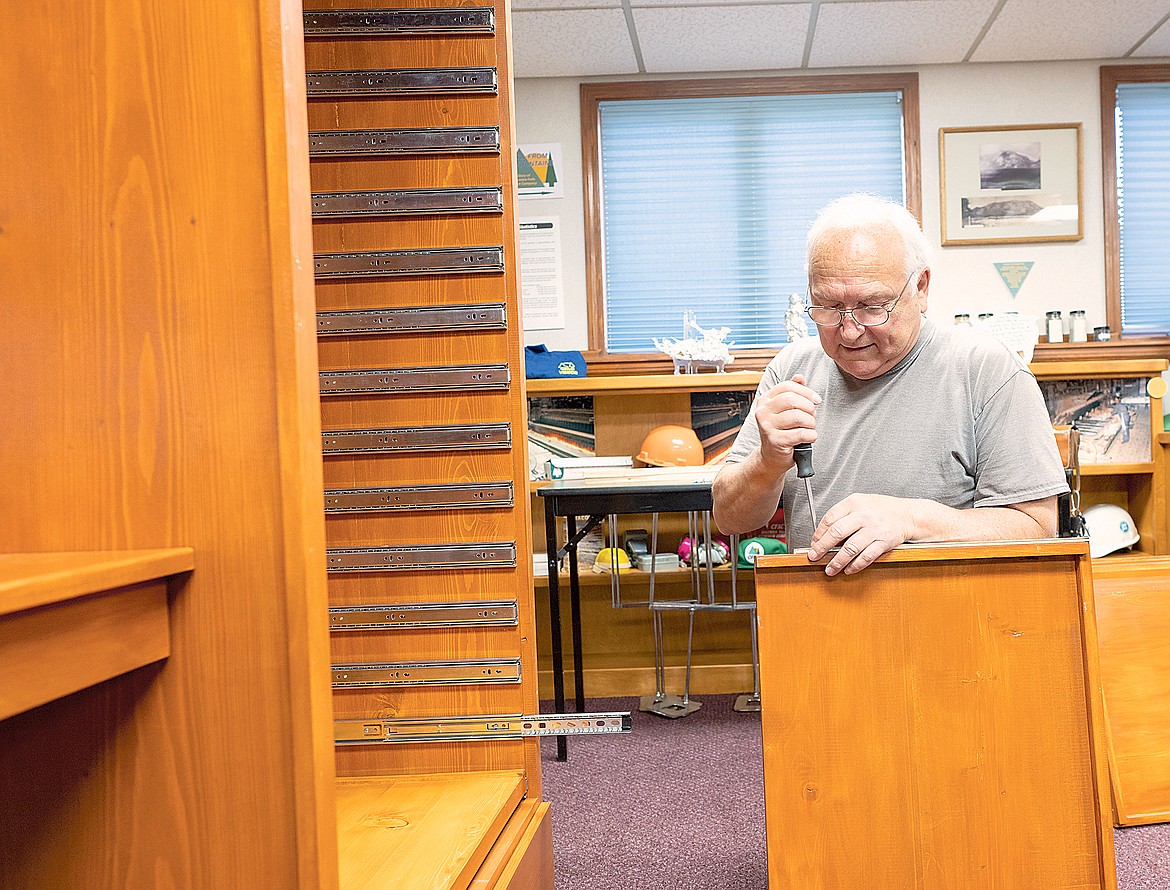 George Lippy works on a cabinet for the new Columbia Falls History Museum last week.
Hungry Horse News
After years of planning, Columbia Falls now has its own history museum.
Last week volunteers with the Columbia Falls Historical Society were busy putting in cabinets and displays in the small museum in the Gateway Building at the corner of Highway 2 and Nucleus Avenue.
The Society was founded in 2008 to preserve the history of the northeast corner of Flathead County, including Columbia Falls, Hungry Horse, Martin City, West Glacier, Glacier National Park, and the North, Middle and South Forks of the Flathead River.
But finding a home for displays has proven challenging. The new owners of the Gateway Building (The former Bothe and Lauridsen law building) recently offered up the space with a reduced rent.
The space, though modest in size, is packed with the area's history, including bound copies of the Hungry Horse News, artifacts and equipment from the early days of logging and the railroad, and a scale model of the Columbia Falls Aluminum Co. plant.
It also includes artwork and photos from years past as well as books on the area's history.
In addition, the museum is working on a Glacier National Park display and a display of Native American artifacts.
Columbia Falls, once known as Monaco, was established in 1891 in anticipation of the arrival of the Great Northern Railway. The area in the early days was known for logging and agriculture, with numerous mills and farms located throughout the area. Though settlers were in the area long before, the city was not officially incorporated until April 26, 1909.
"We want to be a place for the public to come and learn about our history and how this area evolved," the Society noted in a press release.
A soft opening for chamber members and members of the community is scheduled for Wednesday, June 1 from 5 - 7 p.m. The museum expects to fully open to the public in mid June.
The society is also looking for more volunteers who are interested in the area's local history and are able to help them in any way as to get the museum ready to open.  For more information, people can call 406-249-8198.
Recent Headlines
---