Crystal-Cedar trail work starts in earnest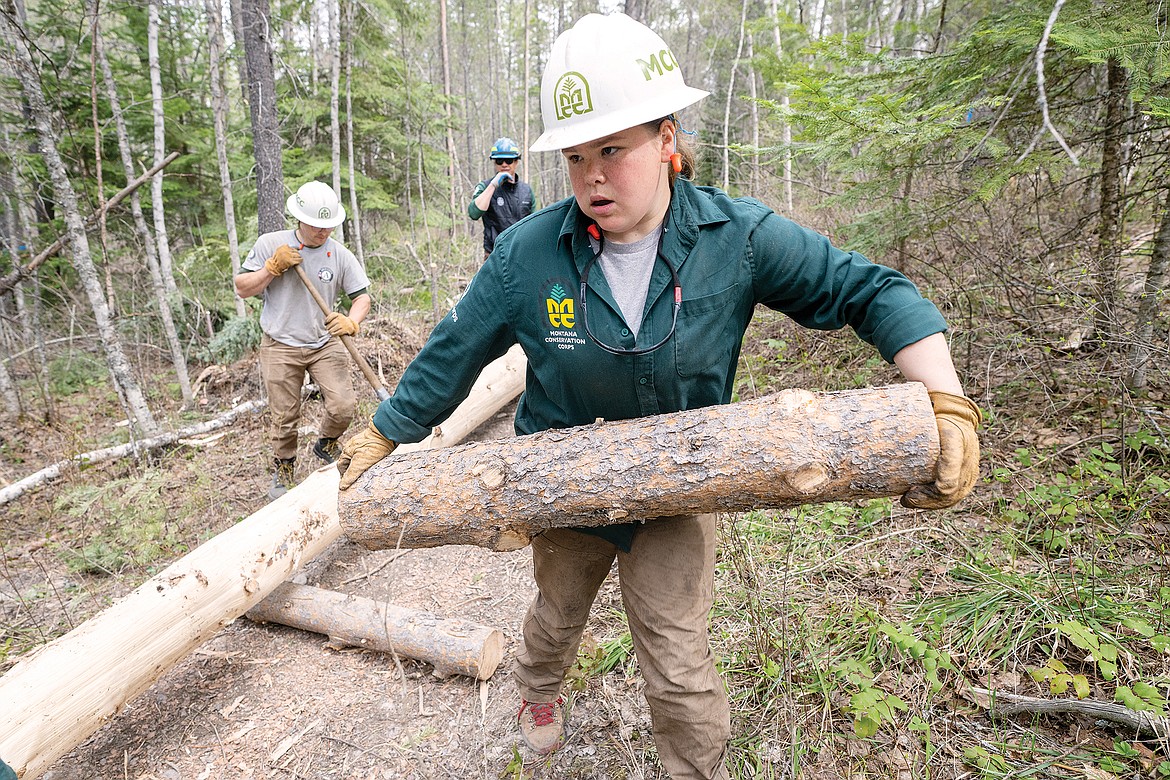 MCC crewmember Callie Snow moves a log while working on the Crystal-Cedar trail network last week.
by
CHRIS PETERSON
Editor
|
May 13, 2022 6:55 AM
By CHRIS PETERSON
Hungry Horse News
"I want to walk as far away as I can from a city," said Montana Conservation Corps crew leader Graham Mincks as he pounded a piece of rebar into a log last week.
Mincks was part of an MCC team working on the Crystal-Cedar Trail system, putting in a new turnpike in a low spot on the trail
Work on the new trail system has begun in earnest after the Gateway to Glacier Trail organization recently received funding through state and federal grants.
The plan is to get at least three miles of brand new trail in this season and hopefully four to six miles more, noted Gateway to Glacier Trails President Jeremiah Martin.
Perhaps not as far away from a big city as Mincks would like, but it's a start.
The overall project encompasses about 26 miles of trails just north of Columbia Falls that wind through the surrounding woods on Forest Service lands.
A plan for the trail network has been in the works for a few years, but now that F.H. Stoltze Land and Lumber is nearly complete with a logging and thinning project in the area, trail work can begin in earnest.
The MCC crew was getting a good dose of coaching from Gateway Trail member Darin Fisher. Fisher was a former trail foreman for the Forest Service and has years of experience building trails.
The first leg of the system starts at the end of Fourth Avenue West North.
MCC crews first cut through the understory and then contractor Montana Made Trails using a small excavator, put down the tread, which is 34 to 26 inches wide, so folks who ride handbikes can use it, Fisher noted.
All told, the group has recently received about $150,000 in state, federal and private grants to get the project up and running.
It will take a few years to get the entire system completed, Fisher noted.
The effort includes public and private partnerships. For example, Glacier Cyclery had donated funds to the trail effort and Backslope Brewing, which Fisher owns, also is chipping in as well.
The trails are designed to be nonmotorized use for hikers and bikers and horse riders, though they do cross designated motorized use trails as well, so folks need to be aware if they're hiking or biking.
The group also secured funding for a pit toilet at the Fourth Avenue West North Trailhead. It hasn't been installed yet. There's still a lot of work to do on the trailhead at that location, Martin noted.
When it's completed, the idea is to create a system of "stacked loop trails" so folks can end up back where they started. Another plus is a person can get on a bicycle in downtown Columbia Falls and be back in the woods in a few minutes.
While the main trailhead is at Fourth Avenue West North, the trails can also be access from the Cedar Flats Road and from the Crystal Creek Road at the north end.
The MCC crew was made of up team leaders, noted director Cliff Kipp. After this week's hitch, they'll break up and lead their own crews through the rest of the summer, including hitches in true wilderness, like Glacier National Park and the Bob Marshall Wilderness.
All told, MCC will have 11 adult, five youth and a Blackfeet crew working in the woods and on other local projects as well, Kipp noted.
MCC is a young adult voluntary development program modeled after the Civilian Conservation Corps of the 1930s, using conservation projects to foster citizenship and personal growth in its members.
More than a few MCC crews leaders over the years have used their experience with the organization as stepping stones into Park Service and Forest Service jobs.
"You're able to diversify your resume," noted crew leader Matthew Baun.
The community at large also appreciates the efforts, Fisher noted.
Maps of the project are available at: https://www.fs.usda.gov/project/?project=52844
Businesses and folks who want to continue to support the trail effort and learn more can contact Gateway directly at: https://www.gatewaytoglaciertrail.com/projects/cedar-flats-trails
---