Yesterdays: Squirrels eating Glacier Park bread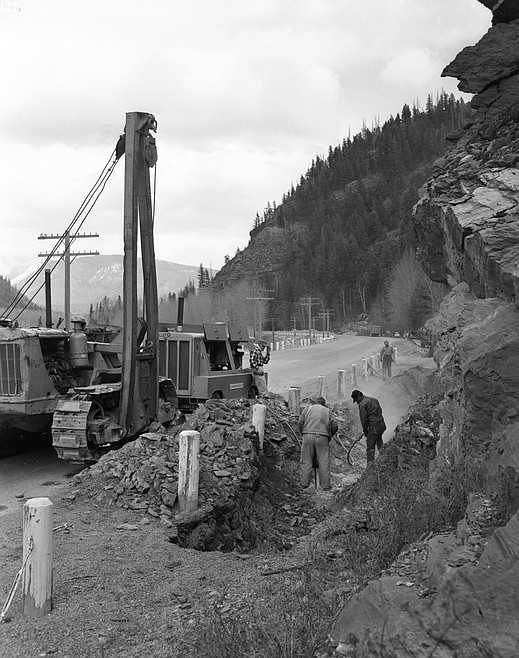 Montana Power Co. putting in gas lines through the Bad Rock Canyon, April. 1962. (Mel Ruder photo)
70 years ago
May 9, 1952
Squirrels were getting into the food supply warehouse in Glacier National Park and they kept eating a little bit out of each slice of bread. Crews were trying to figure out where the hole was where the squirrels were getting into the storage area.
60 years ago
May 11, 1962
Noted biologist Joe Huston was to start a five-year fish study of the Hungry Horse Reservoir. They would tag fish to study migration and spawning routes of Dolly Varden and cutthroat trout.
50 years ago
May 12, 1972
The average annual yield on the Flathead National Forest for the past 10 years was 148 million board feet of timber, noted Forest Supervisor Ed Corpe. Corpe noted that as of July, 345 million board feet had been sold. Ballot measures to fund a new junior high and to fluoridate water in Columbia Falls both failed. The new junior high would have had a pool. The junior high failed by a vote of 1,035-614.
40 years ago
May 13, 1982
School District 6 was sued in a class action lawsuit claiming the district was favoring boys over girls in school sports. Part of the impetus behind the suit was the Montana High School Association's decision to not sanction girls volleyball as a school sport.
30 years ago
May 14, 1992
Federal laws designed to protect grizzly bears meant that about 30 miles of roads on the Glacier View Ranger District would be closed starting in July. Front page picture and story featured Vaughn and Irene Shafer of Hungry Horse posing next to the iconic Hungry Horse statue that is still in town today. The horse, made of cement, was put up in 1955. It was created by carver Morris Blake's sons, Gregory and Bob.
20 years ago
May 9, 2002
Neighbors of a motocross track on Highway 206 filed a $1 million lawsuit against the owners of the track, claiming it was too noisy. The track eventually shut down. Late season snowstorms were pummeling the east side of Glacier, with higher elevations seeing 30 to 50 inches of snow, while lower terrain, like the Many Glacier Road, seeing a foot.
10 years ago
May 9, 2012
An Al-Qaeda online magazine was urging would-be jihadists to set fires in Montana woods, to terrorize the general public.
---