Pursuit buys Glacier Raft Co.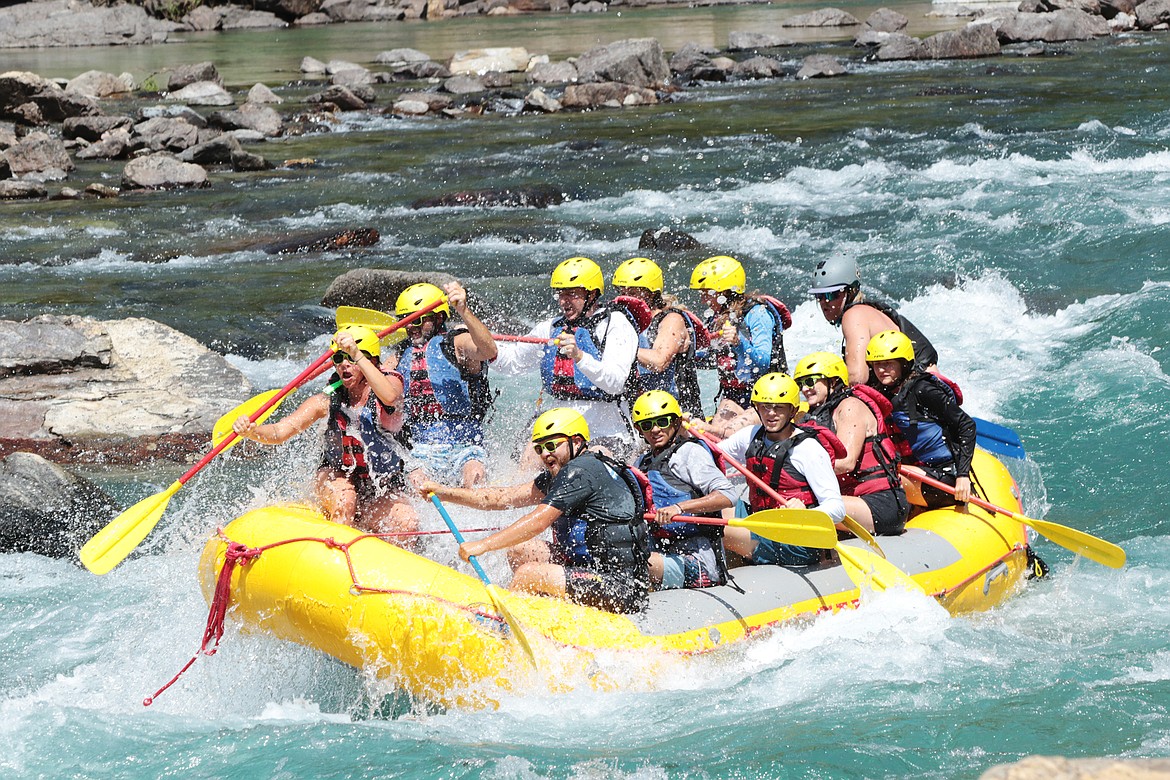 Folks head down the Middle Fork in this provided Glacier Raft Co. photo.
by
CHRIS PETERSON
Editor
|
March 24, 2022 10:25 AM
Pursuit Glacier Park Collection announced Thursday that it has purchased the Glacier Raft Co. in West Glacier.
The sale includes the company's 50 acres, equipment, 14 log cabins, a main lodge, retail store and wedding venue.
The raft company has been in operation for 46 years in West Glacier.
Glacier Raft Co. founder Darwon Stoneman said he will stay on with Pursuit under contract along with co-owners D.J. Stoneman, who is his son, his daughter Cassie Baldelli and her husband, Jeff Baldelli. Mike Cooney, a manager for 36 years with company is also staying on.
"Our long-term excellent crew will stay intact," Darwon Stoneman said Thursday. "It will be business as usual."
The company employs about 15 people year-round and in the summertime up to 150 people.
Terms of the sale were not disclosed.
Pursuit is part of the Viad Corp., a public-traded company.
"We are delighted to welcome Glacier Raft Company to our extraordinary collection of travel and recreation experiences," said Gary Rodgers, Chief Operating Officer, Pursuit Pacific Northwest. "We have worked alongside and in partnership with this great company and its team for many years and have a tremendous amount of respect for the quality of experience they deliver to their guests. We are excited to continue that legacy into the future as part of the Glacier Park Collection."
In an interview Thursday, Rodgers confirmed that Pursuit would rely on the company's existing staff and expertise.
"We don't expect any changes going into the season," Rodgers said. He noted Pursuit has worked with Glacier Raft for years — Glacier leases its West Glacier office space from Pursuit.
The purchase of the property dovetails into the company's ownership of property and businesses in West Glacier.
Pursuit also owns the Glacier Park Lodge in East Glacier, the Grouse Mountain Lodge in Whitefish, the Prince of Wales Hotel in Waterton Lakes National Park, the Belton Chalet in West Glacier, the West Glacier RV Park and Cabins and the Glacier Basecamp Lodge in Columbia Heights, which includes the new Starbucks. It also owns stores and rental cabins in Apgar Village inside Glacier National Park.
"I think they can make this a world-class venue," Stoneman said. "We feel it's a really good move."
Glacier Raft Co. runs raft trips down the Middle Fork, including raft trips in the wilderness out of Schafer Meadows in the early summer.
Stoneman said the company has its own mules to pack in supplies and he expect to be packing in again this summer for trips.
He said the company retains about 75% of its guides annually. They train their guides with the agreement that they stay for three years. He said they lose some each year as many are college-aged students who move on eventually.
"There is a rich heritage to many of our properties and Glacier Raft Company fits perfectly into our collection of iconic, unforgettable and inspiring travel experiences within Montana," Rodgers said. "We remain dedicated to investing in the communities in which we work and play."
Rodgers said the company is in the process of applying for the necessary Forest Service permits to operate on the river and in the wilderness.
Those are expected to be in hand in the next week. The company has been working with the Forest Service on them, Rodgers noted.
Recent Headlines
---