Gene (Eugene) Loras Larsen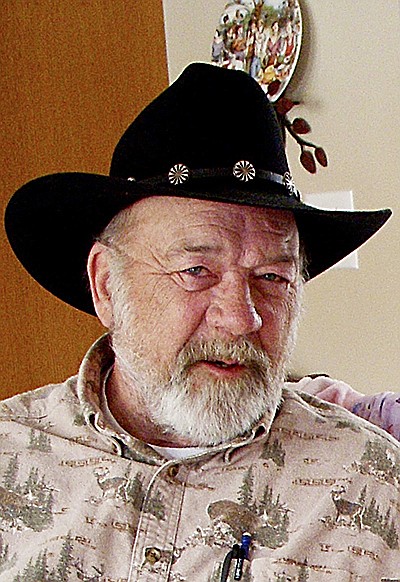 Gene Larsen passed peacefully on Jan. 14, 2022.
He was born in Fargo, North Dakota to Alton (Nukky) and Myrtle Larsen on March 15, 1944. He lived most of his life in the area he was born and among the mountains that he loved in the Flathead Valley of Montana. He was a wartime veteran serving in the U.S. Air Force.
Gene was preceded in death by his parents, his sister Carol Halabrin, his brother Alvin (Tinker) Larsen, and his son Shawn Larsen.
He is survived by his sister Marlys Hicks of Glyndon, MN; his daughters Debra (Ron) Perry of Kingston, Washington; Carol (Tony) Gigler of Hitterdal, Minnesota; and Christy (Jeff) Downing of Tacoma, Washington; 11 grandchildren, 19 great-grandchildren, and many nieces and nephews.
Sometimes a person travels this earth in such a way that we are reminded of how complex and complicated the human experience can be. Gene was one of those people.
He had a big ol' cowboy heart and a playful and humorous personality. More than one of his many exes will remember him as an excellent dancer, tearing up the dance floor of some honky-tonk bar with a skilled two-step or a polka.
His grandkids will describe him as an avid fisherman and a constant trickster and storyteller. He was quick with a joke and a sparkle in his eye while he roused and teased them relentlessly. To the friends of his daughters growing up, he was a protective and intimidating force that even the most ruffian boys dared not reckon with. He was ornery and stubborn, good hearted, generous, and kind. He thoroughly enjoyed the people that he loved and the friends and family, or "good people," that he held dear.
Gene himself would admit that he was not always an easy man to love. He struggled with addiction and the complicated realities of a person living within its grasp. In the end, we are reminded that nobody chooses a life with such an illness, and that given a choice, Gene would most certainly have taken a different deal. Those that loved him witnessed his light, and despite his darker days, they walked away as better humans for it.
Rest in peace Dad. Give em' hell up there and know that you are loved.
(The family is planning a celebration of life to be held in Hitterdal, Minnesota on June 18th. Details to follow, and all are welcome.)
Recent Headlines
---