Gateway School sees homegrown roof panels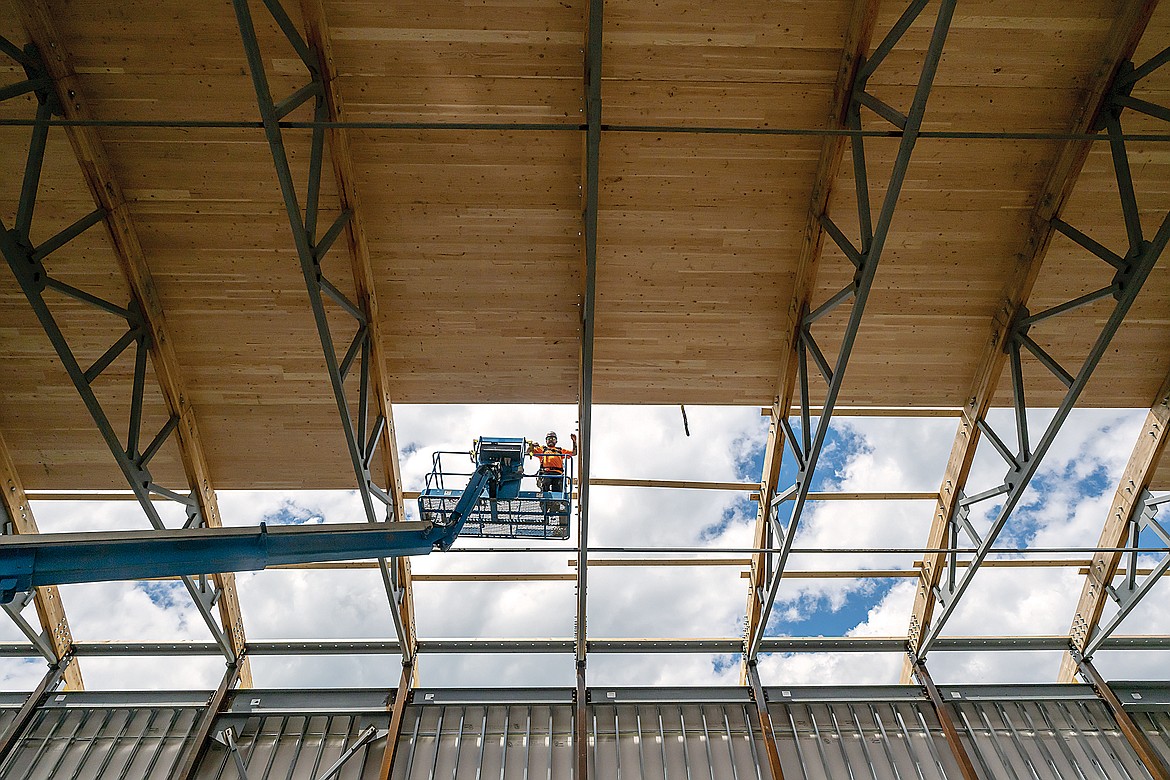 Mike Riggles of Swank Construction installs CLT panels from SmartLam last week on the new Glacier Gateway Elementary School. (Chris Peterson photo)
By CHRIS PETERSON
Hungry Horse News
While most of the building is steel, the new Glacier Gateway Elementary School saw locally made wood going up on its showcase roof last week.
Cross laminated panels, made right across the road at the SmartLam plant in Columbia Falls, were being installed on the new school by contractor Swank Construction last week.
All told, the roof will have 54 of the panels, which require just an overlay of insulation and a roof membrane, according to project manager Monte Moultray.
SmartLam builds the panels from dimension lumber which is glued together under extreme pressure. It's said to be fire resistant and is expected to last decades.
Getting the large panels up there was a delicate affair and required the use of a large crane. Crew members then use international hand signals to communicate with the crane operator, Moultray noted.
Winds are also an issue. They can't be placed on a windy day.
The panels are part of the trademark 35-foot-6 inch domed roof of the school, which covers the school's "cafetorium," library and main offices.
Moultray said the overall school project is on schedule for a December opening.
A few months ago the classrooms were still steel beams. Today, crews are doing finish work in the kindergarten wing and will start on other wings of the school soon.
Supply chain issues delayed the school's completion about three months. It was expected to be completed in September, but now will be finished in December.
Teachers will move into the classrooms over Christmas break.
One of the last things to be done is the final coat of paint on the walls, Moultray noted. Having learned from past projects, it's best to put the final coat on right at the end of the project, to avoid the paint being scuffed during construction.
Recent Headlines
---