Winslow Curt Nichols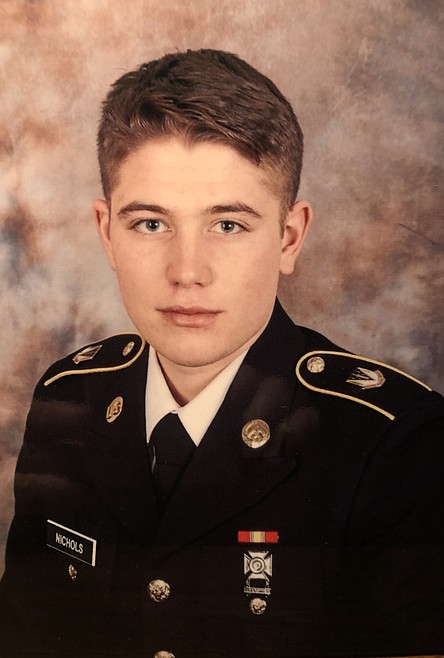 The Columbia Falls community has lost a bright star. Winslow Curt Nichols, 19, died on June 7, living the life he loved while climbing Mount Brown in Glacier National Park. He was a 2021 graduate of Columbia Falls High School and a 2022 graduate of the United States Military Academy Preparatory School at West Point, New York. He was a confirmed member of the Columbia Falls United Methodist Church.
In high school, Winslow was a competitive varsity soccer player for the Wildcats, played tenor saxophone in high bands and the Columbians Jazz Band, was a member of Model UN, and was Captain of the Glacier Nordic Ski Team (three years). He was admired by teachers and peers alike. He set his goals high for a future in the military. He joined the Montana Army National Guard at the age of 17, and he completed basic training at Fort Jackson Columbia, South Carolina, in August 2020. Winslow was not only a guy who you wanted to know but also a guy who would, and could, have your back.
Winslow excelled academically in his first year at the United States Military Academy Preparatory School. He was a member of the Color Guard, Sandhurst Military Skill Competition Team, the History Club, and Alpine Ski Club. His marksmanship was a noted strength. Despite leaving the comforts of Columbia Falls for West Point, he easily made friends from across the country. He enjoyed adventures with new friends, road-tripping south to Florida and Alabama. Winslow set his sights high by accepting an appointment to the United States Military Academy to pursue a degree in engineering.
In his free time,Winslow could be found in the great outdoors. He loved Nordic, alpine and backcountry skiing. He took after his grandfather who loved to cast a line along Montana's premier fishing waters. After returning home from his first year at the preparatory school, Winslow showed a deep appreciation for his roots. Winslow was wise beyond his years, and his maturity stemmed from a strong commitment to self and dedicated service to his country.
Winslow truly brightened all of our lives. He was hard-working, humble, dedicated, friendly, and kind. He lived life with a full heart and shone his light on everyone he encountered. His impact on this world will live on.We are all better people for knowing Winslow.
Winslow is survived by his parents, Ron and Sabrina, his brother, Walton, his grandmother, Kathy Sigler, and grandparents, Homer and Roberta Nichols. He was preceded in death by his grandfather, Chuck Sigler. He is also survived by his aunt Sarah Sigler; great aunts Kris Sheldon, Julie Klontz (John), and Becky Wray; uncles Kit Nichols (Laurie), Bryan Nichols (Kathy), and Neil Tardiff; great uncles Vaughn Wray (Beth) and Jim Carriger, and cousins Kamila Ponce, Jennifer Garnsey (Brandon), Nathan Nichols (Serenity), and Jamie Bowers (Jason). He leaves behind many dear friends far and near.
His Memorial Service will be held Monday, June 13 at the Columbia Falls High School Soccer Field at 10 a.m., rain or shine. A reception and luncheon will follow at the high school cafeteria.
A live stream link of the service will be at: https://youtube.com/channel/UC6A9N6xsdA79CgokJglm-tQ
In lieu of flowers, please send contributions to the future Winslow Nichols Memorial Scholarship fund to PO Box 2225, Columbia Falls, MT 59912.
Recent Headlines
---