Columbia Falls 'Herd of Turtles' have blast at grueling race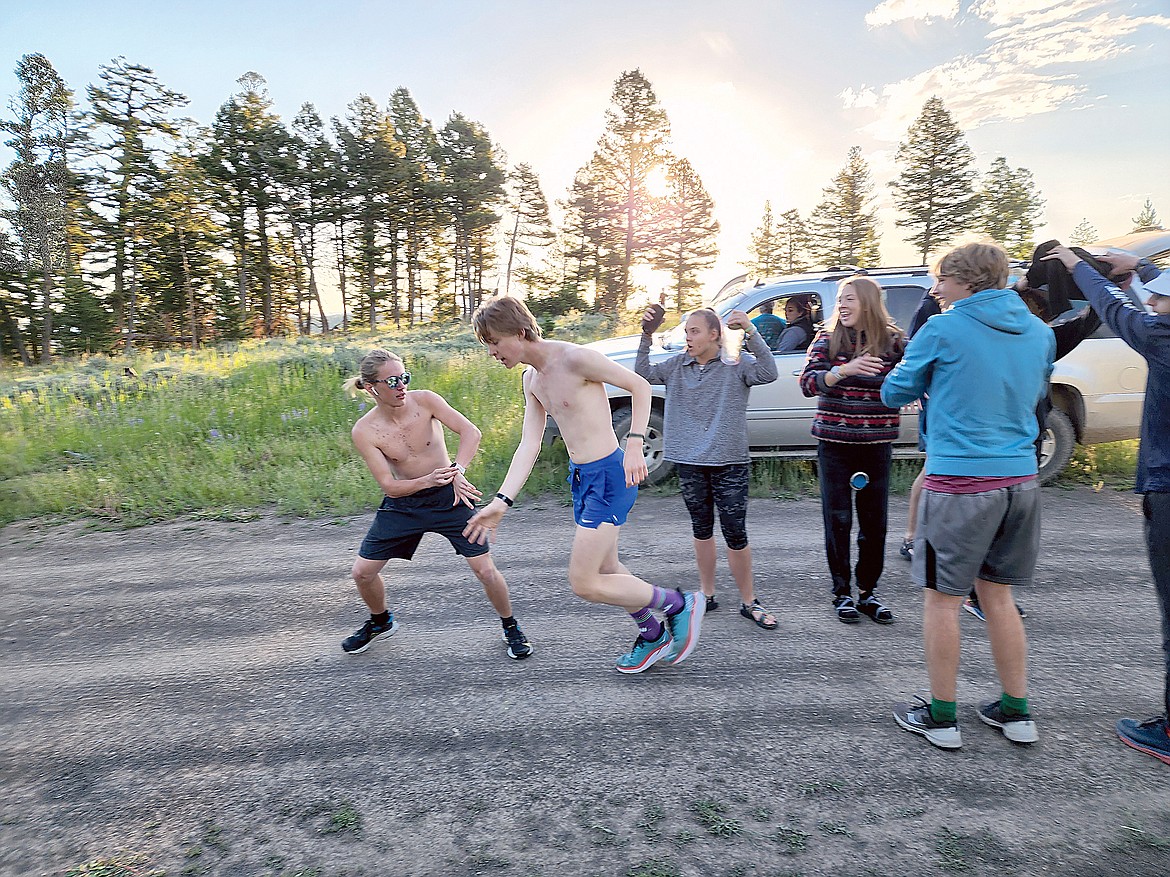 From left, Hayden Mohr-Mead takes the exchange from Quinn Clark as Alyssa Blankenship, Hannah Sempf, Lucas Counts and Jonny Blankenship cheer them on. (Photo provided)
Hungry Horse News
Several members of the Columbia Falls High School cross country team recently competed in the Diamond City Relay, a three-day mountain relay race.
Starting in Townsend, the race covered 212 miles and netted more than 24,700 feet of elevation gain.  The Columbia Falls "Herd of Turtles" were joined by four other high school teams, two collegiate teams, and several open division teams that enjoy adventure.
"We went there for a challenge, camaraderie a memorable experience, and most importantly to have some fun as a team," said Columbia Falls head coach Jim Peacock.  "We nailed those goals.  I'm not sure the other teams were ready for the energy our team brings with them, but I think they appreciated our spirit.  Our fun grew on everyone, kind of like mold.  It was three days of competition, laughs, sweating, jokes, eating out of coolers, bad smells, dancing, shuffling in and out of vehicles while seeing some incredible scenery.  This was definitely a great experience."
"It was a blast," Peacock said.
Day one, runners crossed the Big Belt mountains and finished their day near White Sulphur Springs.  Day two, the race resumed in Lennop, ran through the Castle Mountains, and the Little Belt Mountains, pausing at Memorial Falls near Showdown Ski Area for the day.  The relay's final day started near Showdown, crossed west out of the Little Belts and the Smith River Valley to climb the Big Belt Mountains, and descended down Confederate Gulch to the former site of the booming gold rush town of Diamond City, just east of Canyon Ferry Reservoir.  
Members of the Herd each ran about 20 miles divided into individual relay legs designated over the three days. 
Twice, the relay took runners as high as 9,000 feet elevation on mountain tops.  Each team had two support vehicles that transported their runners from leg to leg of the relay, dropping runners at designated starting sites along mountain roads and picking up their racers as they completed sections.  Driving for Columbia Falls were Heather Clark and assistant cross country coach, Jon Blankenship.  Running for the Herd of Turtles were: Alyssa Penny Blankenship, Jonny Scoops Blankenship, Quinn Quinneous Clark, Lucas Chocula Counts, Siri Techno Viking Erickson, Courtney Beta Hoerner, Hayden Tubby Mohr-Mead, Ally Little Bully Sempf, Hannah Kzzchk Sempf, David Little Pasta Slama, and Peacock.
The high school division of the race was won by an all boys team from Helena High School.  The Herd of Turtles won the Spirit Award, voted on by the other participating teams.  The mens' team from Carroll College, which included former Columbia Falls runner Aidan Jarvis, were the overall race winners.
Recent Headlines
---