John Joseph Dalimata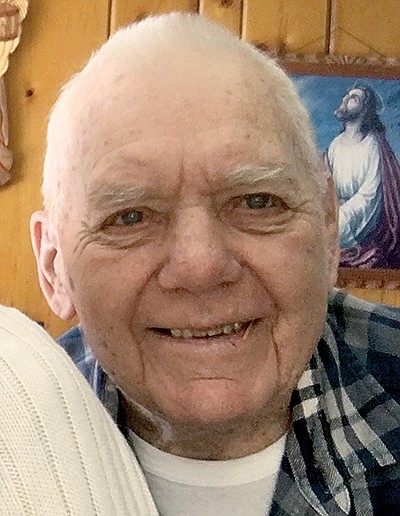 |
January 5, 2022 7:45 AM
John Joseph Dalimata, 93, went to be with the Lord peacefully on the morning of Dec. 31st, 2021. His life was bountiful and productive and he passed away at home in his sleep from natural causes.
John was born on Sept. 11, 1928 at the home of John and Aurelia Dalimata in Hay Coulee, Montana near Chester. At the age of 11, he was sent to DePere, Wisconsin to be educated by the White Fathers at Norbertine School. He attended high school in Chester, Montana before the family relocated to the homestead at Nyack Flats 10 miles east of West Glacier. He graduated from Columbia Falls High School in 1945.
He married his beautiful wife and neighbor, Ruth Yvonne Voss, on June 28th 1949 in Columbia Falls. John was a farmer, rancher, and sawmill operator who earned his work ethic from his parents and emphasized the value of hard work to his children and grandchildren. John spent many years as a logger, CAT operator, and volunteer. He assisted many neighbors and agencies throughout his life clearing avalanches, rock slides, train derailments, pulling people out of the ditch, and occasionally helping an airplane land in the meadow. He overcame numerous hardships including the 1964 flood when his entire herd was lost except for five cows. John loved camping, fishing, and hosting family and friends at his home, where he would frequently treat them to music on his accordion. He was a man of great faith and proud to have built and maintained a chapel at Nyack where many attended and prayed and a few were married.
John was also a father to five boys and four girls who were raised on the ranch in the home that Ruth and John still occupied at the time of his passing. He served on the Board of Directors for Flathead Electric Cooperative for 30 years. John was a proud member of the Knights of Columbus.
He is preceded in death by his parents, John and Aurelia (Skierka) Dalimata as well as five grandchildren- Lindy Walker, Andrew Dalimata, Daniel Dalimata, Benjamin Semmler, and Rebecca Wilson, and one great-grandchild, Mariella Dalimata. John was especially close to the Voss and Skierka families — many of whom also preceded him in death.
He is survived by his wife of 72 years, Ruth, as well as nine children: Mike, Richard, Mark, and Steve of Nyack; Mary Jane LaLiberty of Cascade, Montana, Christopher of Coram, Pauline Hannegan of Pelham, New Hampshire, and Anita Armendariz of Albuquerque, New Mexico. He is also survived by 48 grandchildren, 102 great-grandchildren, and four great-great-grandchildren.
Ruth and family request that any memorials be made to St. Richard's Church in Columbia Falls. 

There will be a Rosary and visitation at St. Richard's church on Friday, Jan. 7th at 6 p.m. Funeral services will be at St. Richard's on Saturday, Jan. 8th at 10 a.m. with burial at Conrad Cemetery in Kalispell.
A reception will follow at St. Richard's.
Recent Headlines
---