Carry your bear spray, sow grizzly roaming around Columbia Falls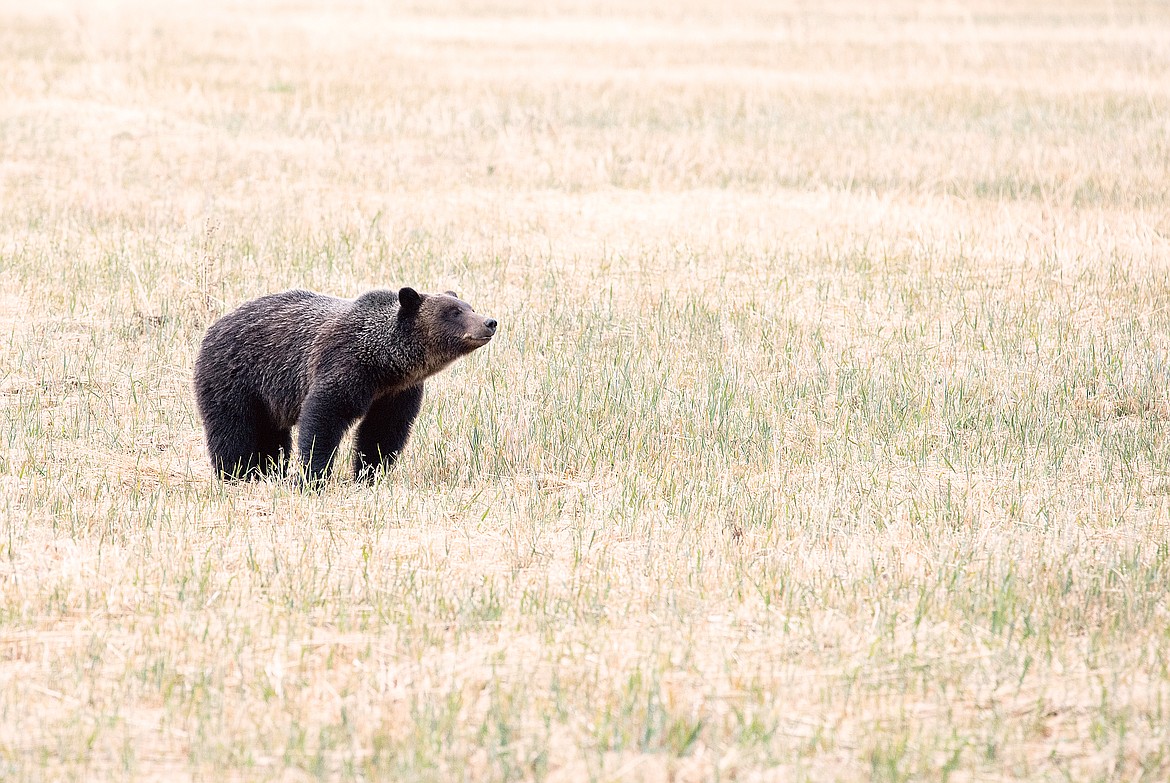 "Oatey" a North Fork grizzly.
By CHRIS PETERSON
Hungry Horse News
Folks in Columbia Falls, particularly in the east side of town, are urged to secure garbage, chicken coops, pet foods and fruit trees after several reports of a large female grizzly roaming the Council Bluffs neighborhood.
The bear, based on reports from Columbia Falls Police, weighs between 400 and 500 pounds.
A black bear is also roaming the neighborhood.
People are urged to keep their garbage inside until pickup day. If they don't have pickup, they should use bear resistant containers.
Folks walking in River's Edge Park should carry bear spray.
Some people have been storing garbage inside motor vehicles, city manager Susan Nicosia said, which is a bad idea, particularly on hot summer days.
Garbage should also not be stored in the back of pickup trucks.
Fruit on fruit trees should be harvested or secured by an electric fence.
Garbage was stored in an abandoned camper near Polebridge last year and bears opened it up like a tin can.
Montana Fish, Wildlife and Parks ended up putting four bears down as a result.
The grizzly is said to roam the Council Bluffs neighborhood early in the morning, from 2 a.m. to 4 a.m.
The city is planning on setting up a meeting with FWP biologists to come up with long term solutions.
Some cities have mandated bear resistant garbage containers, but Columbia Falls doesn't administer garbage pickup.
FWP bear specialists are actively trying to capture the bear, but trapping is difficult in urban areas when other food sources, such as unsecured garbage, are easily accessible, FWP spokesman Dillon Tabish said.
Anyone with possible sightings or conflicts (i.e. tipped over garbage cans) is asked to please contact FWP at (406) 250-0062.
All bears are potentially dangerous. Most human-bear conflicts involve bears protecting their young or a food source. The overwhelming majority of human-bear encounters do not involve conflict and bears seldom attack or injure people, FWP notes.
Bears that gain rewards from human food sources, such as garbage and domestic fruit, can become food conditioned, which means they lose their natural foraging ability and pose an increased risk to human safety. Food rewards can also lead wildlife to become habituated to people, another increased risk to human safety. Both food conditioning and habituation often lead to euthanizing an animal for safety reasons.
Recent Headlines
---