For Rocker, Emerson, a full circle back to home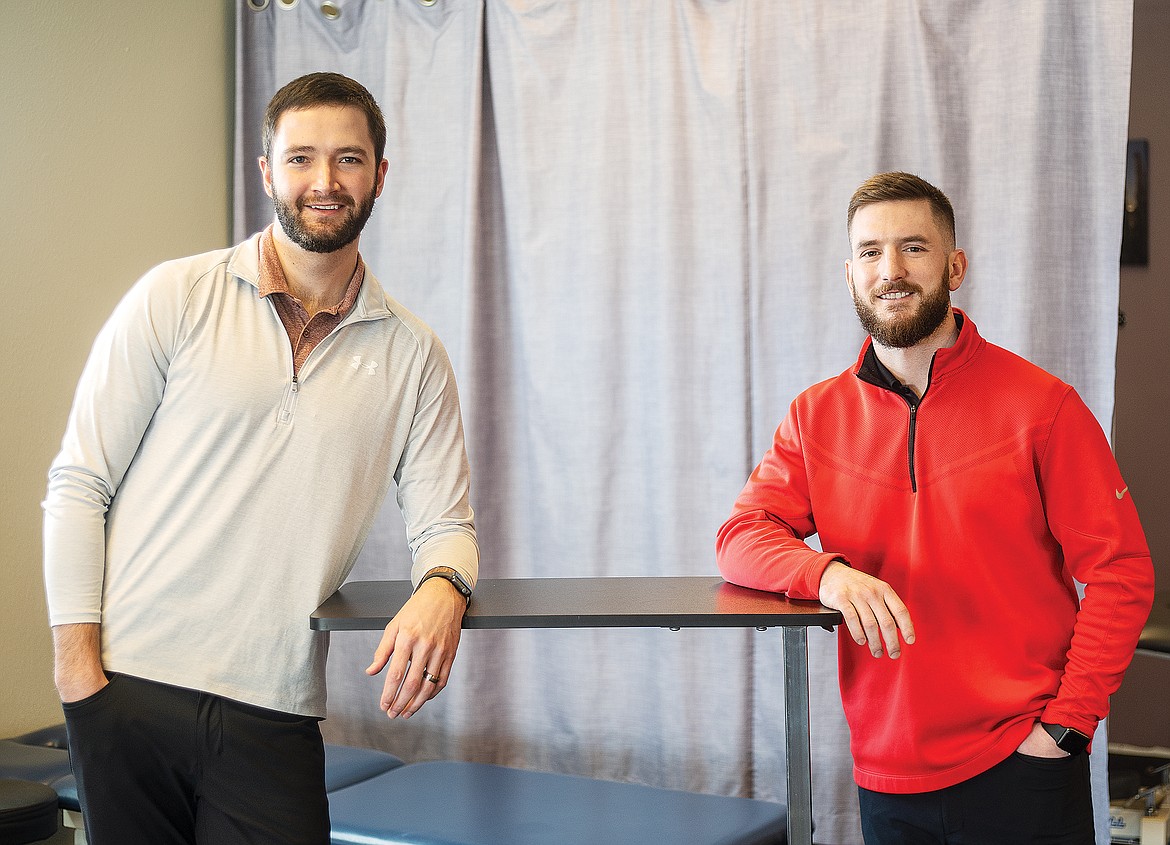 Nick Emerson and Devyn Rocker of Berube Physical Therapy in Columbia Falls.
By CHRIS PETERSON
Hungry Horse News
Nick Emerson and Devyn Rocker won a state A basketball championship as teammates 11 years ago for Columbia Falls.
Today, they're working together again as physical therapists at Berube Physical Therapy in Columbia Falls. Emerson joined Berube about two years ago and is the director of the Columbia Falls clinic. Rocker joined the office in August.
They played sports together throughout their youths, culminating in a state A basketball championship for the Wildcats in March, 2011.
Emerson was the point guard and scored 26 in the championship against Dillon, where the Cats won 55-43 over longtime rival Dillon.
Rocker was the three guard and had two points in the championship, but was known better for his quickness and effort on the defensive end.
He also was a multi-sport athlete, playing football and baseball as well. Emerson stuck to basketball after a concussion as a freshman playing football.
He went on to play for the University of Montana for two years and then for Lewis and Clark College for two years.
The two still joke about high school playing together
Rocker recalled an Emerson punt that landed behind him during a freshman football game.
"That's my favorite football memory of him," Rocker said with a smile.
Kidding aside, both said that after being away for several years, they returned home because of family and friends.
Emerson received his doctorate of physical therapy from Franklin Pierce University in Arizona and Rocker from the University of St. Augustine in Texas.
They both married Columbia Falls women, too. Emerson is married to Brooke Cady and Rocker to Bria Ward.
They said they all kept in contact, even while living in other states.
"I knew I was going to come home at some point," Emerson said.
The scary part for Rocker wasn't family, but housing. Luckily he said he and Bria were able to find a home in Helena Flats they could afford.
Emerson and Rocker still play ball a little bit — they're on the same men's league hoops team.
Rocker is also on the board of the new Columbia Falls baseball team.
They both said they enjoy the job and reconnecting with folks.
"You get to know them on a different level than when you were growing up," Rocker said. "That's why I love it."
Ditto for Emerson.
"You know someone who knows someone," he said. "It's a small town vibe."
---