Rain cuts tennis team's first home dual
Columbia Falls tennis competed in three duals last week, squaring off against AA Glacier and Flathead and then playing for the first time ever on their new courts at Hoerner Park against Polson.
The Polson dual was shortened due to rain.
Some highlights from the week included Cade Morgan and Cody Schweikert who dropped Trent Wilson and Owen McElwee 6-4, 6-3 of Polson.
Girls Grace Gedlaman and Alyssa Williams dropped Sierra Lundeen and Elizabeth Tolley of Polson 6-2, 5-7, 6-1.
Cloey Ramage beat Glacier's Rachel Jutzi 6-2, 6-2. Ramage had a tougher time against Alexis Kersten of Flathead, losing 6-1, 6-1 and Clara Todd of Polson, losing 6-1, 6-0.
Gedlaman and Williams also dropped Abby Clark and Sophie Dykhuizen 7-5, 6-2 of Flathead and Abby Biel and Ava Foley beat Kylie Amundson and Lolita Sattler 6-3, 7-5 of Flathead, too.
The squads travel to Polson Thursday.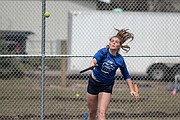 Recent Headlines
---