The long way to Avalanche Lake
by
JP EDGE - Hungry Horse News
|
April 27, 2022 1:00 AM
Glacier is getting warm like the rest of the valley, and the ambitious and bold have already begun making attempts at their own adventures.
With great weather, on a calm Thursday afternoon, the gentle singing of birds and chatter of hikers on theGoing-to-the- Sun Road is broken by the thunderous booms from distant tsunamis of snow rushing through canyon shoots. Springtime is great for recreation in Glacier due to less crowds and traffic on the road, but snowpack remains high and travelers should be especially cautious of the potential for avalanche danger.
As the west side of the Sun Road remains closed at Lake McDonald Lodge, in order to get to Avalanche Lake one must either hike or bike the 5-1/2 miles to the Trail of the Cedars. From there, it's another 2-1/2 mile hike to the edge of the lake. Snow remains on the trail and snow shoes or microspikes would be highly recommended. The trail gets icy towards the end and is mostly through the trees the entire way.
The cracking of avalanches can be heard well before getting to the lake, and depending on the time of day, can result in a spectacular show. Observing these ice showers is generally safe this time of year from the trail, but in years past some snow and other obstacles have reached where hikers generally travel.
Leave plenty of time to get to Avalanche and back, animals also become active along the road and can be seen while walking back along the Sun Road.
If one plans on continuing on further up the road, the Sun Road is clear to the public on up to the Loop weekends and on weekdays after the crews have finished plowing. To learn more about the Sun Road conditions, please visit https://www.nps.gov/glac/planyourvisit/conditions.htm.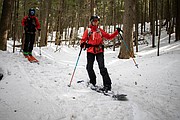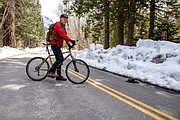 ---