Kats thump Pirates 14-4
Call them road warriors.
The Columbia Falls softball team had a stellar week, including walloping state A defending champion
https://gc.com/p6229c60fe5661e48eb000008 https://gc.com/p6229c60fe5661e48eb00000a https://gc.com/p6229c60fe5661e48eb000004
Polson on the road, 14-4.
The Wildkats also racked up wins against Libby, 12-2, and Browning 21-3, on the road as well.
The Kats have yet to lose on the road.
Against Polson, The Kats scored 8 runs in the third inning and 5 in the fifth in the victory.
Sydney Mann, Maddie Moultray, Aspen Dawson, Haden Peters, and Kyrah Trenkle all had RBIs in the inning.
Polson would score four in the fourth, but the game ended after five due to the mercy rule.
Maddie Moultray got the win on the mound.
Abbie Darsow and Kyrah Trenkle both hit homers. Darsow's homer put the game away in the
https://gc.com/p6229c60fe5661e48eb00000b
https://gc.com/p6229c60fe5661e48eb00000f
fourth.
Trenkle went long in the third. Against the Loggers, Sydney Mann had a hot bat, with two homers as the Kats put up four in the fourth and four in the sixth to down the Lady Loggers. Moultray went the distance on the mound, allowing three hits and two runs while striking out eight.
Mann had three RBIs. Against Browning, the Kats shot out to a 13-1 lead in the first inning and the game was called after three.
Mann pitched all three innings, gave up two hits, three runs and struck out six.
Haden Peters hit a grand slam. Mann, Moultray, and Rensel also hit dingers.
The Kats faced Flathead at home Tuesday after presstime and then square off against undefeated Frenchtown Friday at the Frenchtown tourney.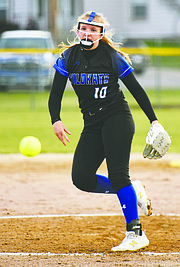 Recent Headlines
---