Joan (Jo) Lucille Soller Beck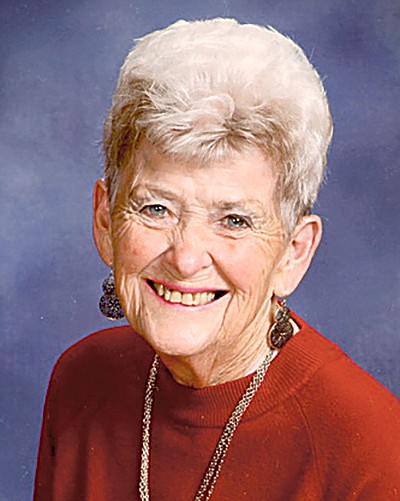 On Thursday afternoon, April 14, 2022, Joan (Jo) Lucille Soller Beck, loving wife, mother, grandmother, great-grandmother, and great-great grandmother passed away in the presence of her loving family at the age of 91.
Jo was born in Kearney, Nebraska on June 6, 1930 to Elmer and Doris Soller. Her early years were spent at the family farm in Nebraska.
Like many farmers during the Great Depression her family moved west looking for better opportunities and eventually settled in Northern California for several years, where Jo spent her later childhood and teenage years.
Upon graduating high school she rented a small apartment in San Francisco with a few other girls and began her career working as a receptionist at an insurance agency. True to her selfless nature she followed her family to Montana to help care for her father after an injury while working at the Hungry Horse Dam.
Montana soon became Jo's permanent home when she met and fell in love with Bob Beck from Kalispell. Bob would later recall how Jo, wearing a green suit that matched her eyes, immediately captivated him upon meeting her for the first time at a card game. They married and eventually welcomed their children, Roger, Bobby, Gordon, and Lorraine. And in 1956 the family made Columbia Falls their permanent home.
Jo embraced life in the Flathead; she and Bob enjoyed weekend drives around the Flathead, picking berries and picnicking along the way. An old school bus, converted into a camper was the vessel and curator of the family's adventures for nearly three decades and is the subject of many of the family's fond memories. Bob and Jo instilled the love of the outdoors to their children and raised the family on hunting, fishing and camping in the wilds of Northwest Montana, with huckleberry pancakes and cutthroat trout the early morning fare at every beloved campsite.
While living a full and busy life as a wife and mother, Jo also managed to distinguish herself through a 25-year career as Deputy of the Plat Department at the Flathead County Courthouse. She greatly enjoyed the daily commute to Kalispell in her red, '68 Mustang, working full-time, and then returning home to cook, clean and care for her loved ones.
Jo was also an able and avid golfer and boasted a hole-in-one shot in her 65th year. A serious Bridge player, she was known as a card shark at home. Never one to turn down the opportunity to demolish her opponents she was highly competitive, sassy, and never missed a beat when it came to her games. Jo loved a good day at the golf course, followed by a home cooked meal around her kitchen table or warm campfire, and to end the night at the card table.
Jo was a woman of strong opinions but had a quiet voice about them. She was full of grace, kindness, glamour and bravery. Also, funny yet direct. She was loyal and our best friend; always in our corner. Jo never gossiped or was unkind.
She was truly the soul we all aspire to be. She was a woman of few words but every one of them held wisdom, and great value; we listened and held them close to our hearts.
Jo was a remarkable individual; she was not just a woman's woman but was esteemed by all. She held her head high, never complained, and maintained an optimistic outlook throughout life's obstacles. She enjoyed every moment, each day, and every person she knew and loved. As a mother to four, grandmother to seven, and great-grandmother several times over she had a way that made her loved ones feel so special and unique; her relationships with each will be remembered and cherished. She was so much more than the family's matriarch; always constant, reliable, and stable- she was the anchor. And her legacy of love will continue to be the family's anchor.
Jo was a woman of faith in God and strong relationships. She emulated the values of her faith in how she treated others. Her church family and friends at United Methodist Church were life-long and devoted. She loved you all.
After bravely fighting a third bout of cancer, Jo made the decision to move on to her heavenly home, joining her husband, Bob and son, Bobby.
We will forever be amazed at her courage and determination and inspired by her essence. Jo would soon have been 92 years young; she tried so hard to make it to that special day. We will forever miss her. Her passing means the end of an age for her family and has left the family with heavy hearts. However, she's gone home to be with her Lord and her family. There won't be a day that goes by that we don't think of her. But the sun will always set on Hungry Horse Reservoir and we will meet her there someday soon.
There will be a service for Jo at 11 a.m. April 28 at the United Methodist Church in Columbia Falls. A viewing precedes the service from 10-11 a.m. Private burial services take place later.
Recent Headlines
---