Kats go 4-0 in Lewistown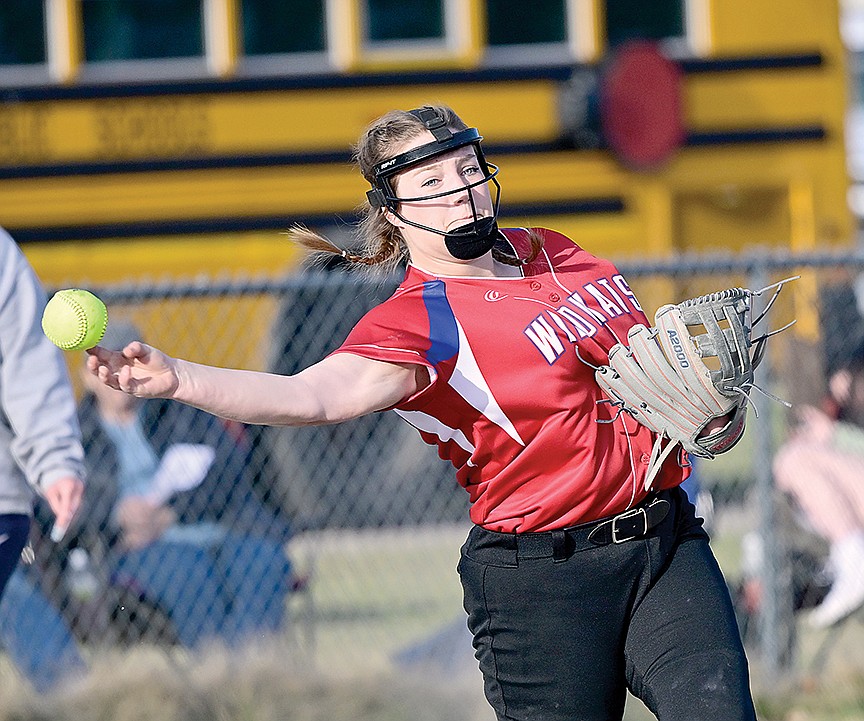 Haden Peters throws out a runner from third against Glacier. (Chris Peterson photo)
Hungry Horse News
The Columbia Falls softball team went 4-1 on the week. Their only loss was to AA Glacier at home, 6-1.
On the road, the Wildkats fared much better, dropping Park County High 15-3, then Fergus County 21-3 on Friday. They then beat Dawson County 19-2 Saturday and wrapped up with an 8-4 win over Havre at a tournament in Lewistown.
Against Park, the Kats broke open a 1-1 tie with 9 runs in the the third and 5 in the fourth.  Haylee Lawrence went 4-for-4 at the plate. Lawrence doubled in the first, and had three singles.
Sydney Mann pitched three innings for the Kats while Haden Peters got the save as the game ended after five innings due to the mercy rule.
Against Fergus, Aspen Dawson had 4 RBIs and three hits to lead the Kats attack as they scored 11 runs in the second inning. The Kats had 21 hits in the lopsided contest.
Maddie Moultray got the win on the mound, while Peters and Mann combined for the save. Like Park, the game was over in five.
On Saturday, it was Moultray's day to get hot at the plate. She singled in the first, homered in the first, doubled in the second, and singled in the third.
The Kats racked up 14 runs in the first inning. Abbie Darsow, Moultray and Kyrah Trenkle all homered in the win.
Mann started on the mound and allowed two hits and two runs over one inning, walking zero. Peters got the save.
Against Havre, the Blue Ponies were up 4-3 at the end of four, but the Kats scored 5 in the top of the fifth and held off Havre for the win on the long road trip. Kylee Stacy had two RBIs in the win. Peters and Stacy both had doubles. Moultray went five innings giving up 8 hits and 4 runs.
The only down game was against Glacier, which was largely a pitching duel until the sixth, when Glacier put three on the board and then capped the game off with three more in the seventh.
Moultray gave up five hits and six runs in the loss in a game where the girls just had a tough time hitting the ball. They seemed a bit hesitant to swing away, even though the game had no meaning in the standings.
The Kats face Eureka at home Tuesday after presstime and then Ronan and Stevensville on the road Saturday at a tourney in Missoula.
The loss to Glacier is their only loss so far this season.
Recent Headlines
---