After June 1, Glacier's west entrance won't open before 6 a.m.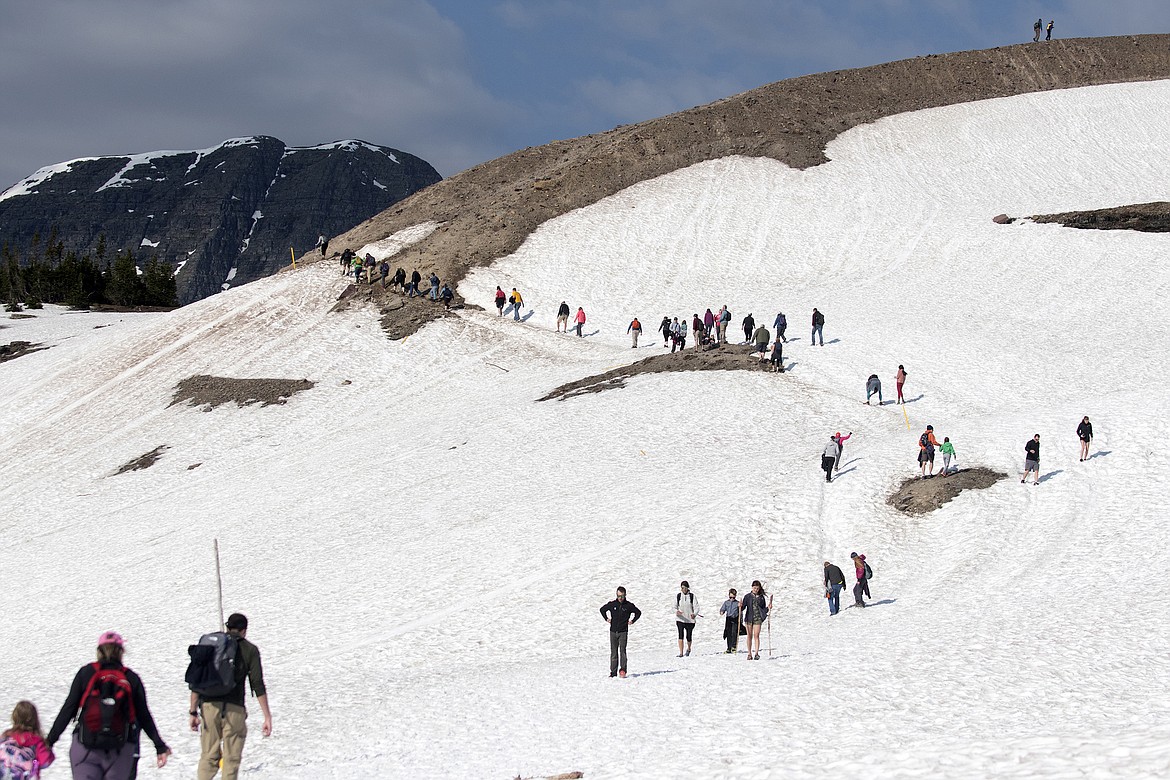 Tourists at Logan Pass in this file photo.
By CHRIS PETERSON
Hungry Horse News
Glacier National Park spokeswoman Gina Kerzman clarified Monday that the west entrance to the park will be closed to motor vehicles before 6 a.m. when construction starts on the Going-to-the-Sun Road June 1.
That means motorists trying to get to Logan Pass without reservations won't be able to come to the park early and get to the pass from the west side. They will, however, be able to get to Logan Pass if they're beyond Rising Sun on the east side before 6 a.m. without a reservation.
The park is replacing seven miles of sewer force main, electrical, and telephone lines from Apgar to the Lake McDonald Lodge along Going-to-the-Sun Road. It will also replace the lift station at the lodge to reduce the threat of sewage overflow.
The work will mean the Sun Road will be closed at night from 10 p.m. to 6 a.m. in the construction zone.
Kerzman noted that the staging area for construction equipment is in what's known as the old baseball fields, which is near the west entrance off the Sun Road on the Quarter Circle Bridge Road.
As such, the west entrance will be closed as well to avoid any conflicts. She said she expects a nighttime closure of some sort on the Camas Road as well, but it's not clear where exactly where it will be at this time.
At midnight each evening, there will be a window when vehicles will be piloted through construction.
Last year visitors without a Sun Road reservation would often get up early and go to the park prior to 6 a.m. as the road was open with no restrictions. Columbia Falls Police stopped more than a few motorists speeding through town to get to the park to beat the 6 a.m. cutoff.
Reservations, good for three day access to the Sun Road this year, have been fairly easy to get, however. They're often available well into the afternoon. Glacier plans on releasing more reservations as summer goes on, making them available 24 hours before the date sought.
Motorists don't need reservations for the Sun Road after 4 p.m.
New this year reservations are required to enter the North Fork of the park at the Polebridge Entrance between 6 a.m. and 6 p.m. Those reservations are quite limited and tend to go faster.
They are required from Memorial Day weekend through Sept. 11.
After Sept. 11, they will not be required for any park entrance.
Though by mid-September one can also see snow fly in the park.
Reservations are not required at the St. Mary Entrance to Rising Sun, which is about 6 miles. Beyond Rising Sun, once the road is completely open over Logan Pass, reservations will be required.
Reservations are also not needed for Cut Bank, Two Medicine and Many Glacier areas of the Park. Folks can also access Glacier on its southern boundary from Highway 2, as there are trailheads at Marias Pass and the Walton Ranger Station.
Crews started plowing the Sun Road last week. On the west side they were beyond Red Rocks.
Recent Headlines
---