Construction promises to curtail early morning access to Logan Pass; Sun Road plowing starts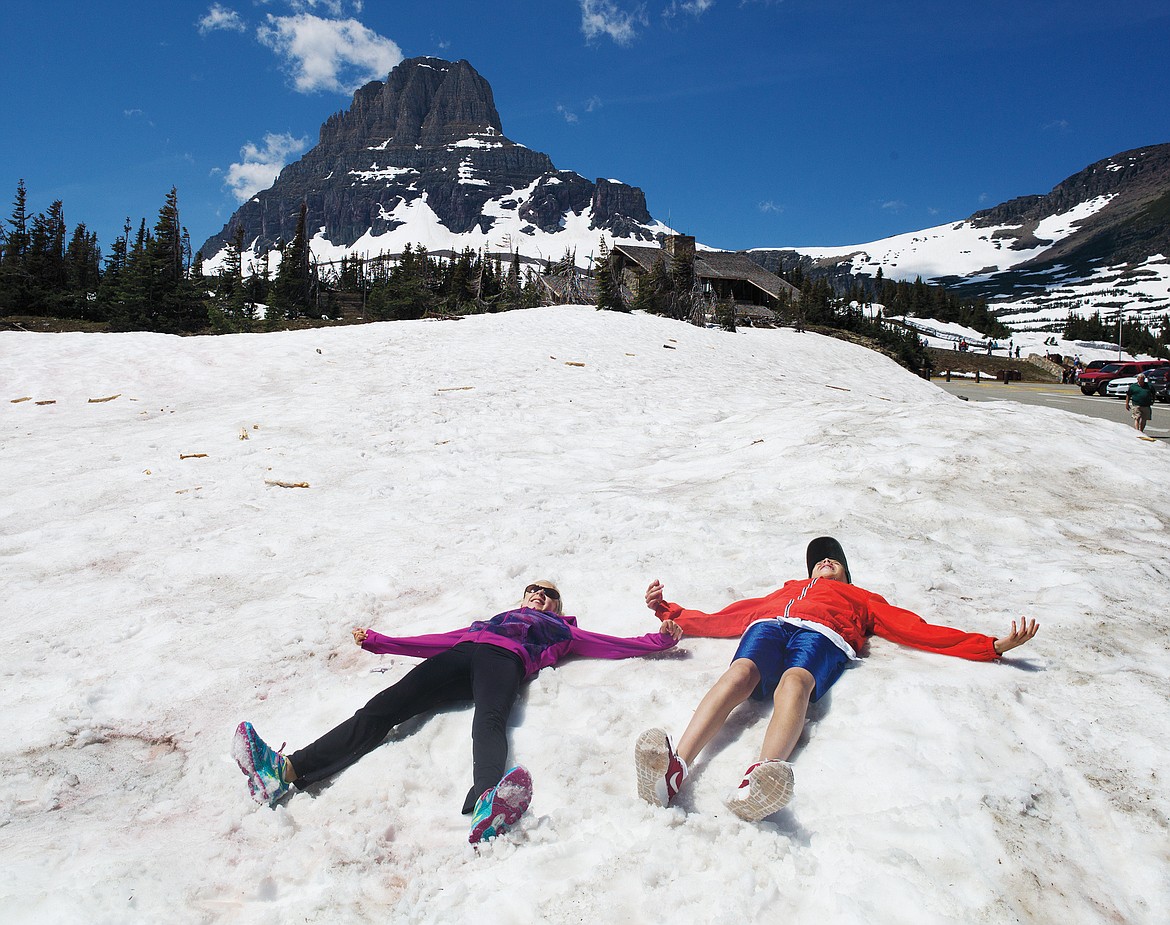 Gretchen, left, and Pierce Janssen play in the snow at Logan Pass in this file photo.
By CHRIS PETERSON
Hungry Horse News
Folks looking to get to Logan Pass from the west side of the park before 6 a.m. without a reservation are out of luck this year.
The Going-to-the-Sun Road will see utility work, which includes replacing sewer, electric and telephone lines from the foot of Lake McDonald to 1,000 feet west of Sprague Creek campground this year, park spokeswoman Gina Kerzman said.
Ceccanti Inc. of Washington has the contract for the work.
Crews will be working nights from 10 p.m. to 6 a.m. starting June 1. As such, that section of road will be closed, except for emergency travel.
This summer Glacier is again requiring reservations to drive the Sun Road from 6 a.m. to 4 p.m. from the West Entrance to Rising Sun. Those without reservations won't be allowed on the highway. After 4 p.m. people can access the road without a reservation.
One way around the system was to get up early and then drive the road before 6 a.m. That won't be possible from the west entrance this summer.
The section from the foot of Lake McDonald to just before the lodge will close completely on Oct.1. Work on the utilities will continue throughout the winter, with completion expected in May of next year.
The east side will still be open to Logan Pass before 6 a.m.. But from Columbia Falls, it's about a 2-1/2 hour drive just to the St. Mary entrance, nevermind going up the Sun Road to Logan Pass.
In more positive news, Glacier crews have plowed the Camas Road and started plowing the Sun Road at Lake McDonald Lodge Monday.
The Camas Road is not open to vehicles and the Sun Road is not open to vehicles beyond the gate at the lodge. While crews are plowing, the road is closed to hikers and bikers, but open after they're done, which is typically after 4:30 p.m.
The hiker-biker closure does move, however, as plows continue up the road.
On the east side, the road is open to vehicles to Rising Sun. There are no hiker-biker restrictions on the east side of the Sun Road and the Two Medicine Road is plowed as well, but remains closed to vehicles. Two Medicine is open to hikers and bikers.
The Many Glacier Road is currently being plowed and there is no hiker biker access at this time.
Sun Road reservations are available at Recreation.gov, then search for Going-to-the-Sun Road.
Recent Headlines
---