Thinclads win at Thompson Falls on mustache day, take second at Whitefish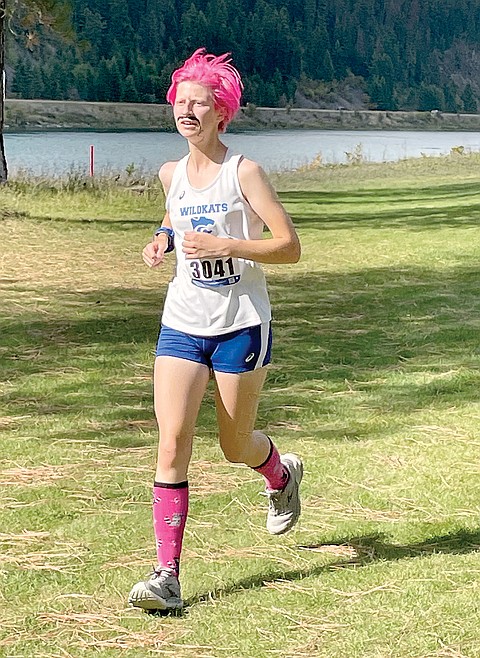 Sporting a mustache, Ruby Davis runs in Thompson Falls last week. (Photo provided)
by
CHRIS PETERSON
Editor
|
September 29, 2021 12:15 PM
Hungry Horse News
The Columbia Falls girls won the Thompson Falls Invitational cross country meet last week. Siri Erickson took first and Hannah Sempf second in the win. Julia Martin was ninth to round out the top 10.
"Most of the kids were trying some new race strategies and trying to find strategies that are effective for them.  It was a good day of growth and discovery," coach Jim Peacock said.
The two have been trading finish spots all season long. One week Sempf wins a race, one week Erickson. It's a nice problem to have for the team as the postseason approaches. Courtney Hoerner took 12th and Ally Sempf 14th to round out the scoring for the girls.
The boys took fourth. Logan Peterson was 13th, Quinn Clark 16th.
"The boys were working on racing strategies, and I was pleased with how their individual goals translated to improvements in team scoring.  Logan Peterson and Quinn Clark traded positions throughout the race as the front runner for our team, with Logan taking the eventual top spot for us.  I feel Quinn had his most competitive finish of the season to date, and I'm thrilled to see him gaining confidence.  I was particularly happy with how my freshman boys raced.  We are depending on a few of them at the varsity level this year, and they are getting better at racing every week.  Freshmen Brock Swope, Jack Phelps, and Lucas Peterson have all cracked into our varsity lineups in different races, and all three ran extremely well in Thompson Falls," Peacock said.
"The Thompson Falls race was also International Take Your Mustache for a Run Day, so we celebrated in true herd fashion. Traditional holiday celebration requires you: 1. Have a mustache 2. Take your mustache for a run 3. Greet anyone you encounter while running with the traditional holiday cheerful greeting of 'Happy International Take Your Mustache for a Run Day!' as you dash by," Peacock said.
On Tuesday, the girls took second as a team behind Flathead at the Whitefish Invitational.
Hannah Sempf and Erickson finished 2-3 behind Lilli Rumsey-Easch, but they also reached a milestone by breaking the 20-minute mark.
Sempf finished in 19:56.91, while Erickson finishes in 19:57.93
Logan Peterson was top runner for the boys with a 7th place, 17:33.97.
---